The True Meaning Behind 'Country Again' By Thomas Rhett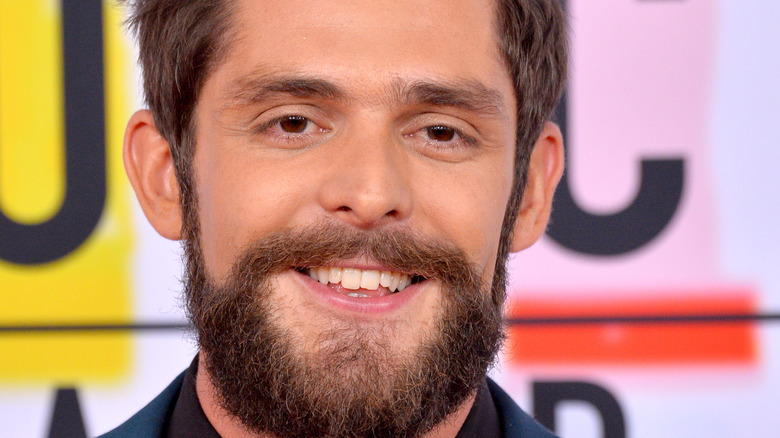 Shutterstock
Country star Thomas Rhett is known for hits like "Craving You," "Marry Me," and "Die A Happy Man," the latter of which won Song of the Year at the 2017 Academy of Country Music Awards, per The Boot. Because these songs all feature many of the hallmarks of country music — simple chord progressions, catchy riffs, and use of storytelling — listeners might be surprised to learn that Rhett's influence isn't purely country. 
The singer's first band was a punk-rock group called High Heeled Flip Flops. "We were so bad. We all dyed our hair black, jet black, and in our shows we all talked in English accents," Rhett admitted to The Today Show in 2017, adding that he and his buddies "wanted to be the Ramones so bad." But the infamous punk rockers weren't his only musical inspiration as a kid. Speaking to The Today Show about his love for rock n' roll and old school hip-hop, Rhett credited his dad ... and Fresh Prince. "Will Smith was like my jam when I was like 9 or 10 years old," Rhett revealed. 
The hitmaker clearly has a wide-ranging taste in music, but sometimes, he prefers to stick with what he knows best. That's the case with 2021's "Country Again: Side A," the first half of a planned double album, which also features a track of the same name. Let's take a closer look!
Thomas Rhett is showing his authentic self with 'Country Again'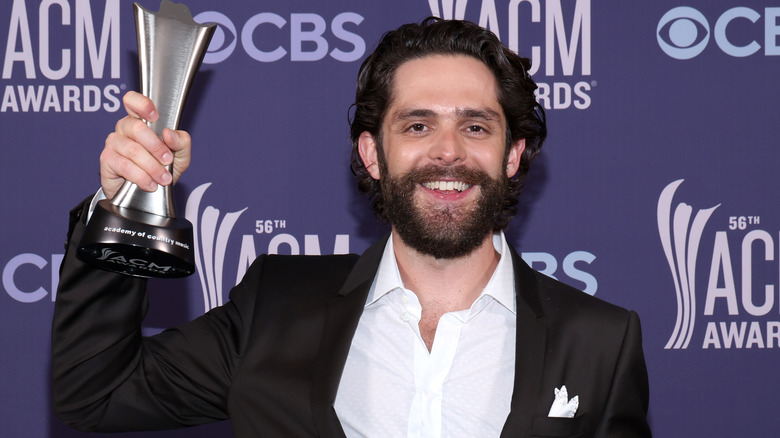 John Shearer/acma2021/Getty Images
In "Country Again," Thomas Rhett gets in touch with his down-home country side after years spent experimenting with different musical styles. "For me, there was probably a five- or six-year journey I was into a lot of different stuff, listening to a lot of different types of music and trying to make that uniquely me," the singer told Rolling Stone in April 2021. "Once I started to slow down and look back at my life a little bit, I was like, 'Dang, I haven't really sat down with a guitar in a very long time and just tried to tell a real, honest story from the heart.'" 
As a result, the single reflects the essence of who he is, taking stock of where he is in his career and demonstrating an emotional maturity he didn't have when first starting out in the industry. "This song really is about my life. Just slowing down and really trying to look at the priorities in my life and what they mean to me," Rhett explained to The Country Daily. 
Throughout this journey, the singer is adamant that he doesn't regret a single step. "My favorite line ... is 'I don't regret anywhere I've been,'" he shared with Rolling Stone. "Every artist, if they're not allowed to explore, if they're not allowed to expand and try things, it halts the creative process." At the very least, musical experimentation has certainly been key to Rhett's thriving career!