Kate Middleton's Newest Diamond Necklace Is Eye-Watering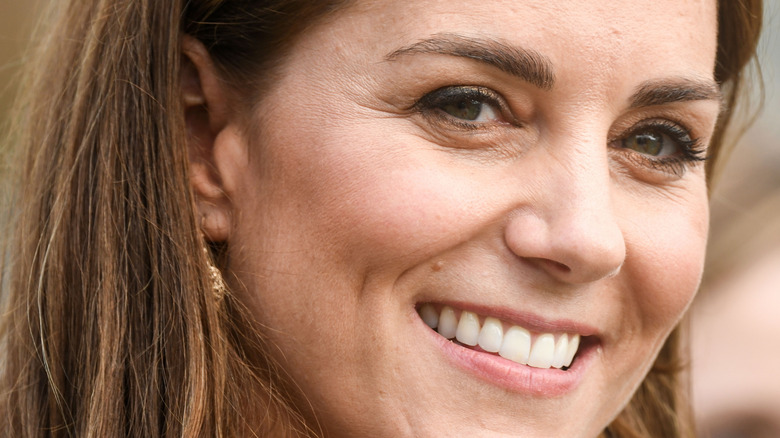 Shutterstock
Kate Middleton has been wearing a new necklace lately, and just about everyone is noticing! The stunning diamond flower pendant was most recently seen on the Duchess of Cambridge in a May 24 video message in which she thanked nurses around the globe for their hard work and dedication to their jobs, which was "highlighted" by the COVID-19 pandemic. Kate wore the necklace as an accessory to her recycled outfit; a white Alexander McQueen peplum skirt suit, according to People magazine. 
Kate's message marked the end of the Nursing Now campaign. "When Nursing Now was launched in 2018, we had no way of knowing just how much the work, dedication, and infinite care of nurses would be tested, needed, and appreciated," Kate, a patron of the initiative, said. "It has been the hardest of years and my heartfelt thanks to you and your colleagues around the world for the incredible work you do every day," she added. 
The pendant rested delicately on Kate's décolletage, and was certainly eye-catching. Keep reading to find out where Kate got the necklace and why it's so sentimental to her.
It is believed that Kate Middleton received the necklace as a gift from Prince William
The stunning piece of diamond jewelry first made an appearance around Kate Middleton's neck in the Instagram photos that she and Prince William shared on their 10-year wedding anniversary, and, according to Page Six, may have been a gift from William. The Daisy Heritage Pendant designed by Asprey features a breathtaking flower with diamond petals. The piece is described as "one of the most iconic of such designs, featuring individually set marquise cut stones as the flower's petals." The Asprey website's description adds that each petal "is held in place with two perfectly formed V-shaped claws, designed to allow maximum light to pass through the stone. The [center] of the flower, meanwhile, is set with a half ball of pavé diamonds, replicating the texture of the daisy's [center]."
The necklace can be purchased for a cool $12,350. According to Page Six, Kate also owns the matching earrings, though it's unclear if those were a gift or if she purchased them herself. The earrings retail for a whopping $26,000! Asprey also makes a matching ring, that would complete Kate's set. The price? $16,400.