Jennifer Aniston Has Something To Say About Brad Pitt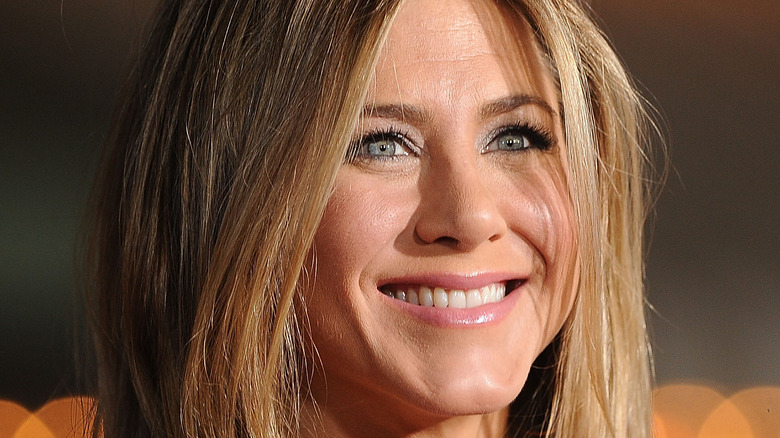 Jason Merritt/term/Getty Images
Jennifer Aniston and Brad Pitt's relationship may have ended over a decade ago, but Aniston commenting on her movie-star ex is still a momentous event for their many fans. And ahead of the long-awaited "Friends" reunion, Aniston has spoken out about Pitt's guest performance on the sitcom that made her a star.
Pitt and Aniston first started dating in 1998, and as she later told Diane Sawyer on "Primetime," she knew he was "the one" from the start. "Yeah. We both did. On our first date," the "Horrible Bosses" star revealed. "It was weird ... That was a really easy evening. That was really fun." After their 2000 marriage, the actors quickly became one of the world's most beloved celebrity couples. And that reputation only increased when Pitt agreed to guest star on his wife's hit show.
According to ScreenRant, the "Fight Club" actor was a fan of the show and often visited the set to see his wife. The "Friends" team thought it would be funny to cast him as a former classmate and enemy of Aniston's character, Rachel Green. His performance as Will, the founder of an "I Hate Rachel Green" club, led to Pitt being nominated for "Outstanding Guest Actor In A Comedy Series at the 2002 Emmys.
Jennifer Aniston called Brad Pitt 'wonderful'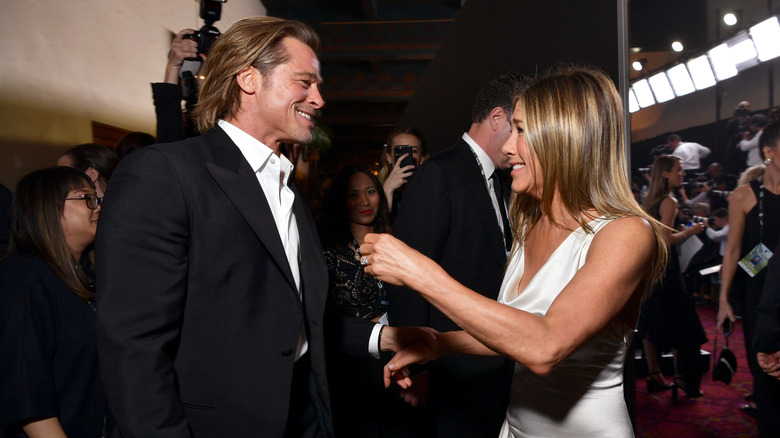 Emma Mcintyre/Getty Images
And now Jennifer Aniston has given a shout-out to Brad Pitt for his memorable cameo.
Although their infamous split and Pitt's recoupling with Angelina Jolie led to Aniston claiming that the actor was missing a "sensitivity chip" in his brain, per Vanity Fair, they have reconciled in recent years. Us Weekly reported that the pair reconnected after Aniston's mother died and are now much closer.
Aniston proved that there were no hard feelings by singing his praises in a recent interview with Access alongside Lisa Kudrow and Courteney Cox, discussing the "Friends" reunion. "You had every A-list star on there. Do you have a favorite or most memorable one?" Kit Hoover asked the three co-stars, who acted opposite guest appearances from Julia Roberts, Tom Selleck, Sean Penn, Paul Rudd, and Alec Baldwin, among many others. "I was blown away by so many," said Kudrow.
Aniston praised her friend and "Along Came Polly" co-star Ben Stiller, calling him "hysterical" in the role of Tommy, a man with anger issues who Rachel briefly dates. She also singled out Reese Witherspoon, who played her sister on "Friends" and, later, her co-anchor on AppleTV's hit series "The Morning Show." As Aniston put it, Witherspoon was "brilliant" as her spoiled little sister Jill.
She then paid a compliment to her ex-husband, adding, "And Mr Pitt was wonderful. He was fantastic." The comment sparked excitement from fans on Twitter, proving that even years later, this celebrity couple has the world under their spell.