The Truth About Gordon Ramsay's Kids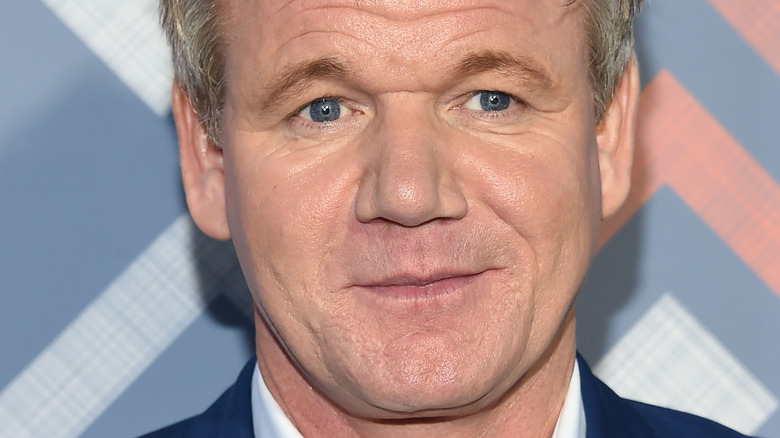 Shutterstock
Gordon Ramsay is everywhere when it comes to TV — he's dishing out tough criticism on "Hell's Kitchen," "Kitchen Nightmares," and "MasterChef Junior," and he always seems to be cooking up a new show. One might think since he's so critical on-screen, he would have a softer side off camera. Spoiler alert: he's all about tough love at home, too.
According to the Mirror, Ramsay keeps his kids grounded by only letting them fly economy. "I have got to keep it real with the kids, and also I think just getting kids at the age of five, six and seven, used to first class and those big seats, they do not need the space, they get entertainment on their iPads," he said. "So I like to think about what you can do with the money when you land, rather than paying out thousands of dollars for eight, nine ten-year-olds to sit in first class."
The chef also runs a tight ship at home with a ban on cursing. "They know I've said bad words. I say it is an industry language. They don't swear. They don't walk around shouting the f-word," he told the outlet. Ramsay may be a famed talent in the kitchen, but are any of his kids following in his footsteps? Keep reading to find out, and for more details on his family.
Gordon Ramsay is a father of five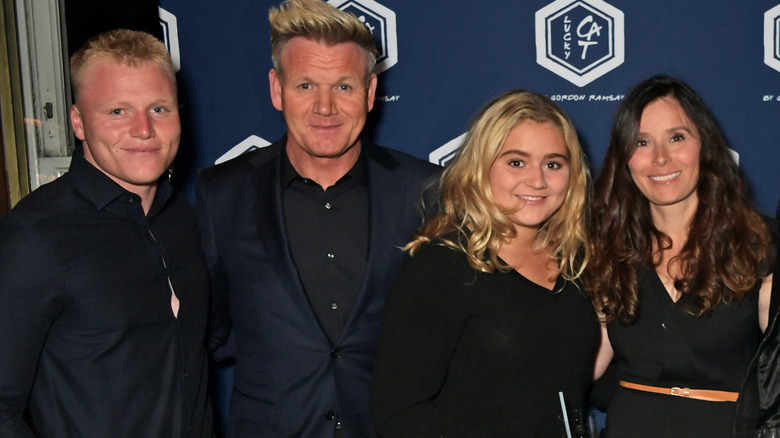 David M. Benett/Getty Images
Gordon Ramsay and his wife Tana Ramsay have been married since 1996 and share five children — Megan, twins Holly and Jack, Matilda, and Oscar (Jack and Matilda can be seen above), according to Hello magazine.
Per the outlet, Megan reportedly graduated from Oxford Brookes with a philosophy degree, and Holly is signed to Established Models, per the outlet. Holly seems quite interested in the fashion world, even joining her pops at David Beckham's Kent & Curwen fashion show in 2019, per the Daily Mail. Jack attended Exeter University and is reportedly training to become a Marine, according to Daily Mail. Matilda apparently inherited the foodie gene in the family and even published her own recipe book. The family made an appearance on her CBBC show, "Matilda and the Ramsay Bunch," where she cooked food inspired by their life.
Despite Gordon's impressive net worth, his children can't touch his fortune. "[My money is] definitely not going to them, and that's not in a mean way; it's to not spoil them," he shared, per AP News. "The only thing I've agreed with Tana is they get a 25 percent deposit on a flat, but not the whole flat. ... I've been super lucky, having that career for the last 15 years in the US. ... so I respect everything I've got. I worked my a**e off to get out of the s*** mess that I grew up in and they're grateful, they're not spoil[ed]."