Gwen Stefani Debuts New Hairstyle During 'The Voice' Performance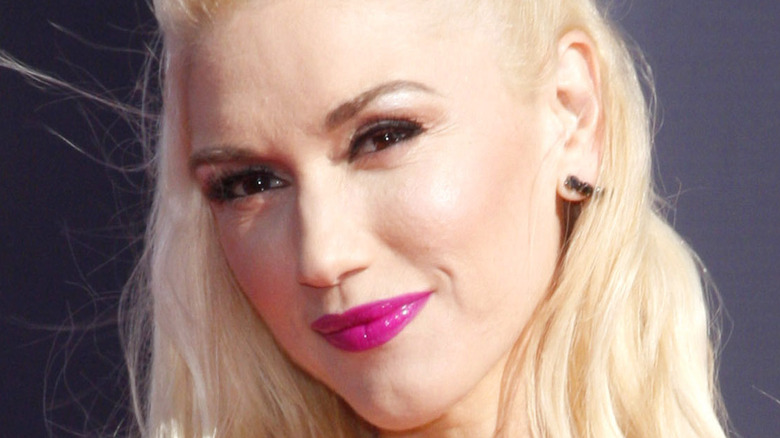 Shutterstock
Aside from being an award-winning, multi-platinum-selling singer, Gwen Stefani is also known for her eye-catching sense of style. The "Simple Kind of Life" hitmaker, who rose to fame as the lead singer of ska-punk band No Doubt, is most recognized for her bold red lips and platinum blond locks, of course. However, the "Orange Country Girl" was in fact born a brunette.
As previously reported by E! News, Stefani has rocked the platinum look for over two decades and always looks flawless. Her hairstylist, Danilo, told the outlet in 2016 the secret to how she achieves her trademark hue. "We haven't used bleach since 2004," Danilo revealed, adding "I developed a high-lift formula that achieves the same effect but saves the quality of her hair. I did a lot of research and really looked at places of origins for blond hair color like Germany and Scandinavia. I've spent years finding and testing new lines and technology."
"Every Monday in the trailer when she's doing 'The Voice,' I color, wash and treat her hair," he continued. With that being said, Stefani has had her fair share of transformations over the years. In 1998, she attended the MTV Video Music Awards with blue hair, and also famously went through a phase of having both cotton candy and magenta pink locks.
During a recent appearance on "The Voice," Stefani debuted a new hairstyle she's never had before. Keep reading to find out more.
Fans think Gwen Stefani's new hairstyle is a homage to her ska roots
During "The Voice's" Season 20 finale on May 25, Gwen Stefani returned to the show to perform her latest single "Slow Clap" with rapper Saweetie. As always, the Grammy Award winner and fashion designer looked very glam, walking on-stage in a black bra, dazzling netted crop top, and sparkly black-and-white checkered mini-skirt. Stefani teamed the ensemble with black heels and accessorized with numerous bracelets. She was joined by a series of dancers who were all performing choreography in front of a black-and-white themed visual. 
To match the aesthetic of the performance, Stefani stunned in a two-tone hairstyle. She rocked a black ponytail and full fringe while keeping the sides her signature platinum blond shade. She also showed off the look in a series of Instagram selfies before the performance.
Unsurprisingly, viewers noticed the bold new look and had something to say via social media. One person commented on her Instagram slideshow in all-caps. "YOUR HAIR ARE YOU KIDDING ME," they shared. After one user tweeted, "What's up with the hair?" a fan was quick to respond with, "It's an old school ska reference!" they explained. "Just like the checkerboard patterns, the shape and color of the bangs and the silhouette of the skirt!" Another viewer summed it all up by tweeting, "Great performance @gwenstefani. loved the hair, outfit, energy & spirit of this song. Keep being you babe you're a beautiful bright ray of sunshine."