Amanda Kloots' Net Worth: How Much Is The Talk Co-Host Worth?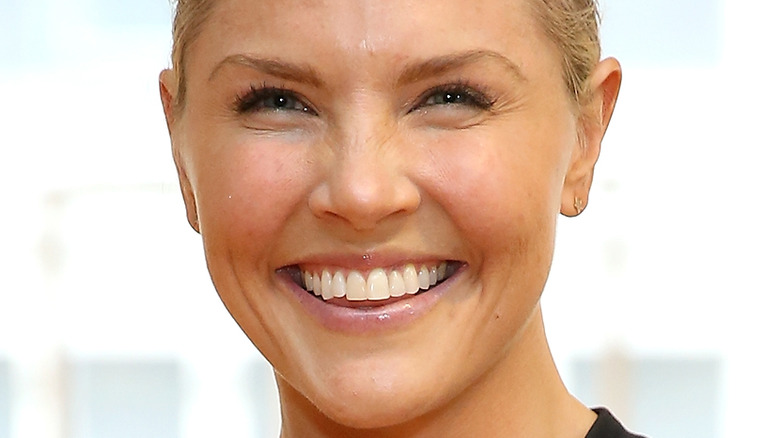 Monica Schipper/Getty Images
Amanda Kloots may be one of the smiling new faces on "The Talk," but life hasn't always been sunshine and rainbows for the star. CBS called on her to join the hit daytime show in January 2021 after Marie Osmond and rapper Eve called it quits, per Hollywood Life. Having previously guest-hosted "The Talk," Kloots expressed how "thrilled" she was with the offer, but also acknowledged the tough year she experienced amid the pandemic on Instagram: "To end this year with this news, this special gift is unbelievable. My angel in heaven is certainly looking out for us."
Kloots has been part of the entertainment industry for some time, but her popularity ironically seemed to increase after she began documenting a family tragedy. Kloots' husband Nick Cordero (like her — a Broadway star) died of COVID-19 on July 5, 2021 at just 41 years old after spending 13 weeks in an ICU, per 9Honey. On social media, she explained she and their infant son Elvis didn't even get to say a proper goodbye to Cordero due to COVID-19 restrictions. "We didn't hug. We didn't kiss goodbye. We couldn't. It was clear he was sick with something and we couldn't take any risks." 
Kloots not only was flooded with sympathetic support, but also became a social media pioneer, as she explained the seriousness of the disease to hundreds of thousands of followers. She even took a swipe at then-President Donald Trump. Her determination and compassion saw her star power rise and allowed her to forge a successful business while grappling with her husband's illness. 
Amanda Kloots began her career as a Rockette before joining the fitness world
Before providing her thoughts on "The Talk," Amanda Kloots offered up her high kicks for the iconic Radio City Rockettes and Broadway — but she hasn't always had success. The Ohio native faced constant rejection as a struggling dancer in New York City. "When you are auditioning everyday, competing against the most talented people for maybe five spots in a show, being told 'No' over and over again for 16 years- you learn a lot," Kloots told Forbes.
Such hurdles allowed her to develop the "thickest skin," which saw her persevere when her "Bullets on Broadway" show got canceled the same time as a marriage breakdown. "Life can definitely throw you some ups and downs but one thing I've learned is how strong you become from the lowest times in your life," Kloots told Time. And "strong" she became, as Kloots started her own fitness company. 
Kloots took a literal leap of faith when she swapped Broadway for a jump rope class business in 2016. While she admitted it wasn't an "overnight success," people gravitated to Kloots' fun concept, which also incorporated cardio dance. Her popularity increased when the pandemic hit, following posts about her husband and her fitness business moving to the online world during lockdown.
Now compared to other celebrity fitness influencers Kloots' net worth is a modest $1 million, according to GossipGist. But with an upcoming book "Live Your Life" and a shiny new contract at "The Talks," Quick Celeb Facts believes her earnings could skyrocket soon!