Who Is Kyle Larson's Wife, Katelyn Larson?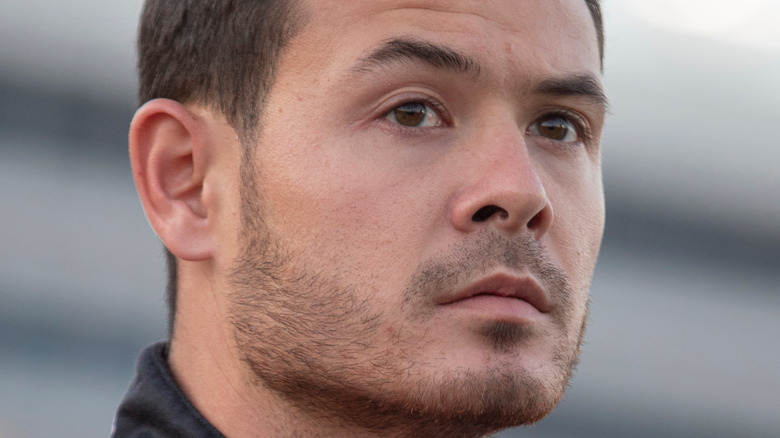 Shutterstock
The world knows Kyle Larson as a seven-time NASCAR cup winner, who also qualified for the playoffs in 2016-2019, according to NASCAR.com. In 2014, he took home the honor of Sunoco Rookie of the Year and has racked up 12 Xfinity Series wins, as well as two Camping World Truck Series wins. This guy has talent!
Kyle joined Hendrick Motorsports before the 2021 season and is ready to make an impact with his new team. "I just think I've got a great group of people around me throughout all of Hendrick Motorsports but especially on our 5 car," he told Heavy. "Their preparation is something that is pretty awesome to see, and I feel like I'm putting in a lot of work off the track, too, to get myself up to speed with no practice and things like that."
Although the coronavirus pandemic eliminated practice sessions on the racetrack, Kyle wasn't concerned. "Honestly, probably no practice benefits me a little bit, just from being able to adapt quickly and not giving myself an opportunity to tune ourselves out with any bad feedback. It's been really fun to be this good this early on in the year," he said.
Kyle has a life outside of the racing world. Keep reading for more details on his wife Katelyn Larson, who he's been married to since September 2018, according to The Sun.
Katelyn Larson is a mother of two
Katelyn Larson isn't a stranger to the racing world, as her brother Brad Sweet used to drive for NASCAR and currently drives for Kasey Kahne Racing, according to his Instagram. She was an equestrian for six years and also runs to stay in shape. Katelyn reportedly went viral in November 2019 after she was spotted shotgunning a beer at the NASCAR Awards.
When Katelyn isn't supporting her husband Kyle Larson at the racetrack (or shouting out his online merch store), she's a mom to Owen and Audrey, according to Amo Mama. Owen appears to be following in his dad's footsteps and raced a car of his own in September. Daughter Audrey seems to take after her mom as she wrote on Instagram in May: "Happy 3rd Birthday to this SASS filled independent Girl! We sure love you!"
Although it seems like racing keeps this family traveling, they always make time for their kids.