Who Is Juan Pablo Montoya's Wife, Connie Freydell?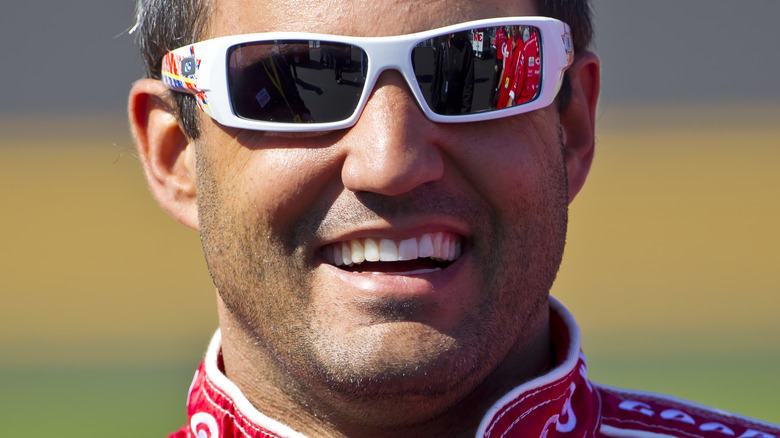 Shutterstock
Juan Pablo Montoya isn't lacking in talent when it comes to racing – he is only one of three drivers to "win races in Indy cars, NASCAR and Formula One," according to IndyCar.com. He's also the only driver to win the CART championship (1999), Indy 500 (2000), and Rolex 24 at Daytona (2007) with just one attempt a piece. Impressive!
Montoya is grateful for his storied career but still can't believe it's been seven years since he raced in NASCAR. "That's crazy, it's been that much [time] already?" he said during a March NASCAR interview. "When you look back at it, you go, 'Oh, my God, it's crazy that it was that long ago.' It's the same thing with F1, which is worse because you can add another [six years before that]. People still remember, people still talk about it [my time in NASCAR]. It's good."
Montoya doesn't plan to hang up his helmet anytime soon. "Honestly, I'm to the point I still enjoy racing, I'm still competitive," he told the outlet. Plus, he has an active and rewarding life outside of the racetrack. Keep reading for more details about his wife, Connie Freydell.
Connie Freydell is a mother of three
When Juan Pablo Montoya isn't racking up career wins, he's a father to Sebastian, Paulina, and Manuela with his wife Connie Freydell, per IndyCar. She loves posting pictures of her kids on Instagram and reminiscing on the early days of her husband's racing career. Freydell makes sure to keep her husband grounded with family activities at home. "It's a good thing. It's important. At the racetrack, he's focused. At home, he can relax," she told IndyCar. 
The couple also cycles together, which only seems to strengthen their bond. "Cycling, he loves it. It's his way to disconnect from the world," she told the outlet. "It helps him to relax and train at the same time." The couple are also heavily involved in Formula Smiles Foundation, their charity that hopes to "improve the lives of thousands of children burdened by poverty and violence in their daily life, teaching them how they can dream about being better persons and having a more promising future through sports," per its description.
Son Sebastian seems to have caught the racing bug; he's in his second season of Formula 4 racing for the Italian team Prema Powertrain, per a March NASCAR report. "He's very, very quick, he's crazy fast," Montoya told the outlet. "I think he is a lot smarter than me in a lot of ways. And I think he can race just as good as me, I think, or even better sometimes."