How Close Is The Friends Cast Today?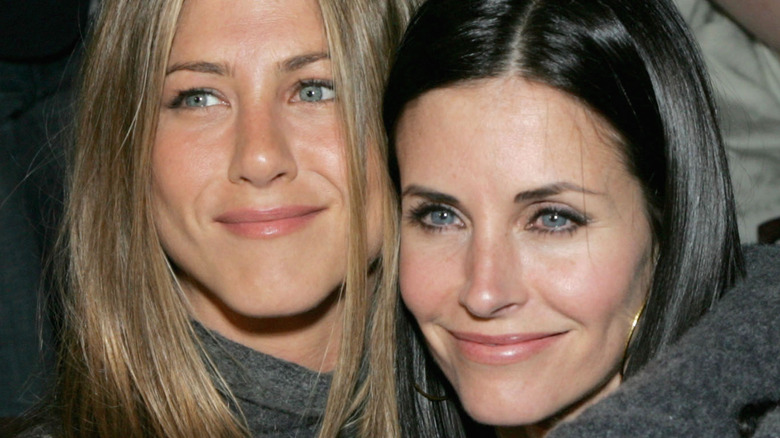 Alberto E. Rodriguez/Getty Images
It's been nearly 20 years since "Friends" ended, but the cast is still closer than ever. The gang — which includes Jennifer Aniston, Courteney Cox, Lisa Kudrow, Matt LeBlanc, David Schwimmer, and Matthew Perry — spent 10 seasons together and created a bond that will likely last them forever. After all, the six have experienced everything from marriage to divorce and even some personal ups and downs, and through it all, they've always been there for each other. 
They may not all hang out in the same New York City apartment anymore, but "everything they went through" bonded them, according to a production source. "They're a very tight-knit group," the insider told Page Six. "It's a gift to have that kind of friendship." 
The "Friends" reunion, which premiered on HBO Max on May 27, is further proof of that as seeing them all together again felt as natural as watching them on our TV screens. The cast's chemistry is still as undeniable as ever and their relationships seem the best they've ever been. So just how close is the "Friends" cast all these years later? Keep scrolling to find out who hangs out all the time and how they keep in regular contact.
The actors created 'life-changing' relationships with one another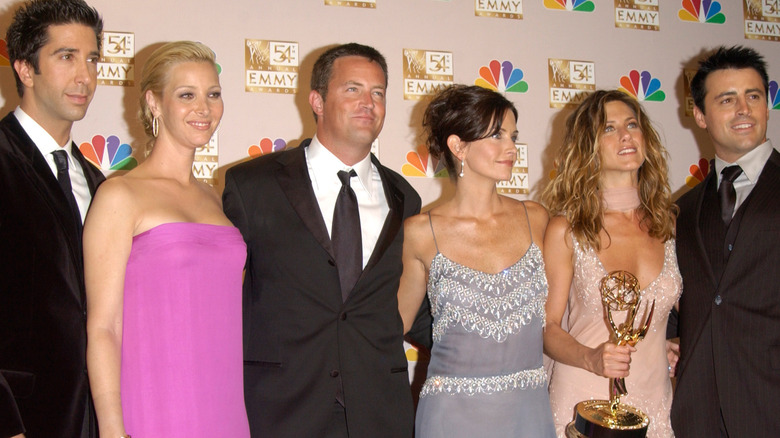 Shutterstock
Ahead of the "Friends" reunion, Lisa Kudrow opened up about her unique relationship with her former cast members. "I didn't realize until the show ended how rare it is how much this cast get along together and how much we still love each other," she explained (via the Daily Mail). In fact, it felt like nothing had changed. The actor also noted that the first time they were all on a call together, they "could barely stay on topic because we kept making each other laugh."
During the reunion, Matthew Perry said that no matter how much time goes by, the six of them will always have a close bond. He even explained what it's like for them to run into each other in public. "The best way that I could describe it is, after the show was over, at a party or any kind of social gathering, if one of us bumped into each other, that was it," Perry shared (via Entertainment Tonight). "That was the end of the night. You just sat with that person all night long."
"It was an incredible time," Courteney Cox added. "Everything came together. We became best friends, the chemistry, the whole thing. It was life-changing and it forever will be — not just for us but for people who watch it. That's just such a great feeling to carry forever. I'm so grateful, and I love you guys so much."
Jennifer Aniston, Lisa Kudrow, and Courteney Cox even have a text chain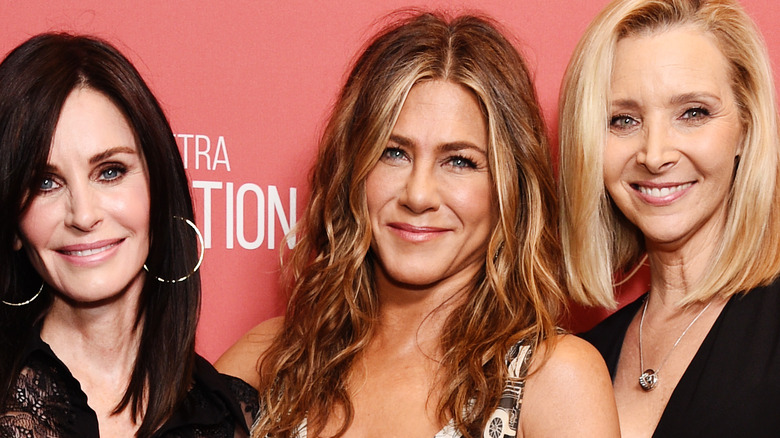 Gregg Deguire/Getty Images
Though many assume Jennifer Aniston and Courteney Cox are the closest "Friends" friends because Cox served as Aniston's maid of honor (per NY Daily News) and Aniston is the godmother of Cox's daughter Coco Arquette (per People), it turns out Lisa Kudrow's bond with them is just as deep. As seen on social media, the trio not only hang out regularly, but in March 2018, it was revealed they have a group text. "Lisa, Jennifer, and I all have a text chain, but to me it's too much pressure," Cox, who played Monica Geller, admitted to Us Weekly. "I'm not into the group text chain. I really don't like it!"
It's unclear if Matt LeBlanc, David Schwimmer, and Matthew Perry have been added to the group chat, but during the reunion they did make the commitment to see each other more often — even though they admitted they'll likely not reunite on TV ever again. "I'll tell you one thing: we are not waiting so long to have dinner," Cox said (per Entertainment Tonight). Aniston agreed, adding, "No we will not. We will not wait that long to get together."
It's safe to say we'll be looking forward to any and all future "Friends" dinner selfies.