Where Does Casey Anthony Live Now?
Pool/Getty Images
It's hard not to be curious about where Casey Anthony has been these days. It's been almost a decade since Anthony was acquitted on charges relating to her daughter's disappearance and death.
For those who need a refresher, in 2008, Anthony's 2-year-old daughter Caylee went missing, but Casey didn't report her disappearance for 31 days. After a massive search for the toddler, Caylee's remains were found in the woods near Casey's Florida home. She was charged with murder and her 2011 trial became a media circus with millions tuning in to eventually find out that Casey was acquitted of murder and instead charged with four counts of lying to police.
While the trial and verdict seemed to enrage many, Casey has seemingly moved on and is trying to have a normal life. She does however, appear to be trying to cash in on her true crime fame. According to People, in December 2020 Casey launched a private investigation firm in South Florida. "She knows what it's like to be accused of something that she didn't do," a source told the outlet. "She wants to help other wrongfully accused people, especially women, and help them get justice." 
She also is apparently working on a book and a movie about her life. "The movie is called 'As I Was Told' because I'd done what I was told to do," she told the Daily Mail. "I had to put on a fake persona throughout those 31 days." So, since she hasn't exactly been out of the headlines, where is she now?
Casey Anthony is making headlines in Florida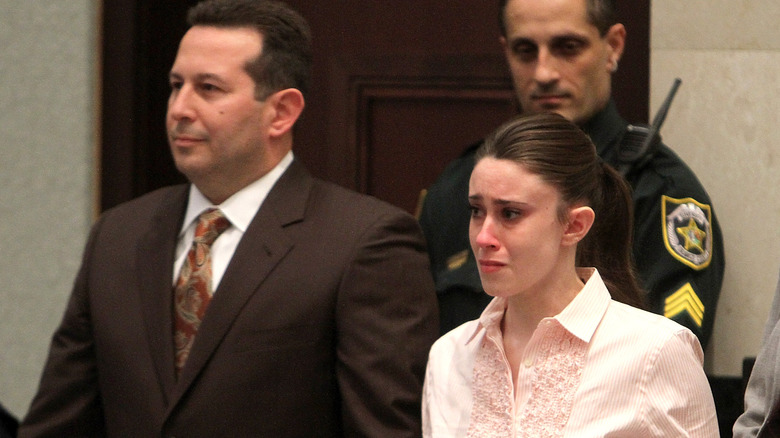 Pool/Getty Images
Casey Anthony may be trying to put her controversial past behind her but she still lives in the state where it all went down: Florida. However, Anthony left the Orlando area and instead moved south to West Palm Beach, where she was taken in by Patrick McKenna, a private detective who worked on her 2011 case. Anthony's P.I. business was also registered to his home. While OK! reports that the house went on the market late last year, it's unclear if it's been sold, but Anthony appears to remain in the area.
After years of trying to keep a low profile, Anthony started making appearances around town and has been seen buying a new car, getting a manicure, and even at a protest against former President Donald Trump. Anthony is reportedly even dating and partying again. "She believes she has done her penance. And now she's partying," a source told People. "She's dating around, meeting new people, and finally creating a social life."
Some of that dating recently got her back into the headlines. According to Click Orlando, Anthony was involved in an argument with another woman in which police were called. Apparently, the women were arguing about a man they were both dating and the other woman spilled a drink on Anthony. While Anthony wanted police to document the incident, no arrests were made. But needless to say, Anthony is living her life in West Palm Beach — and not as under the radar as she may like.