Here's How Much Breland Is Really Worth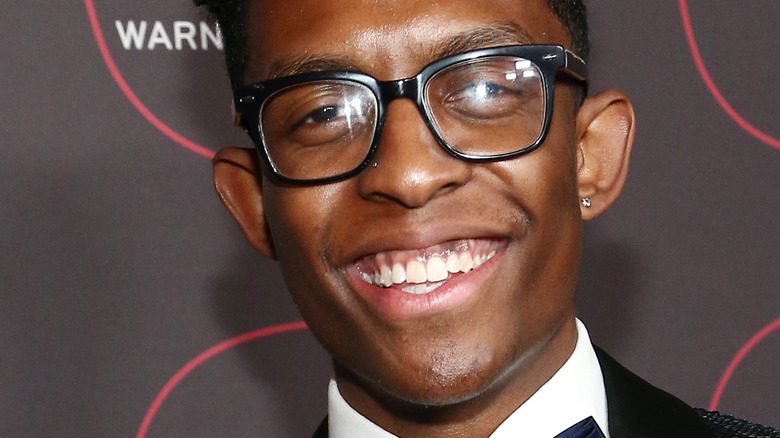 Tommaso Boddi/Getty Images
If you listen to Lil Nas X and Blanco Brown, you're probably familiar with Breland, another country-hip-hop artist. Breland is best known for "My Truck," which has over 47 million views on YouTube since its release in February 2020.
Per Rolling Stone, Breland's song started to make the rounds on TikTok in December 2019, with over 250,000 user-generated videos. It also took the number one spot on Spotify's Viral 50 chart in February 2020. Breland told the outlet the success of the song was simple: "What made the song popular on TikTok and on the internet was the actual truck community embracing it. The video is a celebration of truck culture, but also a celebration of diversity."
Before going viral, Breland turned down an offer to attend New York University's Tisch School of the Arts' Clive Davis Institute of Recorded Music and instead studied business at Georgetown University, per Taste of Country. Georgetown was part of his plan, as he told Vice in July 2020. "At the end of the day, it doesn't matter what program you come out of. You're either going to make it in music, or you aren't," he explained. "It's like that Jay Z quote: 'I'm not a businessman / I'm a business, man.'" According to Hoya, Breland was writing songs for Atlantic Records in 2014, so clearly he was on the right track.
One would think that Breland's success would result in a hefty bank account. Keep reading to see how much he's really worth.
Breland's net worth is rising
Breland is worth an estimated $250,000, according to CelebsPage.com. That's an impressive figure for someone who hasn't been in the music industry for a long time.
After he graduated from Georgetown University in 2017, he went to Atlanta to make his mark in the music industry, according to Vice. Although songwriting was his passion, he needed to support himself and took a job selling language technology from 8:30 a.m. to 6 p.m — going straight to the studio until 3 a.m., but it was worth the grind. 
"I never took a day off from work, and I never skipped a day at the studio," Breland said. "If I want to get a song with Beyoncé or Rihanna, I have to write a better song than Ne-Yo while working a whole job. It can't be just as good, because he already has a relationship with them, so I went to the studio full time and put in at least eight hours a night."
Breland's hard work has paid off, as he's headlining his first tour this fall. He is also set to perform at Governor's Ball and has plans to release new music this year. If that's not impressive enough, he's also featured on Rascal Flatts frontman Gary LeVox's "One On One." With all of these opportunities in front of him, Breland's net worth will only continue to rise.