The Truth About Elisabeth Shue And Ralph Macchio's Relationship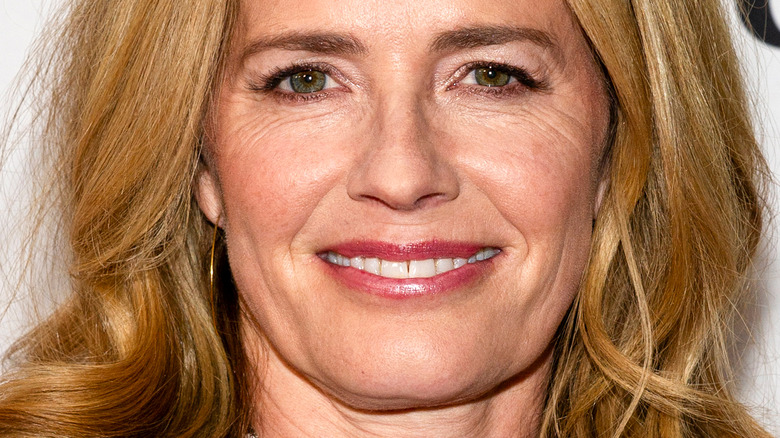 Shutterstock
Back in the 1980s, Ralph Macchio and Elisabeth Shue famously starred in the 1984 hit movie "The Karate Kid" as two teens caught in a love triangle. And, of course, a karate tournament was involved. Ralph Macchio played Daniel LaRusso, who calls for Shue's Ali Mills, but her ex Johnny Lawrence (played by William Zabka) wants her back. While the love triangle solved itself in the first movie (no spoilers), Ali is noticeably absent in the sequel, "The Karate Kid 2," where Daniel explained that she moved on with a college guy.
But the threads of the love triangle were picked up again in "Cobra Kai" Season 3, when Shue guest-starred as Ali. Meanwhile, Daniel and Johnny's rivalry reached new heights upon her arrival, even as adults who are now parents. 
And with Shue's big guest appearance in the show, you might be wondering how close (or distant) Shue and Macchio have been in the decades since they first starred in the first "Karate Kid" movie together. Read on to find out.
Elisabeth Shue confronted Ralph Macchio about Ali's abrupt exit from the 'Karate Kid' franchise
It doesn't seem like "The Karate Kid" co-stars Ralph Macchio and Elisabeth Shue have been very close. They starred in the 1984 hit movie together as Daniel and Ali, respectively, but they didn't really keep in touch after that. In 2019, Macchio told "Collider Live," "You know, lives go different ways; there's no reason not to connect. I could say that about, you know, five different actors I worked with in 1983 that haven't spoken to since."
But Shue and Macchio did cross paths again during the 1986 World Series between the New York Mets and the Boston Red Sox. According to Macchio's "Collider Live" interview, he said hello to her and, after some pleasantries, she asked why Ali was abruptly written out of "The Karate Kid 2," where the character breaks up with Daniel for a UCLA football player. Macchio told the podcast that her absence was probably due to the fact that the rest of the film took Daniel to Japan's Okinawa Island.
"I think at the end of the day, you know, there wasn't a lot of real-estate [for other characters] to go to Okinawa," Macchio said. But Shue eventually reprised the character a year later.
Elisabeth Shue and Ralph Macchio reunited on 'Cobra Kai'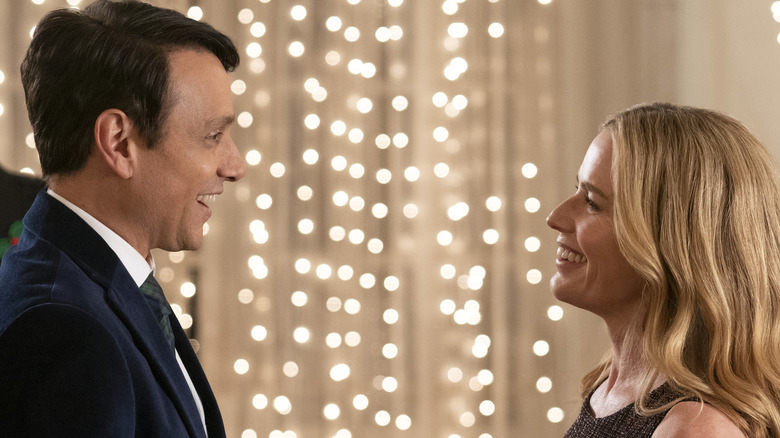 Curtis Bonds Baker/Netflix
When "Cobra Kai" Season 3 dropped on Netflix in early 2021, Elisabeth Shue surprised "Karate Kid" fans by reprising her role as Ali Mills Schwarber for two episodes. She became a pediatric surgeon who was separated from her husband. Shue told Entertainment Weekly that on set, she felt that her chemistry with original co-stars Ralph Macchio and William Zabka was still the same after all these years, and it seems she enjoyed getting reacquainted with both of them.
"[William] and Ralph and I have been talking a little bit more, doing publicity and re-getting to know each other, and we're all struck with the fact that this one movie has shaped all three of our lives in such an intense way," Shue told EW. "What three actors get to come back and reconnect to a film that did impact them when they were children, and share that [as adults]? It's really cool. I'm so respectful of what they've created on 'Cobra Kai.'"
Macchio told Entertainment Tonight shared similar sentiments on how the three actors have been forever bonded by their experience on the original "Karate Kid" movie — and that's why their chemistry still works. He said, "It's a piece of people's childhoods, so from different perspectives, we've all lived with that. So when you see each other, there's this sort of kindred spirit that you share something, even if it's unspoken."