The True Meaning Behind 'Straightenin' By Migos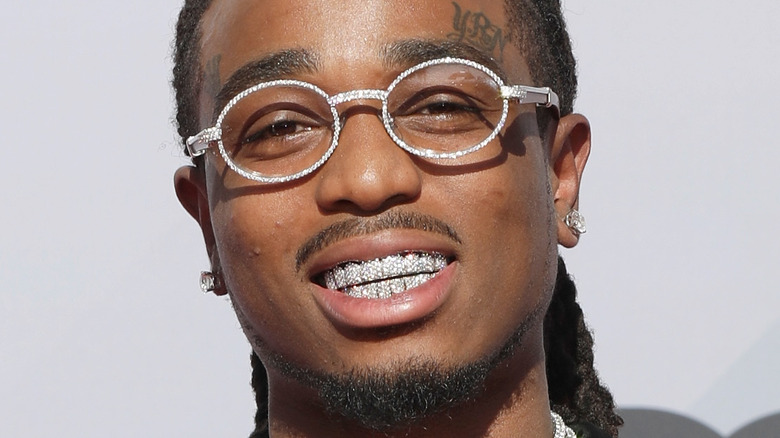 Isaac Brekken/Getty Images
Migos are officially back. Following a break to focus on their respective solo careers, Offset, Quavo, and Takeoff have recently shared their comeback single, "Straightenin." The new track is expected to appear on Migos' upcoming new album, "Culture III," scheduled to be released on June 11 (per Vulture). This would be the rap group's fourth studio album, following 2018's "Culture II."
"Straightenin," which landed on streaming platforms on May 14, debuted at No. 38 on the Billboard Hot 100 Singles chart on the week of May 29. The song's music video, meanwhile, already counts over 13 million views on YouTube. To further support the release, Quavo recently took to Instagram to tease a new "Straightenin" spray bottle. In the video, the rapper can be seen spraying a stack of 100 dollar bills with the product, before using an iron straighten them.
"Ya Bankroll Out Of Order? Are U Losing Ya Fold Cuz The Money Got Swole," he wrote in the caption. "Try STRAIGHTENIN Spray Today! #Culture3 6/11 @migos." So far, there's no word on whether Migos' "Straightenin" spray will hit the market. Still, it makes for a pretty smart marketing move.
But what's Migos' "Straightenin" all about? Scroll down to find out.
Migos are back to 'straighten' the rap game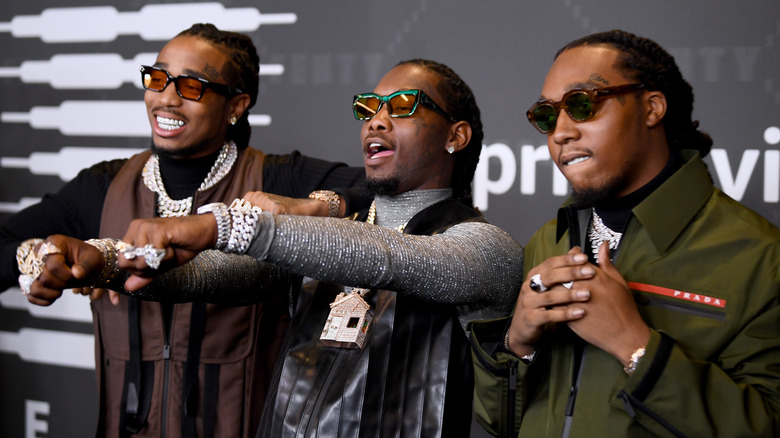 Dimitrios Kambouris/Getty Images
Produced by DJ Durel, "Straightenin" marks the group's first release of 2021. On the new single, the Atlanta natives rap about finally making their comeback after a long break, claiming they're back to "straighten" their competition. The first verse, featuring Quavo, is a perfect example.
"Ni***s act like the gang went vacant / Ni***s act like somеthing been taken," Quavo raps. "Ain't nothing but a little bit of straightenin'." In the same verse, he tells fans how he's been spending his break, which apparently included an island getaway and a whole lot of money. "On an island, it's a movie I'm making / I'm counting dineros with Robert De Niro." 
Quavo's De Niro references isn't a random one. In fact, Quavo and De Niro acted together on the Randall Emmet-directed thriller "Wash Me in the River," which is expected to hit theaters in 2022. In the movie, Quavo plays the role of a drug lord named Coyote. The rapper-turned-actor has also opened up about meeting the legendary actor in an interview with Billboard.
And, apparently, Quavo is a really big fan. "It was too hard. I couldn't wait to tell my Mom dukes that I'm gonna be on the screen and kicked it with him. He's a nice dude."