Inside Quavo's Claim About His Split From Saweetie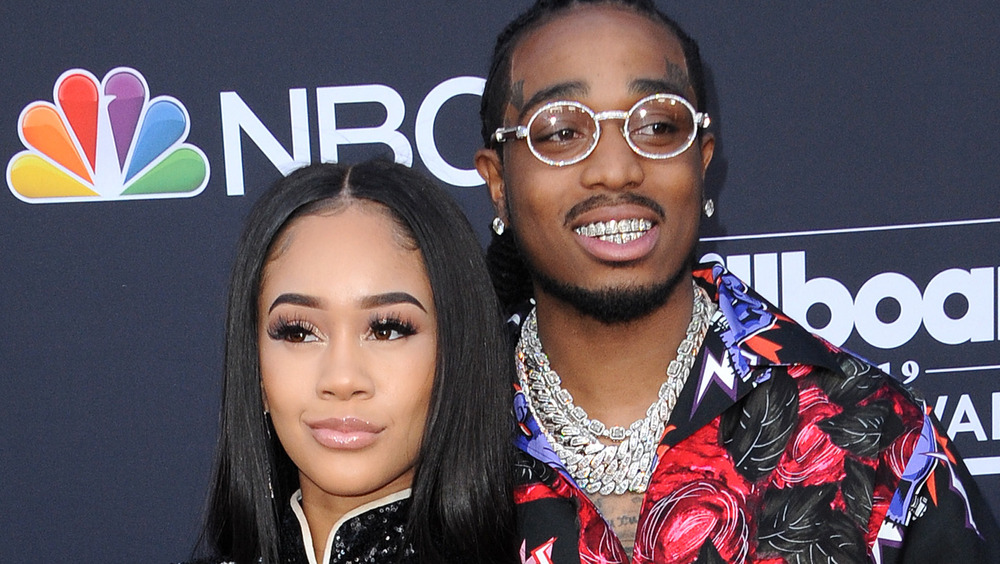 Shutterstock
Former lovers Quavo and Saweetie are experiencing all of the consequences of publicly breaking up. Since announcing their split on Twitter in March 2021, the two have made headlines as details of their split slowly come to light. Following the split, TMZ obtained surveillance footage of Saweetie and Quavo having a physical altercation inside an elevator of the former's Los Angeles apartment building. As seen in the video, Saweetie swings at the rapper before the two begin tussling over an orange suitcase.
Quavo and Saweetie have since released statements about the leaked video, claiming the altercation happened a year before their split. As Saweetie explained to NBC in a statement, "This unfortunate incident happened a year ago, while we have reconciled since then and moved past this particular disagreement, there were simply too many other hurdles to overcome in our relationship and we have both since moved on. I kindly ask that everyone respect my privacy during this time."
In addition to rumors of domestic violence occurring in the couple's relationship, rumors also circulated that Quavo repossessed Saweetie's Bentley. Read on to find out what Quavo has to say.
Quavo claims he repossessed Saweetie's Bentley in new song snippet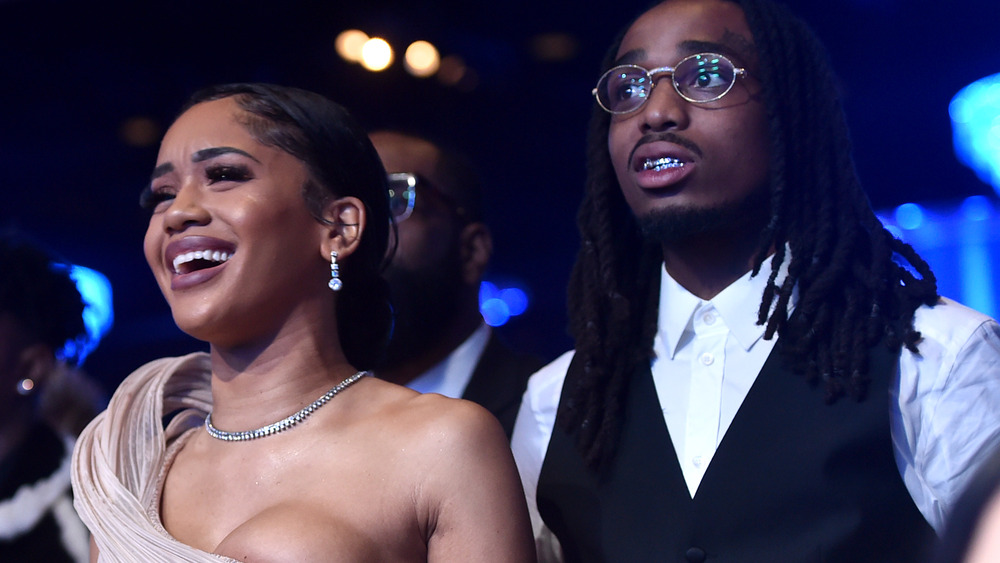 Alberto E. Rodriguez/Getty Images
Quavo and Saweetie were once rap's "it" couple, and their fans gushed over the former lovers' shared admiration for food and luxury gift giving. In December 2020, Quavo gifted the "Best Friend" rapper a customized Bentley for Christmas. The Shade Room reposted the video of a joyful Saweetie screaming at the sight of the icy white Bentley driving up to her.
However, after the couple's split, fans were left wondering if Quavo took the Bentley back from his ex. Although TMZ initially reported the rumors to be false, it looks like Quavo is addressing the rumors for himself. In April 2021, OnSite! TV reposted a snippet of the "She's For Keeps" rapper's unreleased song, in which he is reportedly dissing Saweetie. He is heard rapping, "Lil' bitty b****, she slimy, she sneaky/ Takin' back that Bentley," ultimately implying that he took back the Christmas gift. 
Previously, the rapper shared another snippet from a track, where it sounds as if the rapper is taking a dig at Saweetie. He says, "Young n***a burnt out, burnt out/12 pulling up so we burned out/Sweet little b*tch now she turnt out." Clearly, Quavo is being a petty ex.