This Is How Saweetie Says She Knew Quavo Loved Her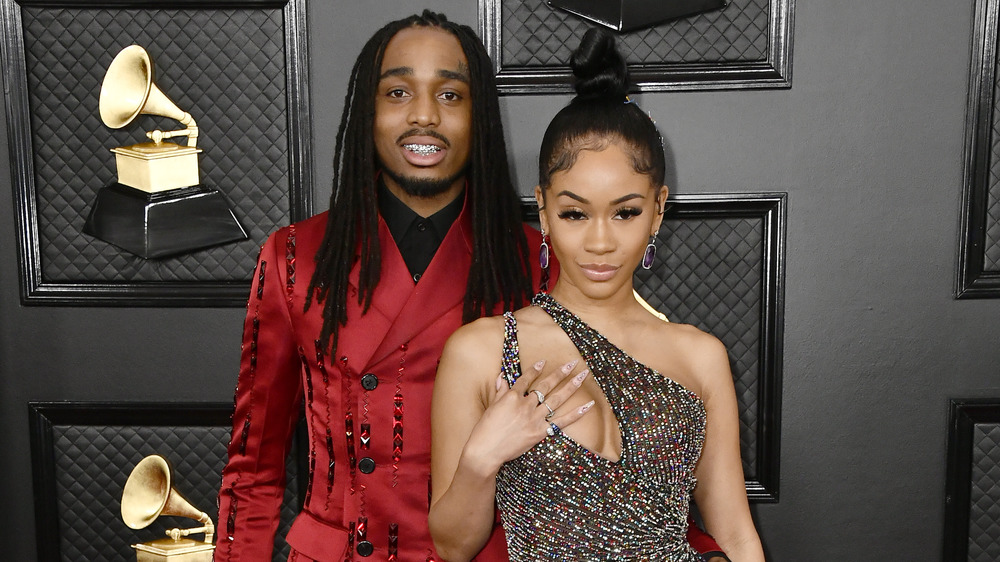 Frazer Harrison/Getty Images
Everybody's love language is different, and everyone expresses their love differently. As for rapper Quavo, he has an interesting way of showing his love for his girlfriend Saweetie. Although Quavo might have bought the "Back to the Streets" crooner a custom Bentley as a Christmas gift in late December 2020, the latter says that the luxurious gift wasn't the defining moment in their relationship. 
In a January 2021 interview, Saweetie said the way that she knew the Migos rapper loved her came from a much more mundane moment. "The moment I realized that Quavo really loved me is when he saved me some of his food," the "Icy Grl" rapper told Page Six. "He gave me his last piece of chicken." Saweetie explained how her boyfriend would save her food whenever she would be doing something: "I wasn't testing him or anything. I'll be coming out of a Zoom meeting or done doing something and he would have saved me some of his food." How sweet is that?
Food is the way to Saweetie's heart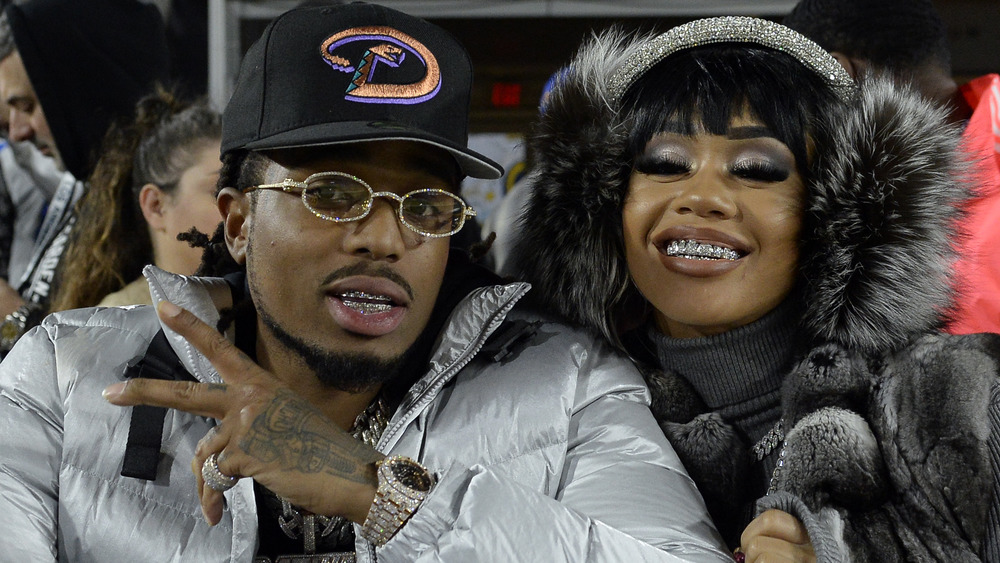 Kevork Djansezian/Getty Images
Food is the sixth love language, and Saweetie is not afraid to admit it. In January 2021, Saweetie revealed that her fantasy is to dine on board her private jet with Quavo. "What would really turn me on, on my jet with Quavo, would involve a lot of food," she admitted to Page Six. "He would feed me oysters, crawfish, macaroni and cheese, greens, Filipino food, I mean ... whatever I'm in a mood for that day — you just never know!" The Grown-ish actress says Quavo's order would be less extravagant. She continued, "What I will feed Quavo ... he loves my pasta, so I would cook some seafood pasta and serve him some veggies on the side."
Since Saweetie and Quavo's relationship began in 2018, we've seen the two share some pretty romantic (and tasty) moments with one another. For example, when Saweetie showcased her interesting way to eat ramen noodles in a hot Cheetos bag in a September 2020 Instagram post, Quavo commented (via Meaww), "I Got food otw you ain gotta do it like that nomo."
Despite their differences in food tastes, the two can't seem to get enough of each other. Saweetie told People what made their bond so strong. "I think the reason why we've lasted so long is because we're like friends who are really, really, really attracted to each other," she said. "I think that's what keeps it fun. It keeps it different. We're able to really just kick it. Like wherever, whenever."