Kamala Harris' Memorial Day Tweet Has People Seeing Red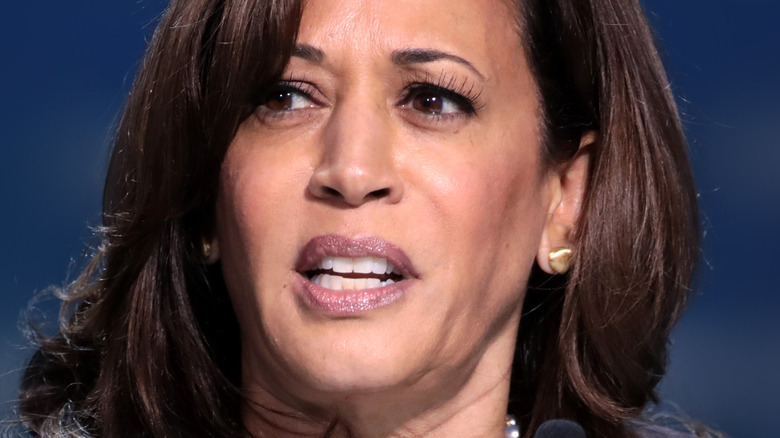 Shutterstock
In 2021, Memorial Day will land on May 31. The holiday is a national day of mourning and honoring American military personnel. But sometimes, that original meaning gets lost in the midst of all the Memorial Day sales and cookouts. Falling on the last Monday of May, Memorial Day is a common holiday that many Americans have off from work, making it a three-day weekend. The holiday's timing usually closes out the month of May, marking the unofficial start of summer.
Both things can be true: We can mourn our fallen heroes, while also celebrating the summer — especially one that will signal the end of a long pandemic. But it seemed that Vice President Kamala Harris has been facing a backlash because she only referenced one aspect of the weekend. On May 29, 2021, Harris' @VP account on Twitter tweeted a simple sentiment: "Enjoy the long weekend." 
Immediately, Republican and conservative Twitter users took aim at the second-in-command politician for failing to recognize those who've served, though she later added a second Memorial Day tweet honoring America's "service men and women." Keep reading to see what people are saying about the vice president's initial message.
Republicans accused Kamala Harris of forgetting the meaning of Memorial Day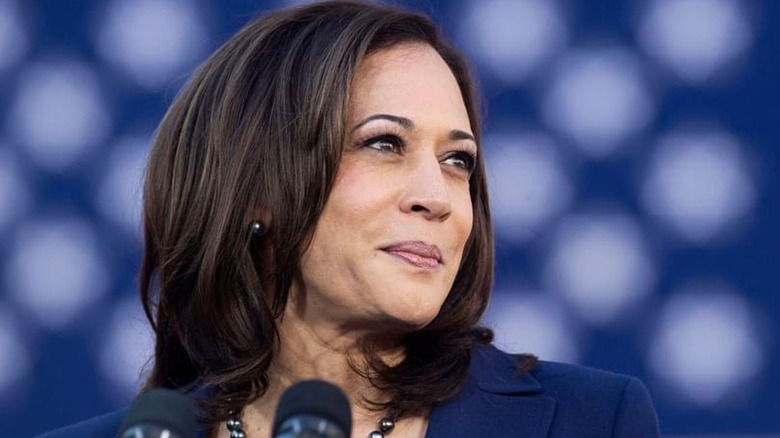 Shutterstock
On May 29, 2021, Vice President Kamala Harris' Twitter account tweeted, "Enjoy the long weekend," accompanied by a photo of her smiling. The tweet sparked a backlash with Republicans, conservatives, and right-wing news outlet Fox News, which published an article with the headline, "Vice President Kamala Harris under fire for 'disrespectful' tweet."
Prominent Republicans also responded to Harris' tweet. Colorado Congresswoman Laura Boebert tweeted in response to Harris' tweet, "Care to mention WHY we're having a long weekend, Kamala?" Jenna Ellis tweeted a photo of former president Donald Trump standing with red, white, and blue memorial flowers, writing, "We enjoyed having a president and VP who respected America's heroes." The Texas Federation of College Republicans posted an infographic about Memorial Day and wrote alongside it, "Here's some facts about Memorial Day since you apparently forgot this isn't just a 'long weekend.'" On Instagram, meanwhile, commenters responded to Harris' "Enjoy the long weekend" message with comments like, "Memorial Day. It's called Memorial Day" and "pronounced 'Memorial Day weekend.'"
But a few days later, on May 30, Harris made another tweet — and it seemed to reference this backlash. 
Kamala Harris' follow-up tweet may have addressed the backlash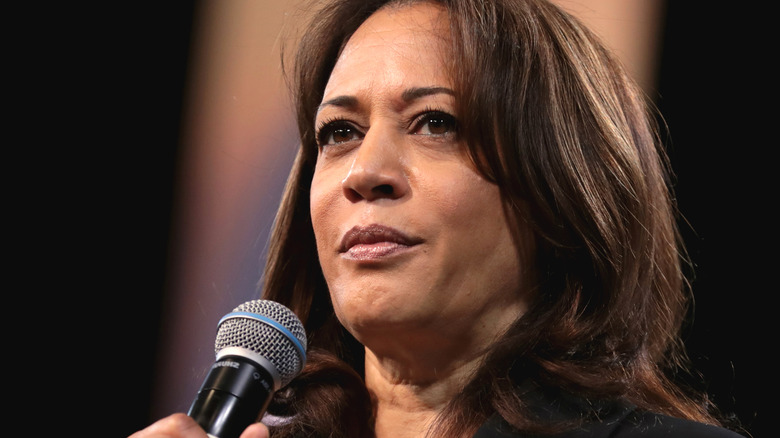 Shutterstock
On May 30, 2021, Vice President Kamala Harris shared a second tweet saluting military veterans. "Throughout our history our service men and women have risked everything to defend our freedoms and our country," her account tweeted. "As we prepare to honor them on Memorial Day, we remember their service and their sacrifice."
Fox News interpreted the tweet as a response, publishing an article with the headline, "Kamala Harris pays tribute to vets after taking heat for earlier Memorial Day tweet" later on May 30. Twitter users, meanwhile, were divided over her tweet; some bemoaned it as too little, too late, while others supported it. One user tweeted, "At best, your original Tweet was insensitive and ignorant. Glad someone got the message across to you what Memorial Day is about. A suggestion. With no reporters and cameras around, take a walk around Arlington Cemetery and reflect." Another user wrote, "I am a veteran and I believe that our wonderful Madam Vice President can communicate both messages if she so chooses."
President Joe Biden, meanwhile, also shared a Memorial Day weekend message on May 28, tweeting, "Our service members are the absolute best of America. Our heart. Our honor. Our solid steel spine. My message to all who serve is simple: thank you."