The Truth About Elaine Welteroth's Husband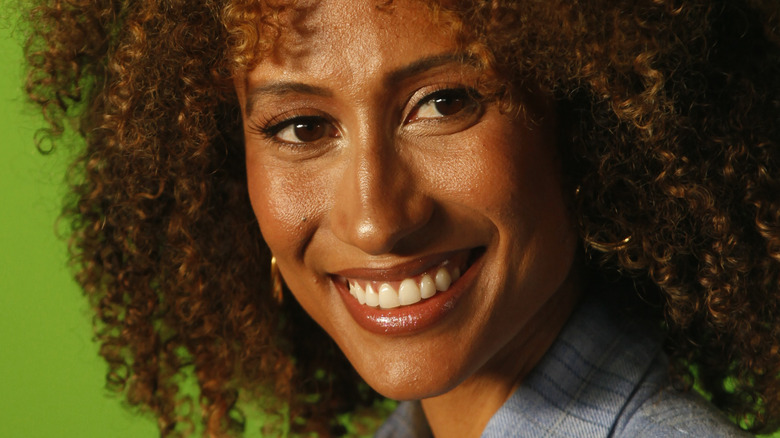 Shutterstock
From journalist to author to TV host and plenty in between, Elaine Welteroth is a force to be reckoned with. The former Teen Vogue editor-in-chief and "The Talk" co-host has made waves in the media world and beyond for her commitment to diversity and inclusion. Welteroth even joined forces with former first lady Michelle Obama in 2020 for the "When We All Vote" campaign.
And in addition to Welteroth's power career moves, fans who follow her on social media will know that the author has a special someone in her life, too. Elaine Welteroth and Jonathan Singletary had a "stoop wedding" during the coronavirus pandemic, she shared on Instagram, and it honestly looks more perfect than a huge wedding. The couple covered their Brooklyn steps in flowers, and the guests wore white, as did the couple.
So, who exactly is Singletary? Elaine Welteroth's husband is just as noteworthy as she is. Keep reading to learn more about the musician.
Jonathan Singletary released a music video starring Lupita Nyong'o
Elaine Welteroth's husband, Jonathan Singletary, is a musician and a star in his own right — he has more than 18,000 followers on Instagram. In May 2021, Singletary released the music video for his single "Never Like This," and the video stars "Black Panther" actor Lupita Nyong'o.
Before releasing his own singles, Singletary was the singer of the alt-rock band Harville, per Afropunk. He has 1,140 monthly listeners on Spotify, too. Singletary's website notes that he's "the son of a gospel choir director," so he's clearly been surrounded by music from a young age! It wasn't a straight path to music, though; Singletary shared with Repeller in 2017 that he actually studied for his Ph.D. with plans to work in the pharmaceutical industry, before switching to pursuing music full-time.
Welteroth and Singletary have an incredibly sweet love story, too. As Welteroth explained to Repeller, they knew each other as teens long before they reconnected years later and started dating. It was a winding journey, but they found their perfect match in each other in the end.