Nicole Kidman Reveals Mystery Fiancé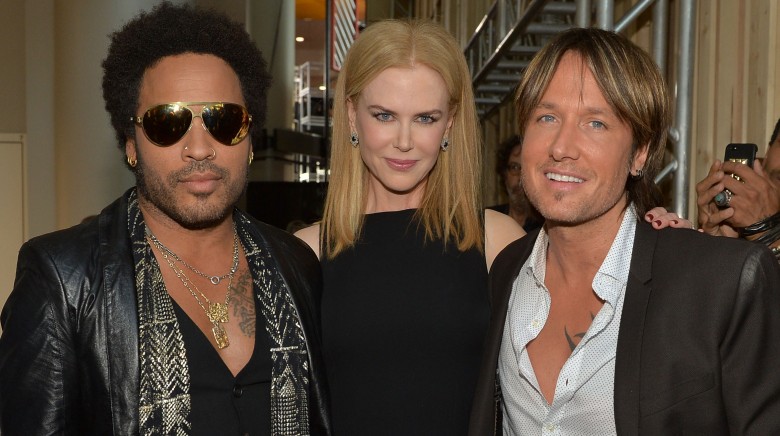 Getty Images
Nicole Kidman almost had a husband in between Tom Cruise and Keith Urban, and that guy was rocker Lenny Kravitz.
The Oscar-winning Aussie only revealed the identity of her mystery fiancé this week. She'd previously told Vanity Fair (via E! Online) in 2007 that she was "briefly engaged" between her split from action star Tom Cruise in 2001 and her wedding to country crooner Keith Urban in 2006. Kidman told the magazine the secret engagement "just wasn't right. I wasn't ready. We weren't ready."
Kidman, 49, told The EDIT via (People) that working with Kravitz's daughter, Zoë Kravitz, on the new HBO miniseries, Big Little Lies (2017), was made easier by their prior familiarity. "Well, I knew Zoë because I was engaged to her father," Kidman said. "It's all in the family! I love Lenny. He's a great guy."
A longstanding rumor claims the Moulin Rouge (2001) stunner even inspired Kravitz's hit song "Lady." People reported that the pair hit it off after she rented his New York City apartment in 2003. They spent Thanksgiving together that year, but reportedly called it quits by December, though there were no hard feelings. Kravitz, now 52, said at the time, "She will always be in my life."
Despite her prior romances, Kidman is blissfully happy with Urban, 49. She told The EDIT (via People) that the "Fighter" singer is a calming presence for her. "I was quite traumatized after [filming Big Little Lies] because we would shoot [the violent scenes] repeatedly," she said. "I was emotionally and physically traumatized. I'd come back and I'd need Keith to hold me, just to feel soothed. I think it worked on my psyche in a way that I didn't quite realize."
She also revealed on Ellen last week that she didn't think Urban was interested in her when they first met. "I had such a crush on him, and he wasn't interested in me," she said. "He didn't call me for four months...I think he was shy." Urban confirmed that, telling People, "That's the longest story...Have you ever met anyone who you thought was just completely out of your league? I'm just saying, imagine that you've never met anybody like that, that's where I was at. It's true, it's true—that's why I didn't call."