The Real Meaning Behind BRELAND's 'Cross Country' Feat Mickey Guyton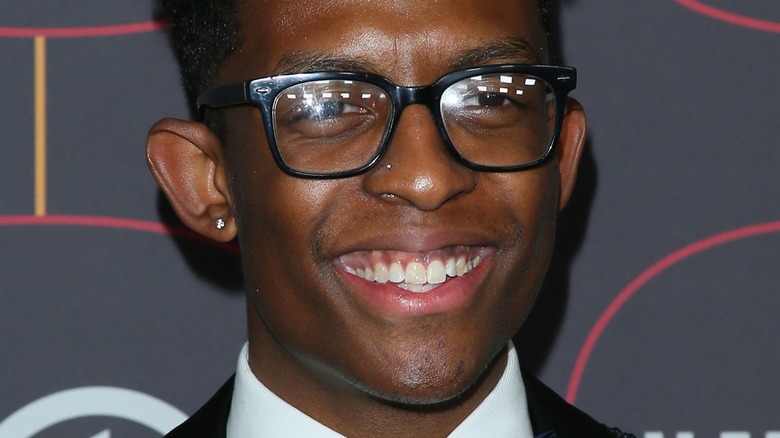 Jean Baptiste Lacroix/Getty Images
If you love Breland's song "Cross Country," then there's a good chance that you'll also be into the remix featuring Mickey Guyton. The tune is a perfect example of what you'll find from the country-hip-hop artist and shows you that he's the kind of person who doesn't let boundaries hold him back.
"Jersey made, I was born and raised in the Garden State / ... Growin' up is hard so I made mistakes," listeners are told in the first verse, per Genius, giving them an idea of where Breland came from. In the second verse, he adds that he "went to ATL where the nights are long / Wrote a thousand songs that will never sell / 'Til I dropped the bomb that would put me on..." That was before he "heard the living's good out in Hollywood / Thought I might as well ... / And I signed a deal..."
If this song sounds like it can tell you a lot about Breland, that's because it can. While explaining on Instagram that this is his way of telling his story, he also noted that it's "a movement that seeks to redefine what genre is." He added that the song "sits at the intersection of country music and all of the other genres of music that we know and love." According to Taste of Country, it's also "a mission statement of sorts." What mission? Well, read on to find out what the genre-bending artist is trying to say.
Breland knows that he's different
Anyone who has ever felt out of place will surely love Breland's "Cross Country" remix featuring Mickey Guyton. Not only is it a catchy tune, but it also delves into the singer's story, which includes finding his place even when that isn't always an easy thing to do.
"I tried to fit in but didn't / I'm different, yeah, I know ... / The houses I stayed in were great / But they never felt like home," we hear in the pre-chorus, per Genius. From there, in the chorus, listeners are told, "I'm goin' cross country / I won't stop running 'til I find where I belong." Beyond that, Breland continues, "I'm goin' cross country / Know they might judge me, I ain't gotta prove 'em wrong / 'Cause I know it's okay to be in my own lane."
While those lyrics seem to sum it up, it's clear that Breland wants those who are listening to the song to know that although he knows that he's different, he also knows that it's okay to be who he truly is even if others don't understand. However, he is also aware of the fact that there's still a place for him out there somewhere. That's why he ends the chorus by singing, "When I'm doing what they say can't be done / I'm goin' cross country / I won't stop running 'til I find where I belong..."