Billie Eilish's 'Lost Cause' Music Video Has A Surprising Connection To Kim Kardashian
Shutterstock
Billie Eilish has taken the world by storm. From releasing the bedroom pop hit "Ocean Eyes" on Soundcloud, reported Teen Vogue, to recording an uber-successful debut studio album, Eilish is one of the biggest stars in music at the moment. Alongside her brother/producer, Finneas O'Connell, the two are a music-making duo and have gone on to win 15 Grammy Awards between the two of them, according to the Grammys' website.
Now, Eilish is moving on with her music career and is gearing up to release her second studio album, "Happier Than Ever." "This is my favorite thing I've ever created and I am so excited and nervous and EAGER for you to hear it," she captioned a shot of the album's cover on Instagram. "I can't even tell you. I've never felt so much love for a project than I do for this one. Hope you feel what I feel." 
The sophomore album comes out July 30, reported NME. Ahead of its release, Eilish has released some singles, one of them being "Lost Cause," accompanied by a new music video. And the "Lost Cause" music video has some people talking...read on to find out why!
Billie Eilish featured Kim Kardashian's Skims in the 'Lost Cause' video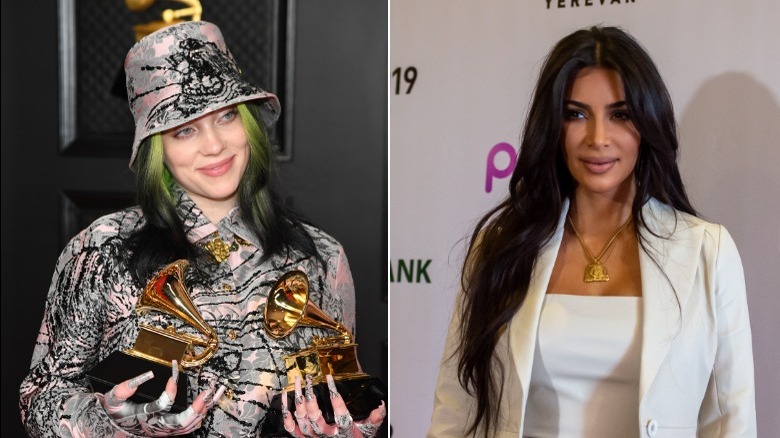 Kevin Mazur/Getty Images, Shutterstock
Billie Eilish just debuted the music video for her latest single, "Lost Cause," and there's a fun Easter egg connection. The music video shows Eilish and a group of friends dancing, vibing, and just having fun in a luxurious pad. As they all have what looks like to be like an epic sleepover, they're all wearing something that's easily recognizable: Skims! That's right, Kim Kardashian scored the product placement jackpot. Eilish and her friends are having a ball with each other, all while wearing different pieces from Kardashian's Skims line. 
Kardashian even took to her Instagram Stories, captioning a shot of the music video, "I spy @Skims" (via InStyle).
While the video only has a little over 370,000 views on YouTube right now, it's sure to be in the millions soon. And that means that reality star-turned-entrepreneur Kardashian may be raking in the big bucks with the publicity for her shapewear brand. There's no telling if the decision to feature Skims so heavily was a collaboration between Eilish and Kardashian or if Eilish is just a fan of the brand. But either way, it seems to be working out well for both of them.