The Real Reason Elizabeth Holmes Is Furious About Her Reputation
Shutterstock
After months of false starts and delays, it looks like founder and former Theranos CEO Elizabeth Holmes will finally see her day in court — pending another unexpected obstacle, that is.
Holmes' trial surrounds the allegation that the once-regarded Silicon Valley wunderkid took money from Theranos investors, as well as doctors and patients. She is "charged with two counts of conspiracy to commit wire fraud and nine counts of wire fraud," per the official lawsuit.
In March, the date of Holmes' last rescheduled court appearance was pushed back from July to August after informed California district attorneys prosecuting her case that she was five months into a pregnancy, and, per her doctors, was (and is) expected to deliver the same month she was set to present in court, according to CNBC. (Holmes was originally scheduled to begin her trial in December 2020, but the ongoing coronavirus pandemic caused a postponement, per the outlet.)
Despite the fact that now Holmes' August court date seems to be sticking, Holmes and her legal team could possibly be throwing another wrench into the mix — one tied directly to Holmes' current reputation as an alleged scam artist. So what seems to be the issue now? Keep on scrolling to find out the details. 
Elizabeth Holmes thinks her current reputation could contaminate the jury pool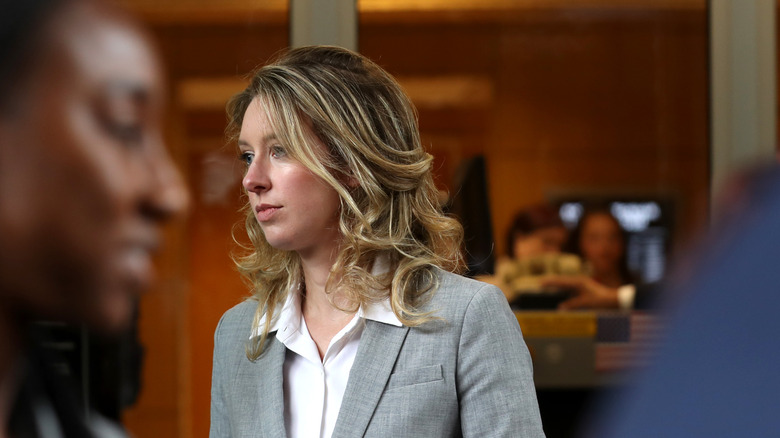 Justin Sullivan/Getty Images
As The Wall Street Journal reported, the defense team for accused scammer Elizabeth Holmes supposedly created a list of 112 questions to submit to the jury pool for her upcoming trial in order to weed out individuals who might be biased due to the extensive coverage of her story. The outlet summarized that the proposed document included queries as to "whether they [prospective jurors] have ever called a radio show, posted opinions on social media, or taken any medication that could affect their ability to serve." 
The Daily Mail also noted that the 45-page de facto survey pointedly inquired as to whether possible future jurors had come into contact with any media associated with Holmes published and/or disseminated by "some 50 different media organizations." According to WSJ, federal prosecutors objected to the motion made by the defense, arguing that the MySpace-worthy survey for possible jurors is "far too long, deeply intrusive in unnecessary ways, argumentative, and repetitive."  In an attempt to contextualize the request made by the defense, WSJ pointed out that the standard fare for questionnaires presented during the jury selection phase averages at 15 pages.