Who Is Melissa Barrera's Husband, Paco Zazueta?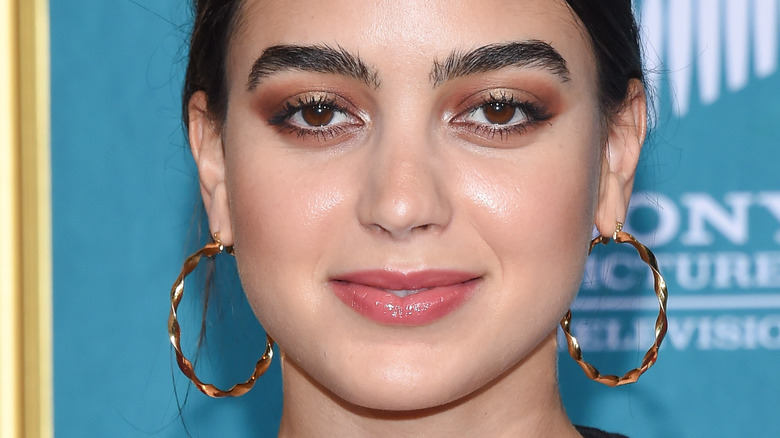 Shutterstock
If you don't already know the name Melissa Barrera, you may want to get used to hearing it. The up-and-coming star, already well-known in her native Mexico, is about to make her big-screen debut in the cinematic version of Lin Manuel Miranda's Broadway musical "In the Heights." Though the film has yet to hit theatres, Barrera's career has already taken off. She recently wrapped a Warner Bros. film, "Carmen," and landed the leading role in a highly anticipated Netflix drama "Breathe," where she plays the lone survivor of a plane crash in the Canadian wilderness. This isn't her first foray into TV, either. She's spent the last three years co-starring in the Starz drama "Vida," per Deadline.
Barrera is also a brand ambassador for Clinique and got a pretty lengthy writeup in Vogue in June, in which she spoke about it. "Even though I have those memories of my mom and my grandma using the creams and coming back to them, I'm discovering the brand right now," she told the outlet on her new sponsorship. 
As for her personal life, well, that's bustling too. Barrera and Xavier (Paco) Zazueta tied the knot two years ago and are still going strong. Read on to find out all about the strange way Xavier met his future rising-star wife.
Melissa Barrera met her husband in a surprising place
If you've ever watched the "Bachelor," then you know as well as we do that reality TV love rarely works out long-term. That wasn't the case for Melissa Barrera and her husband Xavier Zazueta, though!
It all started when Barrera got her first big break as a contestant on a Mexican musical reality show "La Academia," where she only lasted three months before being eliminated, per The Cut. She may not have taken home the grand prize, but she did come home with a husband — and good thing too, because Barrera didn't exactly like working in reality TV. "Reality TV is like a snake pit," she told Variety in 2019. "You think the entertainment industry can be hard, but reality TV? That's the epitome of whether you're ready for this or not. If I could survive that show, it meant I could do anything."
It was under these challenging circumstances that Barrera and Zazueta came together. Barrera told the outlet that Zazueta had her back the whole way through the singing competition. "We would take turns telling each other we had what it takes to stick it out," she told Variety. These days, Barrera has moved on to more high-brow TV, and Zazueta has pursued other passions. On his Instagram account, he describes himself as a "singer" and a "butcher." You can find some of his tracks online, and order meat from the store linked in his bio.