Inside Chris Watts And Nichol Kessinger's Relationship Today
Of all the crimes that have taken place in the US in the past decade, the Chris Watts murder case remains the most fascinating. There have been books, documentaries, and countless podcasts about the murders and the fate of Watts and his mistress Nichol Kessinger. Before we get into all that, though, a little background.
On August 18th, 2018, Chris Watts' wife, Shanann, and two young daughters Bella and Celeste, were reported missing from their Colorado home, launching a nationwide search for the family, per Insider. Before long, Watts' strange behavior — he never seemed sad enough — started to raise some eyebrows. Eventually, the police dragged him in for questioning, and he admitted to murdering his wife and daughters.
Though Chris has never spoken publicly about his actions, most experts point to his affair with Kessinger as the catalyst for his breakdown. He pled guilty and was sentenced to life in prison, where he is to this day, per People. Kessinger changed her name and disappeared from public view, per New Zealand Herald. So what's going on with them today? Are they still in touch? Let's find out.
Chris Watts and Nicole Kessinger have a strange relationship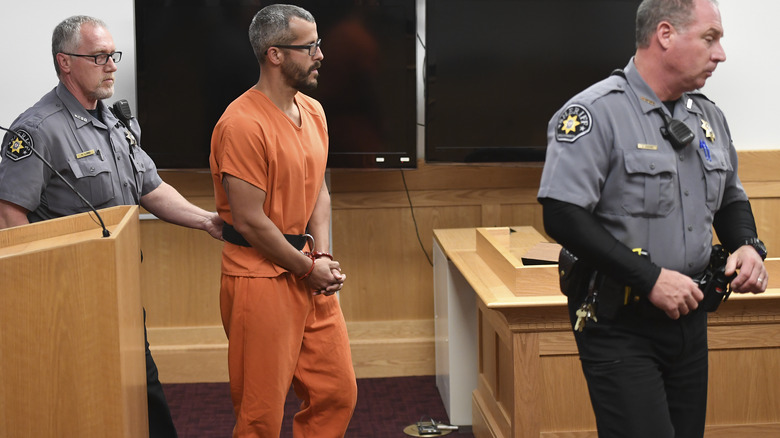 Pool/Getty Images
When Chris Watts confessed to his crimes his mistress, Nichol Kessinger, claimed to have no knowledge of what he'd done. She didn't even know that he was married and expecting a third child and she reportedly thought he was separated, per People. She seemed to be just as horrified as the rest of the world. After speaking to the police, she even changed her name to get away from any association with him.
That's why the world was surprised to hear that Kessinger and Watts are reportedly still very much in touch. In March 2021, an inmate serving time in the same facility as Watts told the Daily Mail that Kessinger had written Watts under her new name. According to the source, Kessinger may also have been in contact with Watts as early as 2019, which might have landed him in some trouble with the correctional officers as he isn't supposed to contact her.
The source told the outlet that this time around, Kessinger was more direct. "[Watts] told me she said that she needed to speak to him to clear some things up," the source claimed. "He wouldn't tell me exactly what she had said."
It's surprising but also confusing that Kessinger would be contacting Watts for any reason. Even if she was still in love with him, Watts is serving five life sentences with no possibility of parole, so it doesn't seem like a reunion will be coming for these two.