Wiz Khalifa's New Look Has Fans Shocked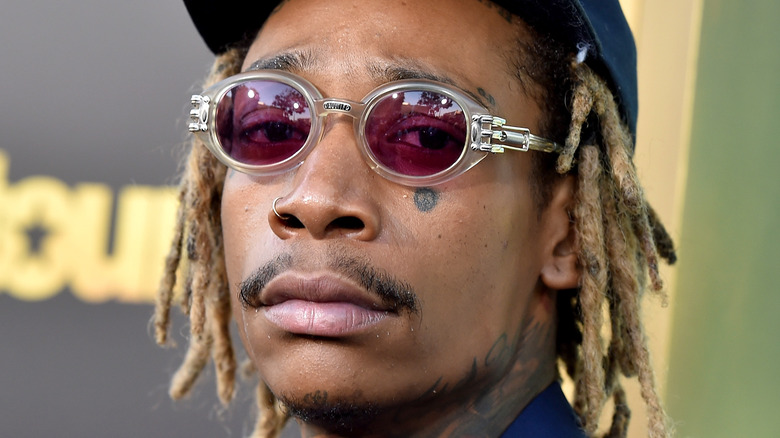 Kevin Winter/Getty Images
Wiz Khalifa is easy to spot thanks to his signature look, which features dreads and tattoos all over his body. The rapper's latest ensemble, however, makes him barely recognizable. Taking to Instagram, Wiz Khalifa shared his new 'do with his 32.5 million followers. However, this isn't the first time Khalifa has played dress-up. 
Earlier this year, the rapper joined "The Masked Singer," where he performed as The Chameleon. Khalifa arrived at third place, after JoJo and Nick Lachey. And apparently, he was inspired by his 8-year-old son (with ex-wife Amber Rose) to join the masked competition. "It was for him," he told Nick Cannon on Power 106's "High Talk." 
"I'm a fun dad," he continued (via Golden Derby). "I love to enjoy myself. I love to be myself. As much as I can encourage him to be himself and get into his imagination, sing, dance, and be as crazy as possible. I'll be the best example of that for him." Though Wiz Khalifa's appearance on "The Masked Singer" was jaw-dropping, his recent look may be even more shocking. Read why below.
Wiz Khalifa's new 'do includes a lace-front beard
Wiz Khalifa/Instagram
As reported by The Shade Room, Wiz Khalifa shared footage of his new look via Instagram Stories on Wednesday, June 2. In the clip, Khalifa can be seen sitting while getting his makeup done, which consists of a lace-front beard. Another photo also shows him wearing a 'fro wig, along with a red leather shirt, white hat, and aviator sunglasses.
And as expected, Khalifa fans didn't waste any time making fun of his fake beard. "He look like Abraham Lincoln," one fan wrote under The Shade Room's post. "He actually looks like a completely different person," someone pointed out. Another fan even suggested that Khalifa may be planning his great escape. "All he need is a new passport. Mission complete." 
Judging by his more recent Instagram posts, the look was only temporary, so it's safe to assume that it was for a new music video or movie. Whatever it is, we'll be watching!