The Real Reason Nikki Bella Put Her Wedding On Hold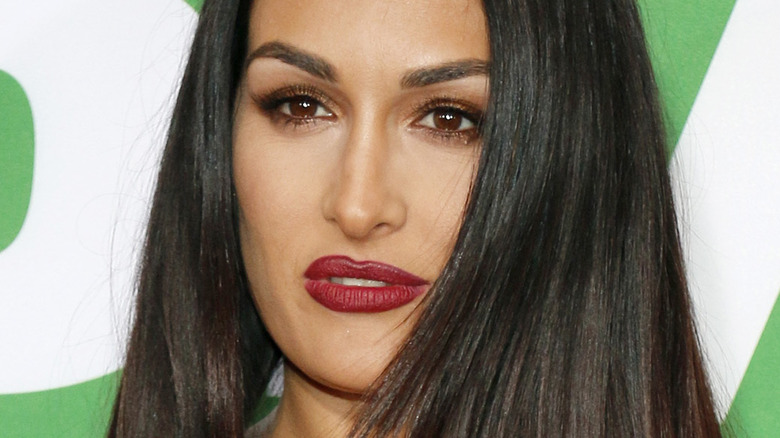 Shutterstock
Nikki Bella and Artem Chigvintsev are still gearing up to walk down the aisle. Even though the "Total Bellas" star is eagerly awaiting the day she gets to say "I do" to the man of her dreams, she's holding out because she wants to make their wedding bigger and better than one could ever imagine. But because of the ongoing coronavirus pandemic, the two have pushed back their nuptials.
The TV personality and the "Dancing With the Stars" pro first met when they were partnered on "DWTS" in 2017. Nikki was engaged to her former fiancé John Cena at the time, but when they ended their engagement in 2018, she reconnected with Artem shortly thereafter, per People. The lovebirds made their debut as a couple in July 2019, and by January 2020, she revealed Artem asked for her hand in marriage months earlier.
"Excited for 2020 and the next decade with you @theartemc. I said yes in France in November [2019]," Nikki penned at the time. "We have been trying to keep it a secret but really wanted to share our excitement for the New Year!"
Now that the two are set to exchange vows, fans cannot wait to watch Nikki and Artem say "yes" to the rest of their lives together. Though the former professional wrestler told E! News they hoped "to be getting married the weekend of Thanksgiving 2021," it seems those plans have been put on hold. Keep scrolling to find out why. 
Nikki Bella is waiting for her 'really big' wedding with Artem Chigvintsev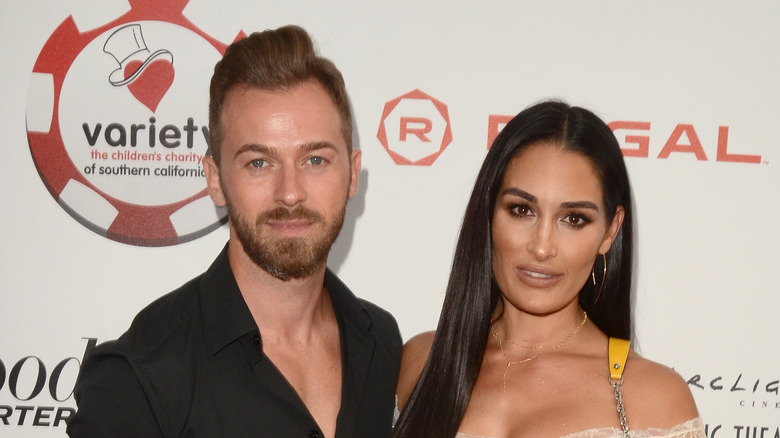 Shutterstock
Nikki Bella and Artem Chigvintsev are itching to become wife and husband, but the American entrepreneur does not want to sacrifice any arrangements when it comes to planning. Nikki said, because the duo wants to celebrate with a "really big bash," they are willing to let a little more time go by before they say "I do."
"So Artem and I, the other night, we sat on the couch and we talked about this. I was like, 'Do you want to start planning now?'" Nikki told Entertainment Tonight on June 4. "We'd love it to be in the fall and a few of the venues [we called] were like, 'We're available.'"
However, renovations on their new Napa, California, home have taken up more time and energy than they originally thought. "We haven't even lived in it yet and we're doing the outside and that takes so much work. We're still not even done designing," she explained. "And so he and I both were just like, 'Let's get through the house. If it happens, it happens.'"
Nikki — who shares 10-month-old son Matteo with Artem — noted she would prefer to wait it out and make their wedding exactly what they want. "I feel like if I was to do it right now ... it would just be cramming," she continued. "It wouldn't be fun, it would be just to get it done. So as of now, we have no plans, no day."