The Real Reason Nikki Bella Hid Her Postpartum Depression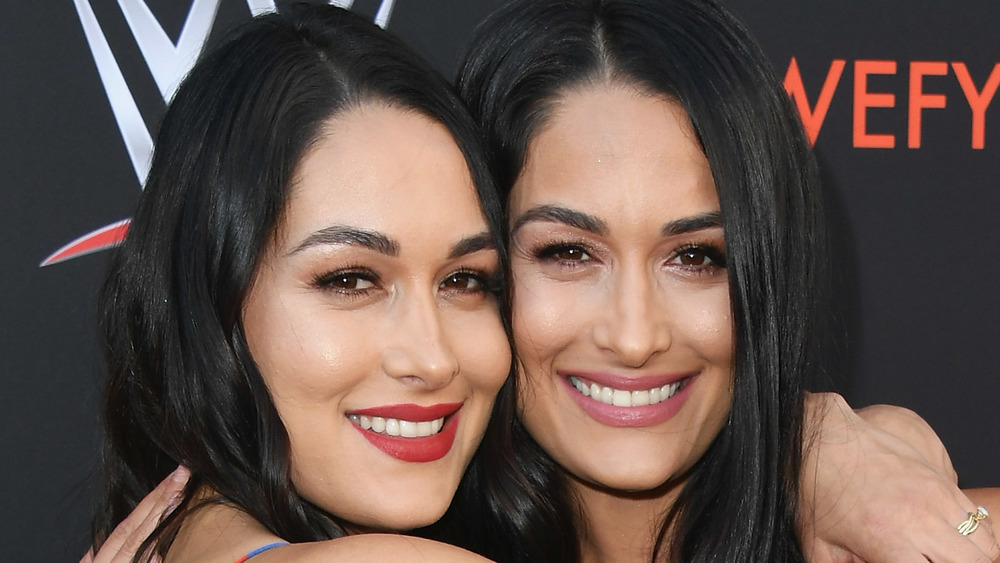 Jon Kopaloff/Getty Images
Former wrestling superstar Nikki Bella gave birth to a baby boy on July 31, 2020. The next day, her twin sister, former wrestler and fellow reality TV star Brie Bella, also gave birth to a son. That's as close as it gets to twinning with two different pregnancies. The Bellas went through pregnancy together, but they had very different post-birth experiences. During a September 2020 episode of The Bellas Podcast, 
"I had a little bit of postpartum depression," said Brie (pictured left), via Us Weekly, but she expressed concern for her sister. "When I looked at you," she told Nikki, "it's more than just being sleep-deprived." She described her sister (pictured right) as "lonely." At the time, Nikki's fiancé, Artem Chigvintsev, was competing on Dancing With the Stars. 
Nikki said she was "super depressed" after the birth of her son. "Postpartum has knocked me on my ass." Despite typically being so open with her fans via reality TV and social media, Nikki said she "refused to ask for help" when she was feeling down. It was actually Brie who noticed she wasn't herself and asked "How are you doing?" Instinctively, Nikki just wanted to say that she was "fine," but she couldn't mask her true feelings. The Total Divas alum recalled bursting into tears and finally making the decision to speak with her doctor. 
Nikki initially kept her diagnosis to herself instead of telling Artem, who later told her that he wished he found out "sooner" that she was going through such a rough time. 
Nikki Bella 'hated' Artem Chigvintsev after giving birth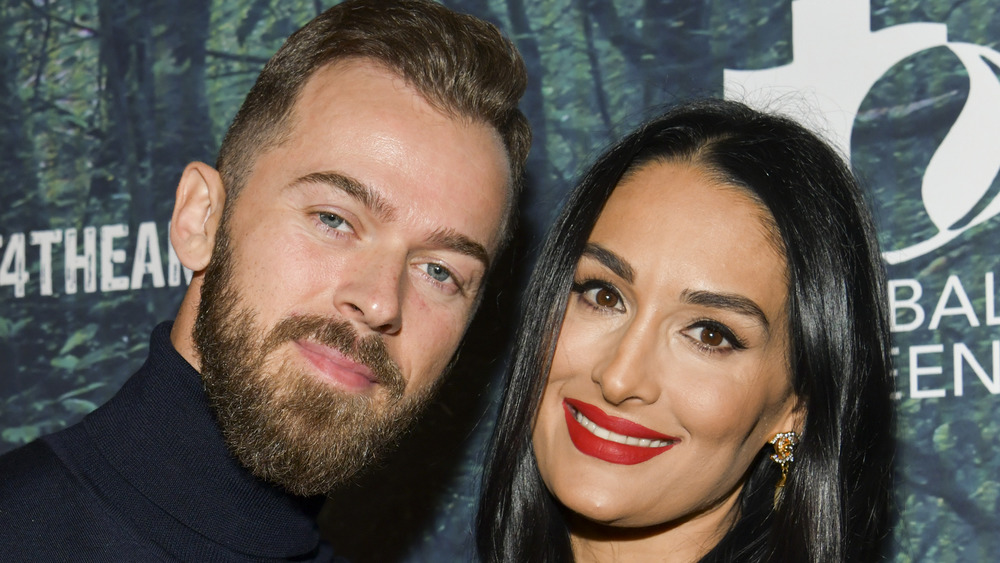 Rodin Eckenroth/Getty Images
During a September 2020 episode of the The Bellas Podcast, former professional wrestler Nikki Bella said her fiancé, Artem Chigvintsev, talked to her about the trying time after the birth of their son. "I felt like you were starting to hate me," he reportedly told Nikki (via Us Weekly). She said he told her she "could be mean," which she admitted to. The WWE alum divulged, "I did have moments when I looked at him and I hated him. It's true." 
Fans got more insight into Nikki's postpartum struggles during a January 2021 episode of Total Bellas. According to Us Weekly, twin sister Brie Bella encouraged Nikki to tell Artem how she was feeling, but Nikki was hesitant. "I don't want to stress him out. He's doing so good," she reportedly said at the time, referencing his success on Dancing With the Stars. She was afraid she would "ruin" his chances of winning if he knew about her struggle. "I just don't want to take all the good energy from him," Nikki said.
During the aforementioned episode, Brie told Artem about Nikki's postpartum depression. He said he wished he knew sooner so he could be there for Nikki when she needed him. By the way, despite Nikki's concerns about messing things up for Artem on Dancing With the Stars, he and partner Kaitlyn Bristowe won Season 29.