Why Nikki Bella And Her Fiancé Aren't Living Together Right Now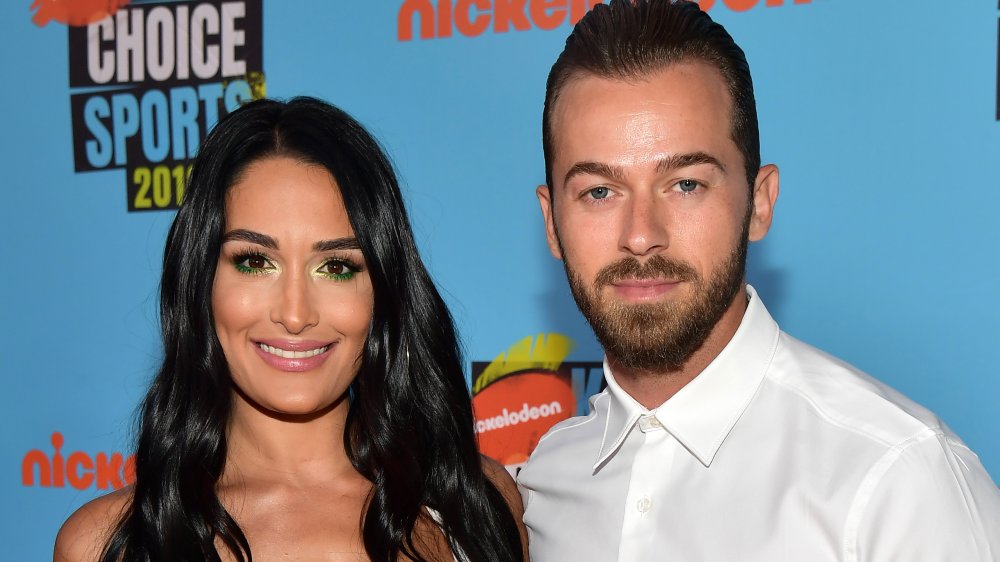 Matt Winkelmeyer/Getty Images
Long-distance relationships aren't for everyone, but sometimes it's necessary for couples to live apart. That's the case for Nikki Bella and her fiancé, Dancing With the Stars pro Artem Chigvintsev. While being separated surely isn't easy for the couple, it's just another aspect of a memorable year for the pair who first met while competing together on DWTS in 2017. First, there was the fact that they had to postpone their wedding in 2020 due to the coronavirus pandemic. The same year, the duo celebrated the birth of their baby boy, Matteo Artemovich.
"Oh, I was sobbing, like, so bad when baby arrived," Chigvintsev told Entertainment Tonight following the little one's arrival. "Like, I don't think people have seen a man sobbing like that. It was awful, but in the most joyful way." Calling himself "the happiest person in the world," Chigvintsev continued to talk about fatherhood, saying it's "the most incredible thing."
"I can't get enough of him," Chigvintsev explained, adding that his son is "just the most precious little thing." The dancer made it perfectly clear how much he enjoys being around his baby boy, saying, "I just want to smother him in kisses. I've been, like, dancing in the living room with the baby, because when it screams and stuff, it soothes him. I've just been doing a lot of stuff, trying to do the best I can."
It's pretty obvious that Chigvintsev is a doting dad, so why isn't he living with his family?
Artem Chigvintsev is a 'working dad'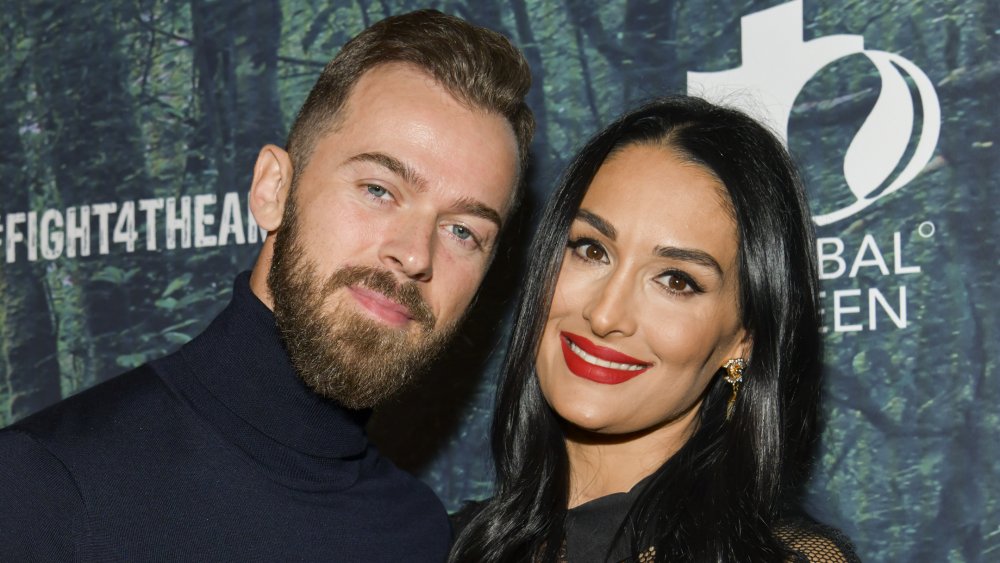 Rodin Eckenroth/Getty Images
Nikki Bella and Artem Chigvintsev may be living apart, but don't worry! There doesn't seem to be a problem with their relationship. Instead, he revealed he was staying apart from his family in September 2020 because he's a "[w]orking dad," busy filming Dancing With the Stars, according to Us Weekly. Spinning around the floor for Season 29 of DWTS alongside former Bachelorette Kaitlyn Bristowe, Chigvintsev took to his Instagram Story on Sept. 10, 2020, to update his fans on his current situation. "Finally got situated in my trailer for the next, hopefully, 11 weeks," he told his followers (via Us Weekly). "Welcome to my house. I need to swap those pictures behind me to Matteo's pictures to feel like I'm actually home."
Breaking down what he was up to, Chigvintsev explained that he would be "shooting [DWTS'] opening number" and taking photos with his celebrity partner. After that, he figured he had "only two days of rehearsals left and then there's showtime." Although he called it an "exciting day," he also admitted that he was "[m]issing [his] loves already," and tagged Bella to make sure that both his fans and his fiancée knew exactly who he was talking about. 
While fans of Chigvintsev and Bristowe surely won't want the pair to get booted off DWTS before they deserve to go, there's no doubt that Chigvintsev will be happy to reunite with Bella and the baby when the time comes.