The Real Meaning Behind Brothers Osborne's 'All Night'
Matt Winkelmeyer/acma2018/Getty Images
The Brothers Osborne are up for yet another CMT Award. This time, it's for Best Group/Duo Video. This kind of recognition is nothing new for the pair. Over the years, they've received nominations for a slew of awards from everything from CMAs to the Grammys. They're a big deal! 
Their most recent album, "Skeletons" — which comes on the heels of earlier albums "Pawn Shop" and "Port Saint Joe" — is the culmination of years of hard work and musical growth. "We're not afraid to take risks and just be ourselves," said John Osborne of the new album, per their website. "If 'Pawn Shop' was our introduction, and 'Port Saint Joe' was like the first conversation we had with someone over a beer, then 'Skeletons' is the moment where you start getting down to the real stuff and showing who you really are. If you really want to get to know us, this is the record to do it."
"We are a part of the cloth of this genre," TJ Osborne added. "Ultimately, what we love to do most is play live, and 'Skeletons' is setting us up to do that even better." The best song to hear live? Undoubtedly that would be "All Night;" "Skeletons'" feel-good single. Read on below as we break down the meaning behind the hit.
They wanted a very specific type of song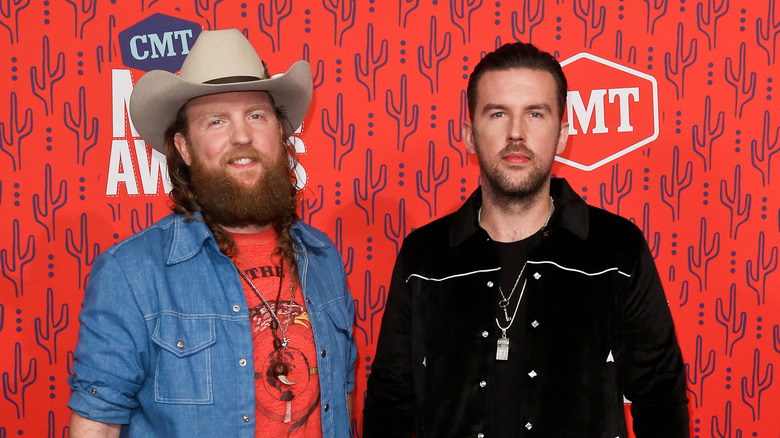 Shutterstock
If you could use a pick-me-up, we suggest listening to the Brothers Osborne's single, "All Night." "I got the good if you got the time, I got the moon if you got the shine," the bass-heavy song begins. "I got the back if you got the beat. Got that solid gold country 33 on repeat." The Brothers then break into a chorus, with the lyrics, "Dancin' out the denim in 'em, oh my, Levi's. I got the fuse if you got the light. I got them all if y'all got the night, all night."
At its core, "All Night" is not a complicated song. It's just a feel-good song, intended to do just that; make you feel good! John Osborne said as much when speaking to The Country Daily in 2020. "We wanted to write a song that just felt good," he explained. "We didn't want to think too hard about it. We wanted to write a song that no matter what happened, we knew that our fans at our shows were gonna love to sing along to, and that's what we did."
They did just what they set out to do. "All Night" doesn't just make you smile. The catchy lyrics and upbeat tune make it nearly impossible not to sing along.