Jeff Bezos' First Move After Leaving Amazon Has Twitter Seeing Red
Shutterstock
Amazon founder Jeff Bezos is stepping down as CEO of the company on July 5. On July 20, he's getting on one of his Blue Origin rockets and going to space. In a video posted on his Instagram account on June 7, he wrote, "Ever since I was five years old, I've dreamed of traveling to space. On July 20th, I will take that journey with my brother. The greatest adventure, with my best friend." His younger brother Mark Bezos will be joining him.
Blue Origin is a space exploration company Bezos founded in 2000. The first crewed flight will take place in the six-seater New Shepherd capsule and 59-foot rocket. The trip to space is expected to last 11 minutes and travel more than 60 miles above Earth. Blue Origin has spent six years testing the New Shepherd. The company announced in May that it was ready for its first mission, per CNN.
Bezos is the richest man in the world with a fortune of $187 billion, per Celebrity Net Worth. During the pandemic, Bezos added $75 billion while at the same time, stripping Amazon warehouse workers and delivery drivers of hazard pay in June, per The Verge. He's been called the "Pandemic Profiteer" by activists.
This latest move by Bezos has Twitter users absolutely going nuts.
Twitter has some opinions about Jeff Bezos going to space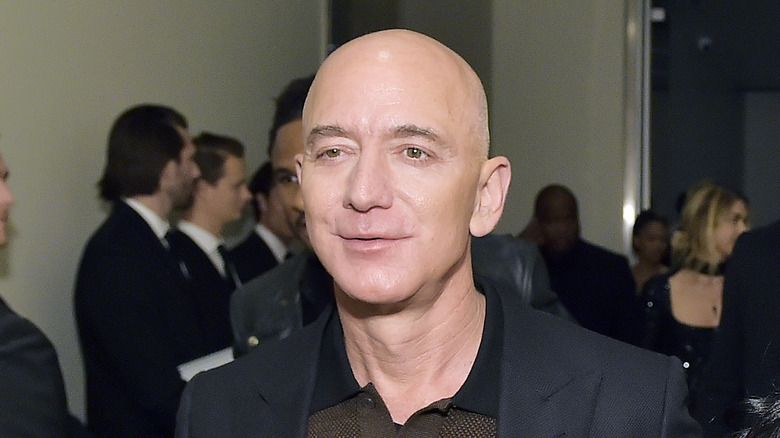 Stefanie Keenan/Getty Images
Jeff Bezos is going to space because "it's the thing I've wanted to do all my life," he said in an Instagram video. Bezos is taking a thrashing on Twitter. One Twitter user said, "Amazon employees peeing in bottles made Jeff Bezos' flight to space possible." Amazon was the subject of criticism when it was discovered its drivers had to urinate in bottles because they were docked pay for bathroom breaks, per The Intercept.
Amazon has also come under fire for its tactics in squashing unions and worker's rights, per The New York Times. Another Twitter user said, "Hear me out: Jeff Bezos travels into space, never returns, Amazon workers seize control of company."
There has also been a lot of press over the low federal taxes Amazon pays (per the Wall Street Journal) leading this Twitter user to write, "Amazon paid a whopping $0 in federal taxes on billions of dollars in profit and the minute we bring up closing tax loopholes, Jeff Bezos says he's flying to space. Dude just took tax evasion to a whole new level."
Journalist Charlotte Clymer sent out an excellent jab, though, writing: "Jeff Bezos and Elon Musk are out here spending billions, and yet, the only one successfully defying gravity is Simone Biles." Touché!