The Real Meaning Behind Runaway June's 'We Were Rich'
Keep your eye on Runaway June at the 2021 CMT Music Awards on June 9. The trio is arguably one of the most buzzed-about groups on the scene right now. The ladies have been nominated in the Duo/Group Video of the Year category for their achingly familiar song, "We Were Rich (New Version)" that seems to have captured the imaginations of country fans far and wide. 
Band members Naomi Cooke, Jennifer Wayne, and Natalie Stovall took to Instagram to celebrate the news of their nomination. "Whaaat!!?! Y'all! We are nominated for a @cmt award!!!!" they raved. "Thank you @cmt!!!!!" The trio is up against stalwarts like Brothers Osborne, Old Dominion, and Little Big Town, proving that even though they're relatively new on the scene, they're on fire!
According to Sounds Like Nashville, "We Were Rich" was originally part of "Blue Roses," their 2019 debut album. However, they re-recorded the song after Hanna Mulholland, their founding member, left the group in May 2020 — and their new version was nominated for the award. The video was directed by Patrick Tracy and the clip had quite the effect on Stovall. She told the outlet, "The first time I saw our music video I just started sobbing like a baby!" 
Read on below for the meaning behind the hit, and why it hits home so hard.
'We Were Rich' is about the wealth of simplicity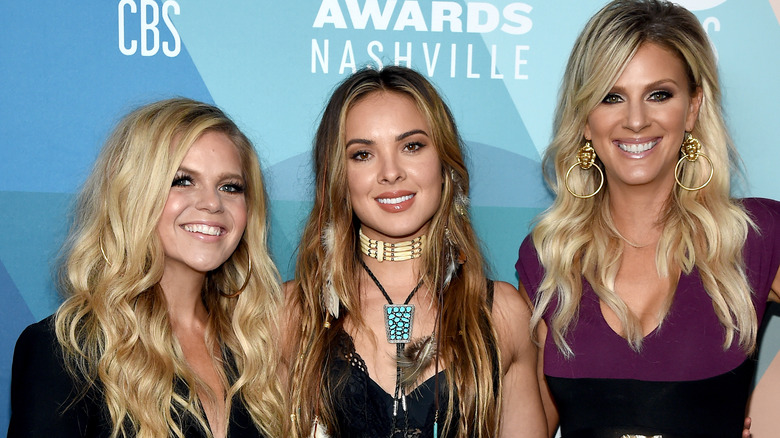 John Shearer/acma2020/Getty Images
Runaway June's "We Were Rich" harkens back to the glory days of growing up. They wax poetic about "your childhood or your adolescence," as Naomi Cooke told Sounds Like Nashville. She continued, "It's nostalgia reminiscing about back before you knew anything was wrong in the world, back before when you thought you had it all." With lyrics like, "Never thought the grass was greener / On the other side of our old chain link fence / Yeah we were rich," that adolescent wonder definitely shines through. 
Interestingly, Cooke told The Boot that the song "was one of the few we didn't write ... But when we heard it, it was like, 'I couldn't have said that any better myself if [I] tried.' So that one, immediately, for all of us, just felt like childhood and home." The band opened up to CMT and said, "The message we'd like to convey is that the best things in life are always free and the power of nostalgia is so strong it can lead you back to the most important things in life that may have been forgotten. Some of the simplest times are what make us feel the most 'rich.'"
For newcomer Natalie Stovall, its music video has a special meaning. As she told CMT, "it opens on the house I grew up in, features my parents and sweeps through intensely nostalgic moments, people and places from my childhood and hometown."