Joan Rivers' Net Worth: How Much Was The Comedian Worth When She Died?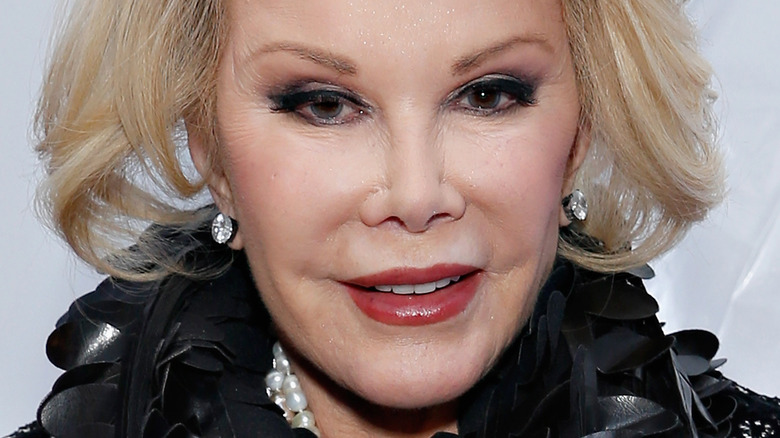 Cindy Ord/Getty Images
Joan Rivers is arguably one of the most famous comedians of all time, and was perhaps best known for hosting E!'s "Live From the Red Carpet" from 1996 to 2004 and eventually becoming a co-host on "Fashion Police" before her death in 2014, per Insider. Her wit was, and is, unmatched! 
Born in Brooklyn, New York, before she hit it big in comedy, Rivers attended New York City's Barnard College where she graduated with a degree in English literature and anthropology, according to Celebrity Net Worth. She reportedly worked as a tour guide, fashion consultant, and writer for an advertising agency to make ends meet. By the time fame struck, Rivers was known for her lavish lifestyle, which she spoke about in the "Joan Rivers: Piece of Work" documentary (via Insider). "I live very, very well, I enjoy my creature comforts and I know I have to work for it. I can stop and live carefully, but that's ridiculous; I don't want to live carefully. So I would rather work and live the way I live and have a wonderful time," she said.
Rivers spent decades building her empire, but does her net worth reflect as much? Keep reading for more details.
Joan Rivers left behind a massive empire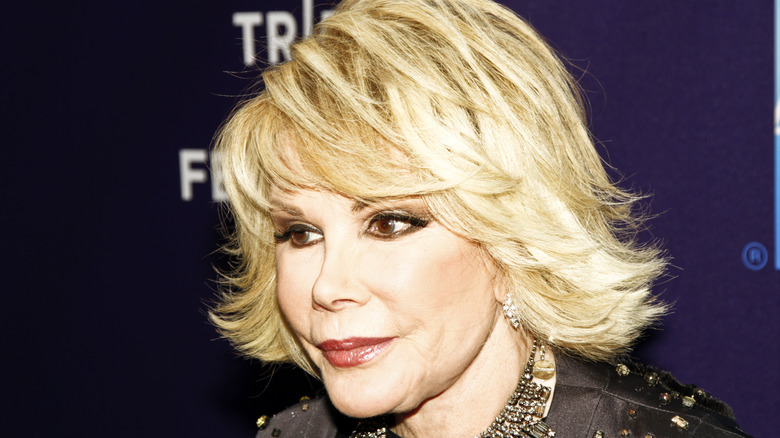 Shutterstock
Joan Rivers was worth a massive $150 million when she died, according to Celebrity Net Worth.
Rivers started performing on Broadway in the '50s, but didn't make her mark until she appeared on "The Tonight Show" with Johnny Carson in the '60s. She began to appear more frequently on television and scored her own show, "The Joan Rivers Show," in the late '80s. In the 2000s, she was reportedly offered a three-year contract for the TV Guide Channel worth around $6-$8 million. In addition to her prolific TV career, Rivers wrote 13 books and made an estimated $50 million each year from her QVC line, per Insider. Impressive! 
Rivers dished about her career in the "Joan Rivers: Piece of Work" documentary and said, "I'm a small industry. There are certain relatives that I am still supporting, certain friends, most people who work for me — if they have children, I send the children to private school. It goes on and on and on. I'm dancing as fast as I can." However, there was a time when she was in debt after her husband's death in 1987. She told Esquire in 2007, "Yeah, it's true. I was $37 million in debt. I'm not a businesswoman."
Rivers rebuilt her empire and left behind a $35 million Manhattan apartment, "where Marie Antoinette would have lived if she had the money," she once said, per the Daily Mail. She'll always be a legend.