Katie Holmes Speaks Out About Her Ex Boyfriend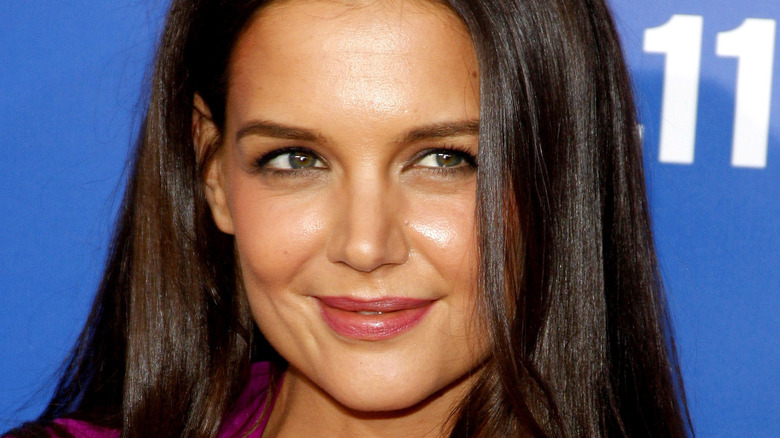 Shutterstock
Katie Holmes was pretty quiet about her eight-month relationship with New York restaurateur Emilio Vitolo Jr. when they were together, but she had something to say to him publicly after their split.
Vitolo Jr. was first spotted with Holmes at the Antique Garage restaurant in NYC in September 2020. His identity was initially a mystery, but the "Batman Begins" actor was clearly smitten with the guy who all die-hard celeb gossipers were gabbing about. In photos published by TMZ, she could be seen giggling and looking rather flirtatious while they shared a drink outdoors.
As noted by Elle, Holmes has a reputation for keeping her love life private, but Vitolo Jr. wished her a happy birthday in a very public way in December 2020 when he shared a photo of Holmes sitting on his lap on his Instagram account. Holmes responded to the post by declaring her love for him in the comments section, so she was clearly unbothered by it. But a few months later, they were over. In May, a spokesperson for Holmes told Us Weekly that "the pair have parted ways amicably but remain friends."
So, did what the "Dawson's Creek" star just say about her ex prove or disprove that they're on good terms?
Katie Holmes mentioned Emilio Vitolo Jr. on Instagram
Katie Holmes tagged Emilio Vitolo Jr. in an Instagram post about the short film "Almost a Year," which will premiere at the 2021 Tribeca Film Festival. In the film, Vitolo Jr. plays one of three New Yorkers whose stories intertwine amid the COVID-19 pandemic. Holmes produced the project, as per The Daily Mail.
Holmes' post included a still shot of Vitolo Jr. and his castmates, Eve Lindley and Mitzi Akaha. She also congratulated the trio and the short film's director, Jamieson Baker. Holmes placed her ex firmly in the middle of the cast list. "Congratulations to the very talented and amazing cast @eveclindley @emiliovitolo @lilmitz_ and director @jamiesonbaker," she wrote, adding a series of emoji that included a champagne bottle. The shout-out makes it evident that Holmes and Vitolo Jr. are, indeed, on good terms.
In a strange twist of fate, it's possible the pandemic that plays such an important role in their short film also played a part in the demise of their relationship. An insider told Entertainment Tonight the couple was spending a lot of time together when everything shut down. When it became safe enough for Holmes to jet off to Connecticut to work on a project, this was the beginning of the end of the couple. They supposedly agreed that they would reassess their relationship when she returned to NYC, and when she did, they realized they just weren't "as compatible anymore."