Here's Why The Song In The Dom Perignon Lady Gaga Commercial Is So Familiar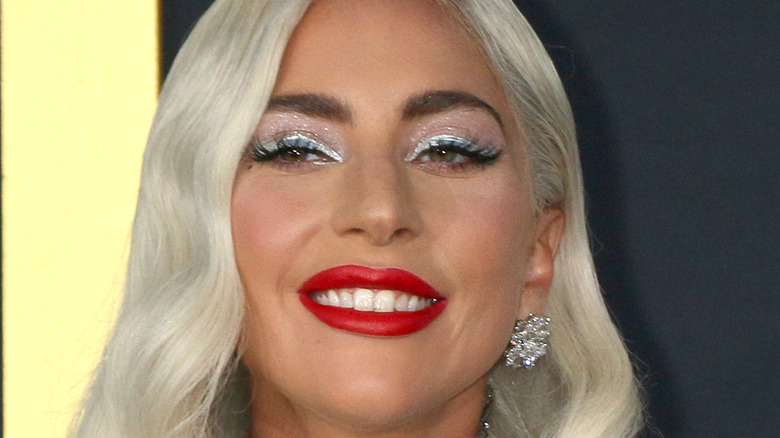 Shutterstock
The following article contains mentions of sexual assault.
Lady Gaga knows what a glamorous and successful career feels like: She lives it every day. The 12-time Grammy winner has a number of trophies. In 2019, she won an Academy Award for Best Original Song for "Shallow" from "A Star Is Born" (and scored a Best Actress nomination for the role). The pop sensation's 2020 album "Chromatica" won the Billboard Music Award for Top Dance/Electronic Album, and her track "Rain On Me" with Ariana Grande won them the Grammy for Best Pop Duo. And we can't forget when Gaga sang in front of an overwhelming audience during the 2021 presidential inauguration, with her symbolic gown making the cameras shutter. It's true: Mother Monster brings magic to the stage and screen with a style and a stage name that's embedded in her ever-growing personality. Her commercials are no different.
Now, let's talk about champagne. Like the taste? Now associate it with Gaga. Vintage champagne brand Dom Pérignon got Gaga on board with their latest campaign, "Queendom." Gaga's all glorious in the promotional video, cast in a mirage of dresses. The commercial has a calming effect, almost dream-like. A familiar song plays in the background. "I see that I want it, want it (be free)," Gaga sings. "This is my dance floor I fought for...," she continues. Sounds familiar? It's got the magic of "Chromatica" — you might even have heard it playing somewhere. It's easy to skip this song on "Chromatica," particularly when shuffling between favorites "Rain On Me" and "911."
The song in Lady Gaga's commercial is a popular track on 'Chromatica'
The song that Lady Gaga sings in the Dom Pérignon commercial is "Free Woman," the fifth song on "Chromatica" (right after "Rain On Me"). The demo was leaked on May 8, 2020, giving fans a taste of what "Chromatica" would bring.
The track's significant: On her "Gaga Radio" podcast, Gaga revealed that the song was inspired by trans people everywhere. "For me, I was singing it for the trans community," she explained (via Entertainment Tonight). "That's how I felt... that that's the only way I could make sense of that song for myself."
In fact, she almost named the album after "Free Woman." However, she decided to go ahead with a different name as she realized the idea of a "free woman" did not truly represent her. "I said, 'Well, if we're gonna call the album 'Free Woman,' we should take a photo of me on a porch with prison bars around it,'" Gaga said (per ET).
But later, in an Apple Music interview, Gaga seemed to relate more to the title. She said: "I was sexually assaulted by a music producer. It's compounded all of my feelings about life, feelings about the world, feelings about the industry, what I had to compromise and go through to get to where I am." Gaga added: "It's me going, 'I no longer am going to define myself as a survivor, or a victim of sexual assault. I just am a person that is free."
If you or anyone you know has been a victim of sexual assault, help is available. Visit the Rape, Abuse & Incest National Network website or contact RAINN's National Helpline at 1-800-656-HOPE (4673).