Karrueche Tran Obtains Restraining Order Against Chris Brown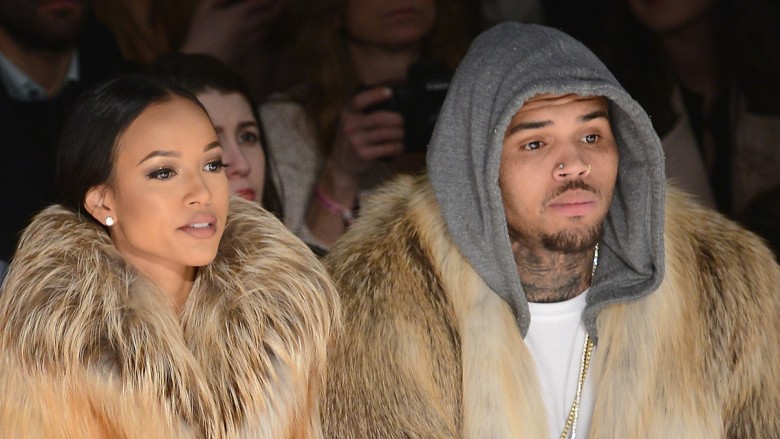 Getty Images
In case you thought Chris Brown had a healthy attitude towards women now—or at least towards his ex, actress and model Karrueche Tran—well, think again.
TMZ reported that Tran, 28, obtained a restraining order against Brown, 27, forcing him to stay 100 yards away from her, her mother, and her brother. She said in a sworn statement to a judge earlier this month that Brown told people he was going to kill her and that if he can't have her, no one can. She claimed that he threatened to "take [her] out" and to shoot her. Tran says the "Loyal" singer has also threatened her friends and even threw a drink at one of them. It wasn't just the alleged threats that frightened Tran. She also reportedly told the judge that during their relationship, which ended in 2015 after it was revealed that Brown fathered a child with another woman, he "punched [her] in the stomach twice" and "pushed [her] down the stairs." TMZ reported that the alleged incidents would have occurred while Brown was on probation for his assault on ex-girlfriend Rihanna.
Brown said in a video a few weeks ago that he was extremely possessive. "Ladies, y'all be complaining about n***as being, like, stalkers and in love with y'all, kinda crazy and s**t and you get tired of them. Well, guess what? I'm one of them n***as! If I love you, b***h, ain't nobody gonna have you. I'm gonna make you miserable. I'm gonna chase that n***a out. I'm gonna chase your a** around..."
Brown denied Tran's allegations in another video, calling the accusations "bulls**t."
It's not the first time Brown has demonstrated questionable behavior toward his ex. In May 2015, he allegedly threatened actor Tyson Beckford for interacting with Tran on Instagram. A month later, he reportedly "weaseled" his way into Tran's SUV against her will. After she dropped him off with friends, he supposedly showed up at her house at 3:30 a.m. banging on her door until a neighbor called police to complain about the noise, reported TMZ. In August 2015, Brown reportedly threatened R&B star Marques Houston for having the nerve to like a photo of Tran on Instagram. At the time, Tran told TMZ, "I'm bored and tired of this situation. I don't get it because I'm single. I thought we have all matured and moved on. Especially since Chris has been seen with multiple women since the breakup. I don't want anything to do with any type of violence or negativity."
In March 2016, Brown launched an Instagram feud with Tran's manager, Jacob York, accusing York of breaking up Brown's relationship with Tran, an allegation both York and Tran refuted. In early 2017, Brown challenged Soulja Boy to a boxing match after the rapper liked several of Tran's Instagram photos. That match fell through.