Bachelor Alum Lauren Bushnell Welcomes First Child With Chris Lane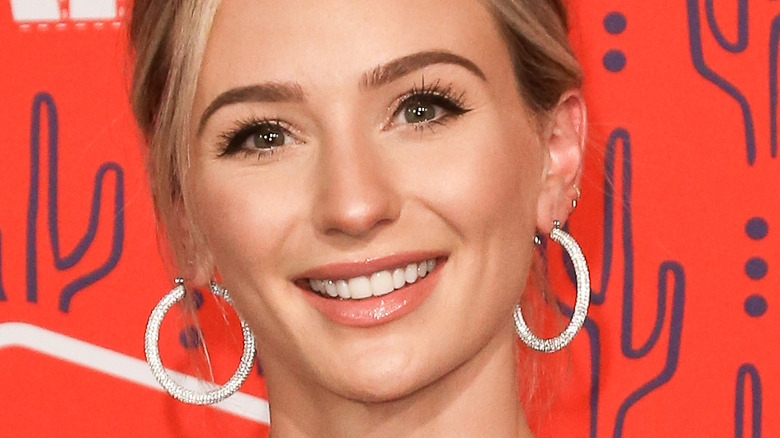 Shutterstock
Lauren Bushnell made headlines when she starred on "The Bachelor" and ended up with Ben Higgins, but a lot has changed since then, and it's clear she has found her forever love with country singer Chris Lane.
Lauren and Lane married in October 2019 after a whirlwind romance, according to People. After making their official debut, they moved in together that March and got engaged in June, obviously excited to spend the rest of their lives together. Lauren told the outlet at the time, "I feel like the luckiest girl. We both recognize what we have is special, and we feel very lucky." Lane echoed his wife's sentiments, adding, "To get to have somebody like Lauren as a best friend, just in life, is going to make it a million times better. There's just so many firsts that we'll experience — hopefully kids. Just the whole nine yards. I want all of that with her."
It appears Lane got his wish, as the couple welcomed a new addition to their family. Keep reading for more details.
Lauren Lane gave her baby a unique moniker
"The Bachelor" alum Lauren Bushnell and country singer Chris Lane are now a family of three! Lauren took to Instagram to announce the birth of their child and wrote, "Dutton Walker Lane born June 8th, 2021. Your dad and I can't get enough of all 9 pounds of you. Now back to baby cuddles and praising Jesus over and over again for this little miracle!!" Chris also gushed over his son on Instagram: "Words can't describe the love I feel inside my heart for this little man! Thanks for all the prayers. I will never understand how @laurenlane birthed a 9 pound baby! DUTTON WALKER LANE welcome to the world."
"Obsessed with the name," one person commented on Instagram, while another theorized where the name originated. " Oh my gosh Dutton is that a Yellowstone nod?" they penned. Dutton is the name of the fictional family featured on the Paramount Network show, which follows cattle ranchers in Montana. Who knows, Lauren may be a big "Yellowstone" fan!
Name aside, what's truly important is Lauren finally got the baby she so dearly wanted. Lauren opened up about her desire in a January blog post, admitting that "after four to five months of trying" with no luck, she began to worry. "I'm not sure if other people have experienced this, but as a woman, I assumed there was something wrong with me," she wrote. Well, now Lauren can rest easy with her beautiful baby boy by her side.