The Moment Paul Bettany Thought He Was Getting Fired From Marvel
Shutterstock
Hollywood veteran Paul Bettany has been working in the Marvel Cinematic Universe for a minute. From 2008's "Iron Man," in which he played the titular superhero's A.I. butler JARVIS, to 2021's "WandaVision," in which he upgraded to the flying android-superhero Vision alongside Elizabeth Olsen's Scarlet Witch, Bettany has been a staple amongst the MCU fanbase for years. "I'm hurtling towards 50 years old, so it was kind of an unpleasant feeling to us,"  Bettany told Esquire in February about the moment he learned the length of his tenure. 
That journey has seen Bettany jump from a formless voice in Robert Downey Jr's head (essentially) to manifesting as the most muscularly well-defined purple android ever in 2015's "Avengers: Age of Ultron." "The difference was I had to go to the gym," Bettany told Cleverly Me, adding that, despite the lengthy makeup job every day, "I finally got to be on set with a bunch of really lovely, creative, talented people." He joked, "I have to show up at junkets now, you know? The Lord giveth and the Lord taketh away." 
On June 1, Bettany revealed to The Playlist he no longer held a contract with Marvel Studios at the moment, leaving the future of his Vision uncertain in the MCU. But fans rest (slightly) assured — this is not the first time the actor thought Marvel was giving him the ol' heave-ho. Read on for why he thought he was being fired the last time. 
Paul Bettany's story of (not) being fired will make you laugh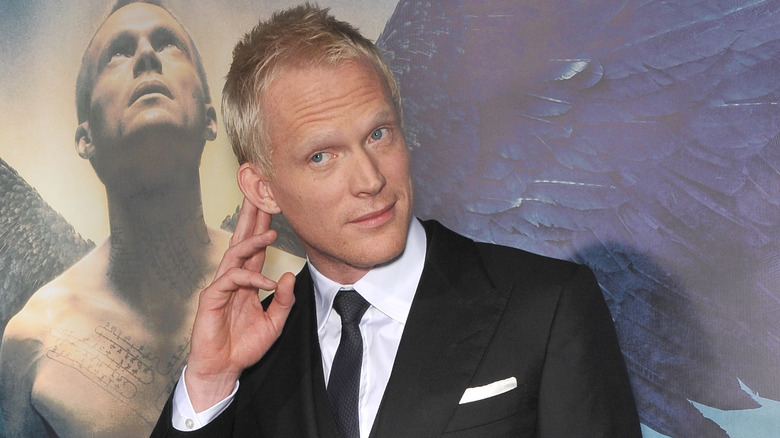 Shutterstock
Warning: Major spoilers ahead for Marvel Studios' "Avengers: Infinity War."
After Paul Bettany's Vision was killed by Josh Brolin's archvillain Thanos in the (literally) soul-crushing climax of 2018's "Avengers: Infinity War," one can forgive the actor for thinking his Marvel Cinematic Universe career had ended. Such was Bettany's conclusion — or presumption — when he received a call from Marvel Studios sometime between then and January 2021 asking him to reprise his role in the critically and commercially successful Disney+ series "WandaVision."
Speaking with BuzzFeed in January, Bettany revealed that he looked over at wife Jennifer Connelly and said, "I think I'm getting the can." Heading into the in-person meeting preparing to be fired, Bettany recalled to BuzzFeed, "I wanted everybody to feel comfortable... because I thought they were going to be gentlemen, and just look me in the face and say, 'It's over.'" He continued, "So I went in, I said, 'Look, there's just absolutely no hard feelings. It's been a great run. Thank you so much.' And they were like, 'Are you quitting?' And I went, 'No, aren't you firing me?'" That is when studio bosses Kevin Feige and others replied, "No, we were gonna pitch you a TV show." One can imagine Bettany's (shocked) sigh of relief as he said yes... And the rest, as they say, is history!