The Kobe Bryant Rap Single That Ended His Music Career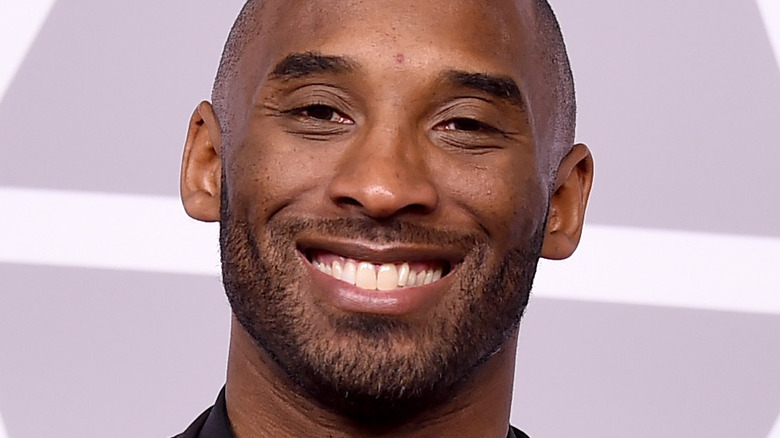 Kevin Winter/Getty Images
Kobe Bryant was one of the most prolific basketball players ever. During his two-decades-long career, the late Los Angeles Lakers star earned five NBA championships, two NBA Finals MVP awards, and two Olympic gold medals with the men's national basketball team. More recently, in May 2021, Bryant posthumously joined the Basketball Hall of Fame via an official ceremony attended by his wife, Vanessa Bryant.
However, some may have forgotten that he tried to pursue another passion of his: music. Over 20 years ago, Bryant released his first-ever single featuring Tyra Banks, "K.O.B.E." In a February 2020 interview with "The Breakfast Club," Banks recalled how the collaboration happened. One day, Bryant gave her a call and told her about his upcoming album. "I was like, 'I'll do it,' and he started laughing," Banks said. "And I'm like, 'I'll do it for free!' He was like, 'For free?' And then a couple days later, I'm literally in the studio with him singing that song."
Bryant and Banks even shot a never-released music video, directed by Hype Williams. And apparently, Bryant and his future wife met while on set. "I remember he met his wife on the music video, and I saw little sparks between them on set," Banks admitted. "K.O.B.E." was then released by Columbia Records in January 2000 and was supposed to anticipate Bryant's debut studio album ... but things didn't go as planned.
Kobe Bryant's debut single flopped and Columbia dropped him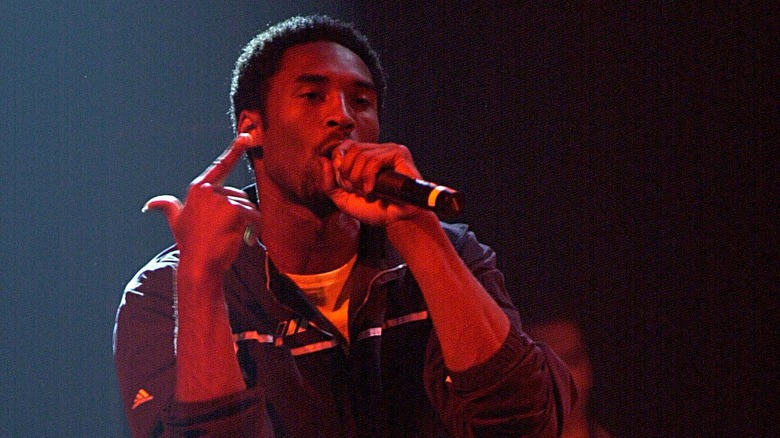 Steve W. Grayson/Getty Images
On "K.O.B.E.," Kobe Bryant rapped about his biggest passions: "basketball, beats, and broads." The song's chorus featured supermodel Tyra Banks, who was also trying to launch her music career at the time. "K-O-B-E, I L-O-V-E you / I believe you are very fine," Banks sang in a baby voice. "If you give me one chance, I promise to love you / And be with you forever more.
To support the release, Bryant and Banks performed "K.O.B.E." live on stage at the 2000 NBA All-Star Game. However, the general public wasn't feeling Bryant's music (nor Banks' child-like voice). "They kept telling me, 'More baby, more baby talk,'" she told "The Breakfast Club." "I'll never forget. I actually think the song is good, but it just shouldn't have had me."
Whether it was due to Banks' singing voice or Bryant's verses, the single failed to hit the charts. And so, Columbia Records decided to scrap the album completely, effectively ending his music career before it even began. However, fans of the late basketball star may still have a chance to listen to Bryant's album.
Titled "Vision," Bryant's long-lost album leaked online on May 13, just days before his Basketball Hall of Fame induction (via NY Post). The project includes 16 tracks and features — apart from Banks — guest appearances from Destiny's Child, Nas, 50 Cent, and Beanie Sigel.