Why Megan Thee Stallion Just Unfollowed DaBaby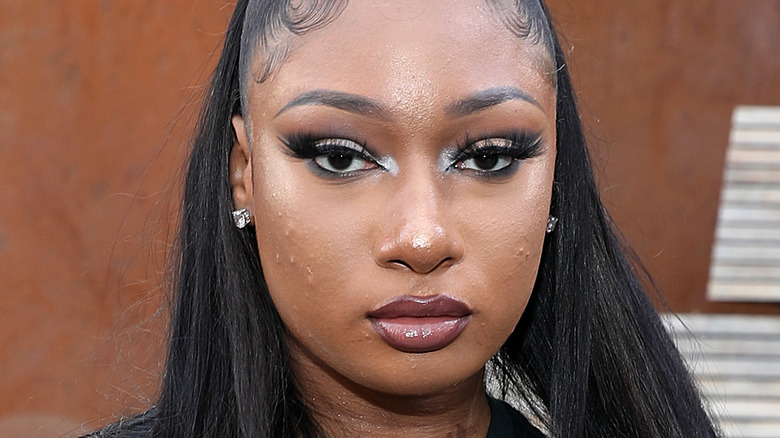 Bennett Raglin/Getty Images
Megan Thee Stallion and DaBaby have been collaborating for years, including songs such as "Cash S**t," "Cry Baby," and "Nasty," as well as DJ Khaled's "I Did It." Their musical chemistry is undeniable, and some have been asking the two to drop a joint album. DaBaby even revealed that a project with Megan is "definitely on [the] table" on the "Million Dollaz Worth of Game" podcast.
Then, in January, Tory Lanez teased an upcoming collaboration with DaBaby, which came as a surprise considering Megan's own history with the Canadian rapper. In case you missed it, Lanez allegedly shot Megan during an argument in July 2020, leaving her with an injured foot. Following the incident, many of Megan's celebrity friends and collaborators distanced themselves from Lanez, so fans expected DaBaby to do the same (or, at best, refrain from collaborating with her alleged attacker).
"@dababy X TORY LANEZ ......... SONG + VISUALS ON THE WAY ..... #2021Umbrella ....drop a [umbrella emoji] in the comments if you ready for this," Lanez tweeted back in January (via XXL). However, after people called DaBaby out for working with her alleged attacker, the "Hot Girl Summer" star took to social media to defend him. "That s*** was old and not cleared [for release]. CRYBABY VIDEO dropping soon," Megan tweeted on January 5, mentioning her upcoming video with DaBaby. 
Still, it looks like the song was eventually cleared ... causing Megan to cut ties with DaBaby for good.
Megan unfollowed DaBaby over his new song with Tory Lanez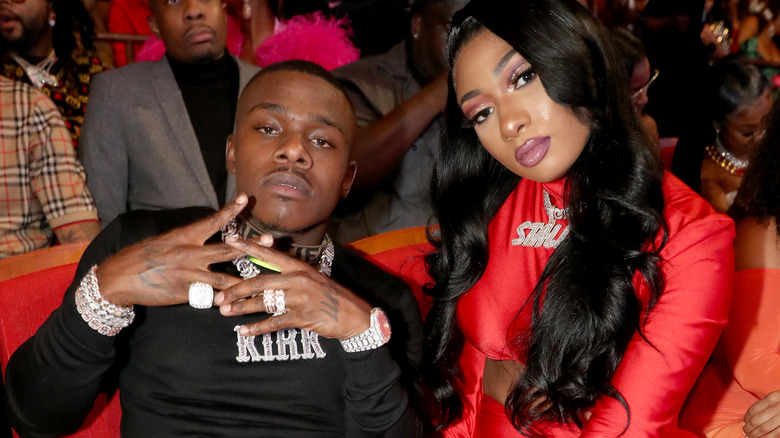 Johnny Nunez/Getty Images
When Tory Lanez teased a new collaboration with DaBaby in January, many thought he was just trolling for attention... but, apparently, he meant business. On June 15, Lanez and DaBaby dropped their music video for "SKAT," which features a scene of the two rappers sitting on baby cars. Then, that same day, Megan Thee Stallion reportedly unfollowed DaBaby (via The Neighborhood Talk) on Instagram.
Although Megan has kept quiet about the situation, fans are certain that Lanez' new song is the reason why she unfollowed her long-time collaborator. "dababy is f****** disgusting," one person tweeted. "like how could you produce so many damn songs with megan and still go make a single with the b**** who shot her. i hope that song does absolutely no numbers." "dababy really lost megan over a tory collaboration that ain't gone get played on nobody's radio station or streamed on nobody's streaming outlet...." another fan commented. 
Meanwhile, some are applauding Megan for finally unfollowing DaBaby (possibly because of his own assault allegations). "Megan finally unfollowed DaBaby! I'm glad she's done with him for good," one user wrote. "No more Megan and Dababy collabs I'm so glad we finally hea!!" another fan celebrated. So far, it looks like DaBaby is still following Megan on Instagram. Neither he nor Megan have addressed the situation either. Stay tuned for updates!
If you or someone you know is dealing with domestic abuse, you can call the National Domestic Violence Hotline at 1−800−799−7233 or TTY 1−800−787−3224. You can also find more information, resources, and support at www.thehotline.org.