Russell Brand Is So Upset Over His Dog. Here's Why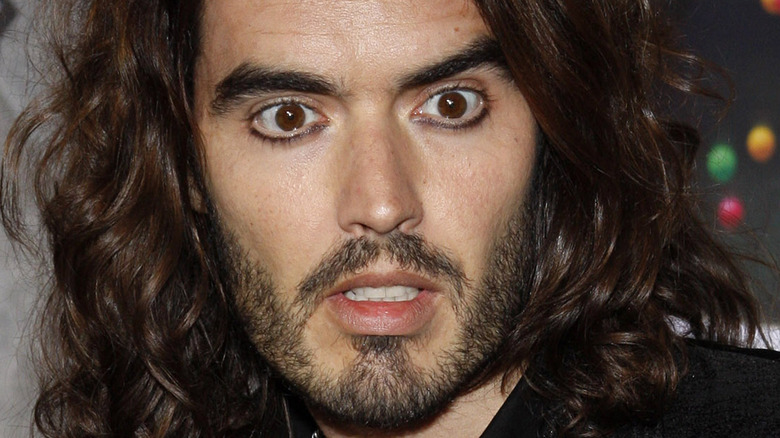 Shutterstock
By his fans, Russell Brand is as renowned for his love of animals as he is for his irreverent brand of comedy (and years later, Katy Perry). Named one of PETA's 2011 "Sexiest Celebrity Vegetarians," per Mix 94.9, Brand said on "Live with Regis and Kelly" that he even detested fish oil supplements. "I think it's cruel to squeeze oil out of a fish," he remarked. A vegetarian since age 14, Brand once shut down a question about eating animals "stunned before slaughter" on his YouTube show "The Trews" in 2014, replying, "I bet being stunned isn't very nice, either," before stating, "If you've got any concern at all about animal welfare, you've got to not eat meat."
Brand's social media portrays his bond with his own pet animals, and he's opened up about them in interviews as well. Brand told fellow funnyman Ricky Gervais on his "Under the Skin with Russell Brand" podcast he was "surprised by the amount of grief and sadness that [he] felt" from the death of his feline Morrissey. He once captioned a selfie of him and his Bengal cat Marmalade as "me and my little deity," and announced on Instagram in May that he planned on keeping all of Marmalade's newborn kittens. He also loves showcasing the adventures of German Shepherd Bear on the platform.
Given Bear's frequently documented happy coexistence with animals great and small (like the lamb in this Instagram share), a reported June 14 incident was particularly surprising. Here's why Bear's actions apparently left Brand "devastated"!
Russell Brand saved a wallaby from his dog's attack
In a routine dog walk gone horrifically wrong, Russell Brand's German Shepherd Bear was reported by The Sun to have mauled a wallaby to death in Brand's town of Henley-on-Thames, England. Bear caught the female while its baby was still in its pouch, but Brand was able to intervene and save the joey. Per The Sun, the marsupials are apparently commonplace in Brand's area, with one local telling the outlet, "Absolutely no one is blaming Russell or his dog — it's just a horrible accident ... It could have been far worse if he hadn't stepped in so quickly." Describing the comedian as "a very caring man," the local shared, "I understand he's devastated over what happened."
Brand was perhaps also shocked by Bear's outburst of violence, as he just shared on May 28 an Instagram video of Bear patiently enduring a torrent of pestering from Brand's cat Marmalade's kittens as he dined from a bowl. When one kitten startled him by swatting the dog's tail, Bear jolted, but no retaliation came. As one Instagram user noted, "Aww he even checked on the one he trod on! What a beautiful soul."
A Mirror reader was far more critical of the canine's recent actions. "I would be seriously concerned if I was in his position some classes as a dangerous dog killing an animal what next attacking a child or an adult," the commenter wrote. As with any large pet, some bonus training can only help!