Robin Thicke, Paula Patton Custody War Intensifies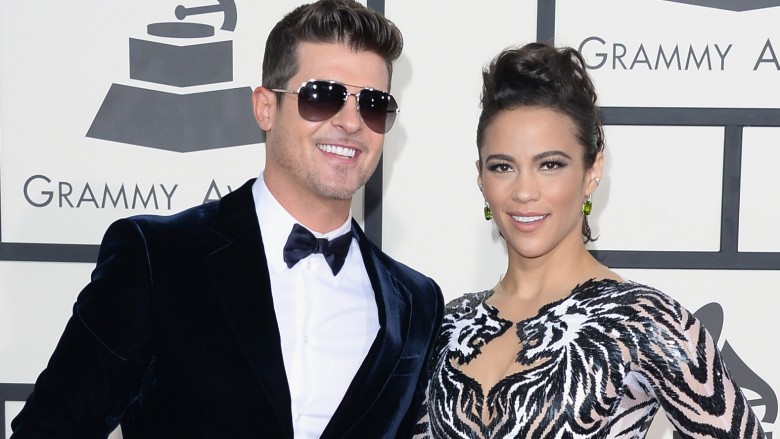 Getty Images
Just when you thought it couldn't get any worse, the custody battle between "Blurred Lines" singer Robin Thicke, 39, and his ex-wife, actress Paula Patton, 41, took yet another dark turn. On Feb. 23, 2017, Patton's attorneys accused Thicke of tampering with evidence.
According to People, Patton claims in court documents that Thicke "willfully, intentionally, and wrongfully changed/fabricated a Court Order specifying custodial timeshare of the couple's minor child." With the falsified court order, Patton alleged Thicke attempted to have her arrested for kidnapping in January 2017 prior to her achieving full custody of their 6-year-old son, Julian. Thicke's camp, on the other hand, argues that he and Patton share the same legal documents: "The document read exactly as it did on Feb. 4, 2015 when both parties agreed and signed, and there was nothing changed on that document," a source told People.
In the same court documents filed by Patton's attorneys, the Precious (2009) actress also accuses her ex-husband of attempting to influence a caseworker from the Department of Children & Family Services (DCFS). According to TMZ, Patton claims Thicke took a caseworker out to dinner, treating him to an expensive sushi meal. Thicke reportedly refuted Patton's accusations, explaining that he went to dinner with his son, and, in accordance to a judge's ruling, a DCFS caseworker had to be present. Furthermore, Thicke said the worker did not eat or sit with him or his son.
This news comes on the heels of previous reports alleging child abuse and false kidnappings. Thicke is reportedly being investigated by the DCFS for allegations of physical abuse against Julian made by his ex-wife and an official from Julian's school.
As Nicki Swift previously reported, Patton filed for divorce from Thicke in 2014, after nine years of marriage.