Paula Patton Accuses Robin Thicke Of Child Abuse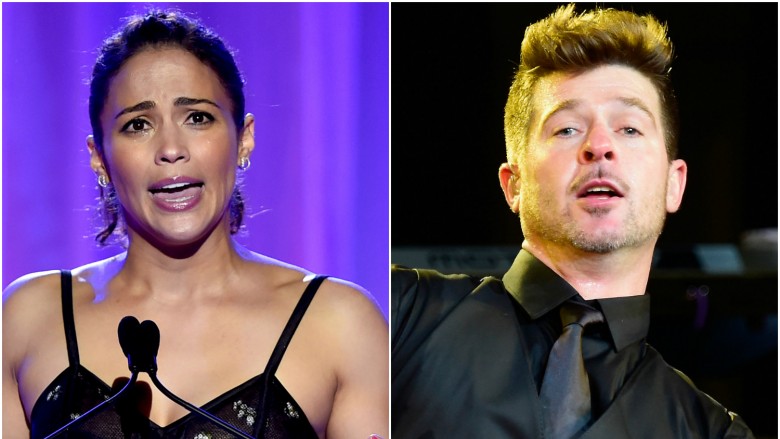 Getty Images
Actress Paula Patton and singer Robin Thicke's custody battle just got really ugly.
In newly revealed court documents, Patton, 41, accused Thicke, 39, of physically abusing their 4-year-old son, Julian. A source told People the Deja Vu (2006) star has "become concerned about [Thicke]'s drinking and drug use, as well as the forms of punishment he is using to discipline Julian." In her court filing, Patton claimed Julian's school principals "advised [her about] comments and statements Julian made to them about the way [Thicke] hits and punishes in private...[Patton] had been hearing the same things, and...[Patton] did not know how to handle and was very concerned." She added that Julian's "behavior has become very concerning...[Julian] has become very tense," and that the boy goes into "what appears to be a trance" and "developed a slight stutter."
According to TMZ, Patton claimed the "Blurred Lines" crooner showed up drunk to their son's kindergarten graduation ceremony—at 8:30 a.m—and was "hooting and hollering" and making "inappropriate jokes" in the Catholic church where it took place. A nanny claimed to have seen Thicke smoking marijuana in Julian's presence on more than one occasion.
Thicke refuted his ex-wife's allegations in his response filing. In the documents, his team claims (via E! News), "It is my understanding that Paula is accusing me of 'excessive spanking.' I am told that Julian reported to the school that I spanked him and that the school made a report to the Department of Children and Family Services. On a very rare occasion, and only as a last resort, I will use light spanking, but it is consistent with the law—open hand on the butt. This is the type of discipline to which Paula and I agreed during our marriage."
Thicke also claimed Patton "holds residual anger toward me because I and my family would not permit her or her family to attend the funeral of my father." Thicke's dad, Growing Pains star Alan Thicke, died Dec. 13, 2016, from a heart attack. "Paula did not have a positive relationship with my father and often made negative comments to me about my father," said the filing. "As such, she was not welcome at his funeral. It is my belief that Paula only wanted to attend because it would have resulted in additional public exposure for her."
A source told People that Robin already scored a major victory in this conflict, saying, "The judge denied all of Paula's requests for custody. She wanted more custody because of her allegations of physical abuse, which are untrue and unfounded." An insider told Us Weekly, "Child Protective Services didn't see any evidence of wrongdoing."
However, TMZ reported that a DCFS investigation is ongoing.