The Truth About Ra'Jah O'Hara From RuPaul's Drag Race
Chelsea Guglielmino/Getty Images
Get excited, "Drag Race" fans, because "RuPaul's Drag Race: All-Stars" Season 6 is premiering on June 24!
This season will feature 13 contestants who previously death-dropped onto our screens in "RuPaul's Drag Race" and earlier "RuPaul's Drag Race: All-Stars" seasons. It seems fans are in for a real treat this time around, with RuPaul telling The Wrap in May, "13 All-Stars deliver one of the best "Drag Race" seasons ever! Don't take my word for it. You've got to stream it to believe it." Of course, Ru would say that, but it's a great bunch of queens.
Ra'Jah O'Hara seemingly can't wait to return and shared the news with fans on Instagram, writing, "Your favorite homegirl is back, and this time she's all GLOWED UP!" One look at her magenta cape tells us she's here to win and will look fabulous while doing so. We're feeling this look! Ra'Jah first appeared on Season 11 and while she had her "sickening" moments, she was arguably outshined by the talents of queens like Yvie Oddly and Brooke Lynn Heights. Well, that was then, this is now! "Sorry Not Sorry" about it!
Have you ever wondered who Ra'Jah is when she's not competing on TV? Keep reading for more details.
Ra'Jah O'Hara was pushed to join "RuPaul's Drag Race"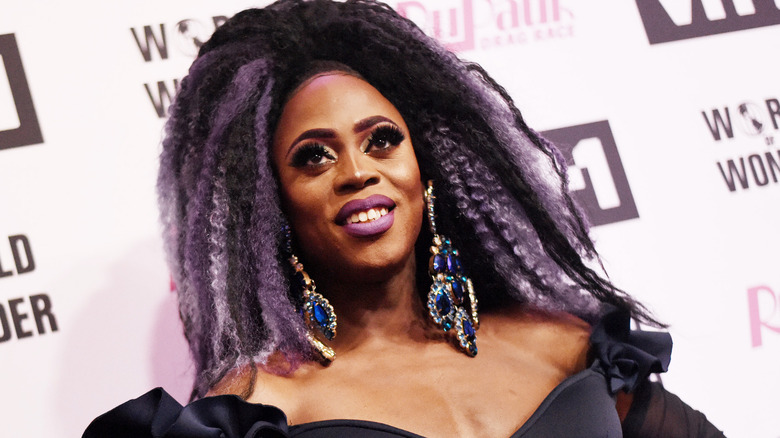 Chelsea Guglielmino/Getty Images
Although Ra'Jah O'Hara has watched "RuPaul's Drag Race" since Season 1, she "never really put any effort behind" joining the show, according to an April 2019 interview with the Houston Chronicle. "I was just waiting for the opportunity to fall into my lap," she said. "After watching Kennedy Davenport make it to the final two in 'Drag Race All-Stars' 4 [Kennedy actually did so in 'All-Stars' 3] and Asia O'Hara making it to the top four of Season 10, I said, 'I need to throw my bid in.' They were my inspirations for continuing the representation and the legacy that is the Dallas drag scene." The Dallas, Texas drag scene has a "little bit of everything," she added. "It's pageant culture on top of some of the camp and some of the more creative aspects of drag."
Ra'Jah seemed to relish the spotlight, but the competition wasn't easy her first time around, according to Gay Times. "My experience on 'Drag Race' was rough and I got really down on myself to where I couldn't really showcase me at my best, so I regret not showing fully what all I'm capable of. I have a background in art: I sing, I dance — yes, I actually went to college on a full scholarship for dance — and I can act, and not just a damn fool," she said.
This could be her moment!