The Truth About Ross Mathews' Weight Loss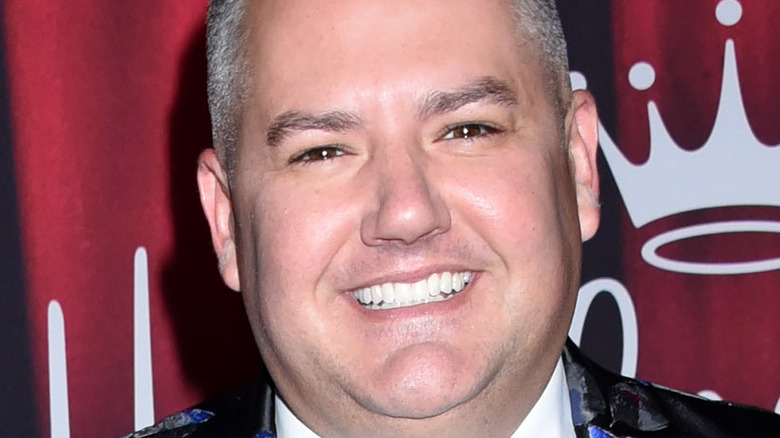 Shutterstock
Everyone handled the Covid-19 quarantine differently. Some people became expert bakers of sourdough bread. Others took up new hobbies like jewelry-making. Some very ambitious people wrote an entire book during quarantine. Some people put on what they not-so affectionately called "the Covid 19." And other people used the time in quarantine to lose weight. Television personality Ross Mathews is one of the people who got healthy and lost weight, per Today.
Mathews lost more than just weight during quarantine. Sadly his mother Gaye died as a result of complications of breast cancer in May 2020. Mathews posted a tribute to his mom on Instagram, writing, "I can't imagine a world without her. Will colors be less vibrant? Flavors dulled? Laughter muted? She was my audience of one, my head cheerleader, my VIP. And now she's gone, taken before any of us were ready."
He continued, "She made life better. I hope – no, I know – that her spirit lives within me and I will spend the rest of my life trying to be as good as she was, as kind as she was, and authentic as she was. I am who I am because of how she loved me. We should all be so lucky. Do me a favor: if you can, tell her your mom you love her today. I wish I could, even just one more time."
Mathews could have wallowed in his grief. Instead, he did the opposite.
Ross Mathews lost 50 pounds
In his immediate grief over the death of his mom, Ross Mathews said, "After mom died, I really found comfort in what I called 'grief pizza,' which is like unlimited pizza," per Today. He was also accustomed to late-night snacking. Eventually, he realized that wasn't the healthiest way to be and he decided to change his behavior. However, he didn't turn to a trendy diet or quick fix, he taught himself about food and healthier eating.
"It was about cutting out snacking," he said via Today. "Or if I did, I would snack on like a pickle or something. I was looking for the crunch. It was about replacing some things and really just knowing that if nothing changed, nothing changed. That if I didn't make some changes, I would be stuck in the same unhealthy place that I was."
In November, Mathews posted a photo of his dramatic weight loss on his Instagram and captioned it, "Breaking the pattern. 50lbs down today from my height in early June when I decided to reclaim my health after my mom died (70lbs down from my all-time). I will always be a work in progress. I may mess up again. I dunno. All I know is that I'm very grateful. And very happy. On we go..."
Mathews also mentioned that he recently moved to New York City and is walking more, which aided in his weight loss.