The Craziest Moments Of The 2017 Oscars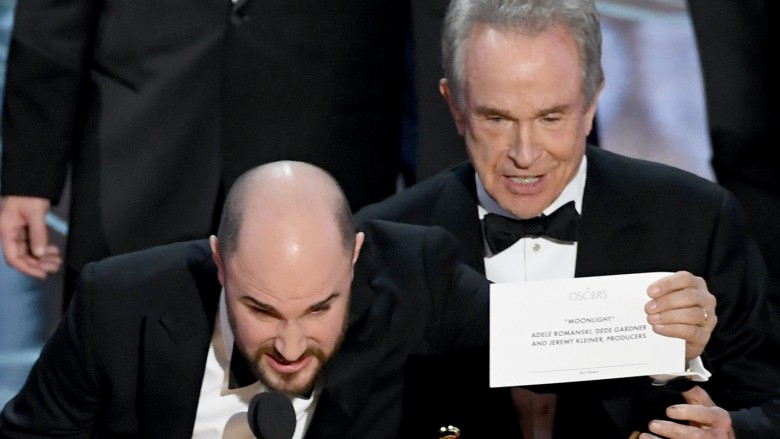 Getty Images
The 2017 Oscars brought laughs, tears, and a few cringeworthy moments that we still couldn't look away from. Not to mention one of the most jaw-dropping flubs in the history of the Academy Awards. Here are the wildest things that happened at Hollywood's biggest night.
And Best Picture goes to...wait, what?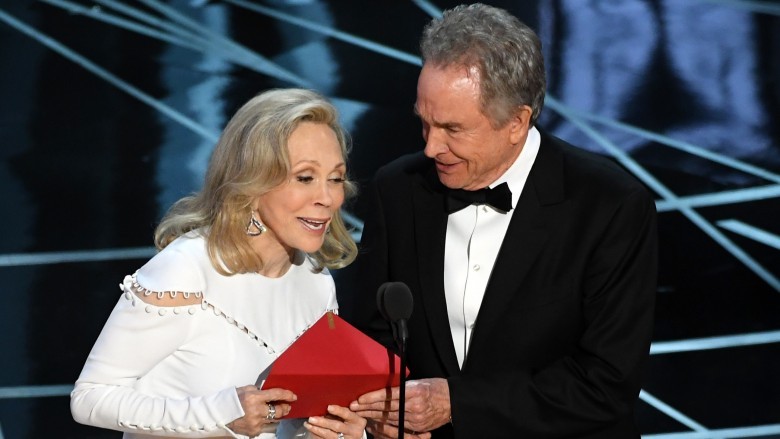 Getty Images
By the end of the night, all signs were pointing to La La Land to win Best Picture, as expected. And for a moment, it did: after a bit of an awkward delay, presenter Warren Beatty handed the envelope to his Bonnie & Clyde co-star, Faye Dunaway, who declared the movie the big winner.
But then something awkward and historic happened: as the film's producers were giving out their thank-yous, it was discovered that Moonlight, not La La Land, was the real Best Picture winner.
So, what the flying heck happened? Presenter Beatty stepped in to cover his you-know-what and revealed that he actually held the envelope for the night's Best Actress winner, Emma Stone (La La Land), thus explaining the flub. Amid chaos and confusion, the producers of Moonlight gathered on the stage to give their thank-yous. The rest of us looked on shocked, confused and, um, WHAT?!
The tourists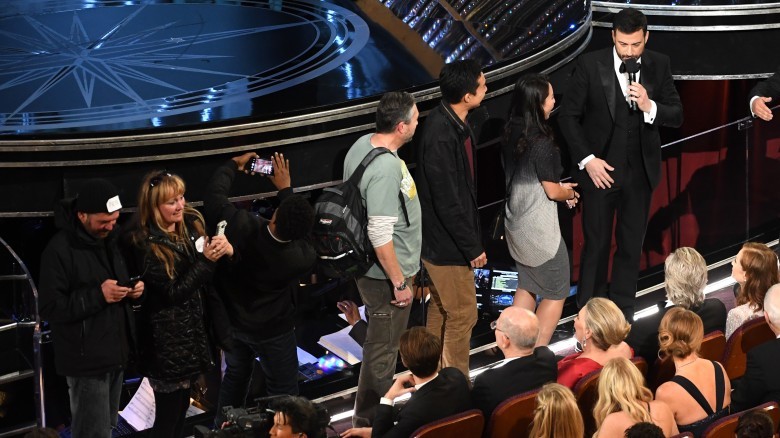 Getty Images
Jimmy Kimmel surprised a group of Hollywood Starline tourists with a trip to the Oscars! The host with the most got the entire auditorium to be quiet as tourists wandered in under the guise that they were visiting an exhibit. Soon, the shocked group were taking selfies with Mahershala Ali and Denzel Washington and even went home with a pair of Jennifer Aniston's sunglasses.
Jimmy Kimmel keeps his feud with Matt Damon going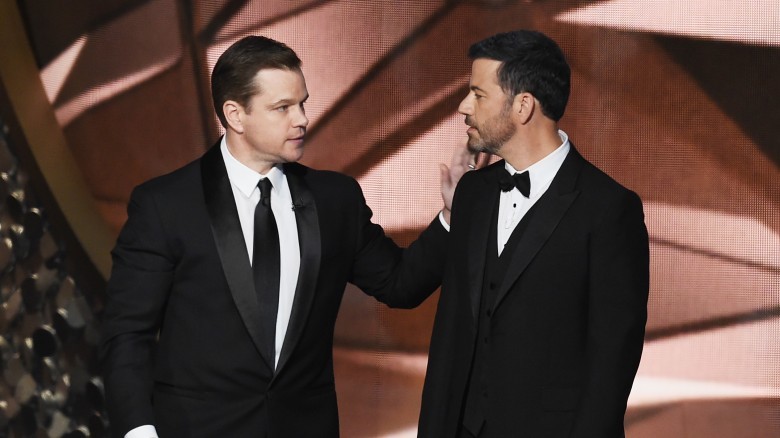 Getty Images
Host Jimmy Kimmel poked a lot of fun at faux-nemesis Matt Damon, with whom he's had a good-natured, hilarious beef for years. "Tonight, in spirit of healing and bringing people together, I would like to bury the hatchet with someone I've had issues with. I would. Matt Damon," Kimmel said. "I've known Matt for a long time now. I've known Matt so long, when I first met Matt, I was the fat one, okay? It's true. And we've had problems. He's a selfish person. Those of you who have worked with him know this. But Matt did something very unselfish and I want to commend him for it."
He then mocked Damon for giving Casey Affleck the lead role in Manchester By The Sea (2016), telling the crowd, "He handed an Oscar-caliber role over to his friend and made a Chinese ponytail movie instead. And that movie went on to lose $80 million. Smooth move, dumb a**. See? It's so easy to reach out and heal."
Damon jokingly tried to trip him at one point, and later Kimmel introduced Damon as co-presenter Ben Affleck's "guest"—and had the orchestra play him off.
Burn!
Justin Timberlake's opening number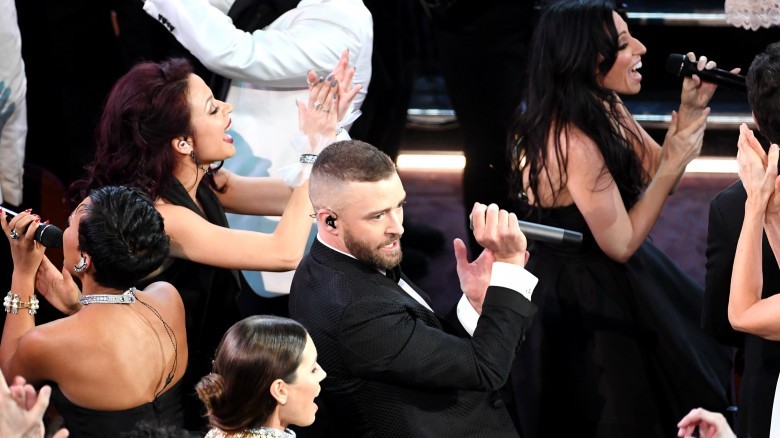 Getty Images
Justin Timberlake made the entire audience dance to his Trolls (2016) soundtrack hit "Can't Stop The Feeling" in his Oscars opening number. The Hollywood Renaissance man made his way through the crowd, but our favorite moment was him dancing with wife Jessica Biel. Seriously, can they be any cuter?
The Rock's jacket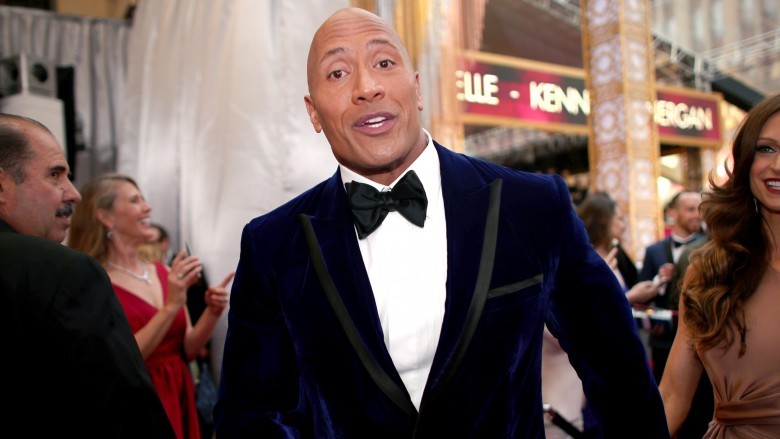 Getty Images
Only Dwayne "The Rock" Johnson could wear a blue velvet jacket and make it look, well, like a Great One. Bless up.
Mahershala Ali's big moment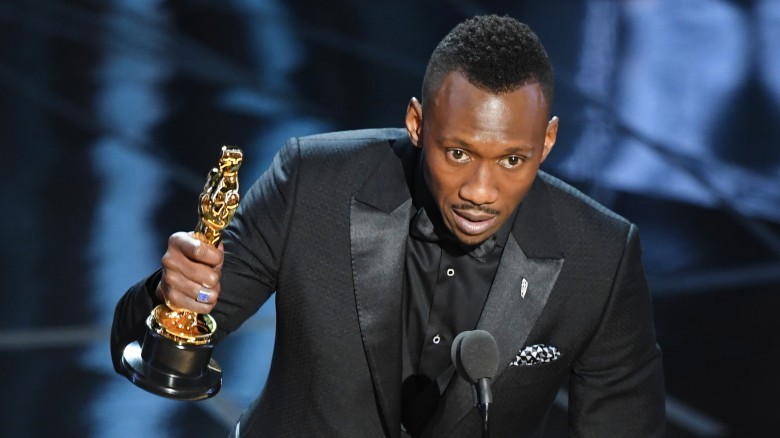 Getty Images
Moonlight (2016) star Mahershala Ali took home the Academy Award for Best Supporting Actor just days after welcoming a baby girl—and became the first Muslim actor to win an Oscar. His speech was adorable, with nods to his grandma, his teachers and professors, and wife. "One thing that they consistently told me...[acting is] not about you, [acting is] about these characters you are serving. You are service to these stories and these characters and I'm so blessed to have had an opportunity."
Thanking his wife, Amatus Sami-Karim, he said, "[She was] in her third trimester during award season, and we just had a daughter four days ago. I just want to thank her for being such a soldier through this process and really carrying me through it all."
Meryl Streep's standing O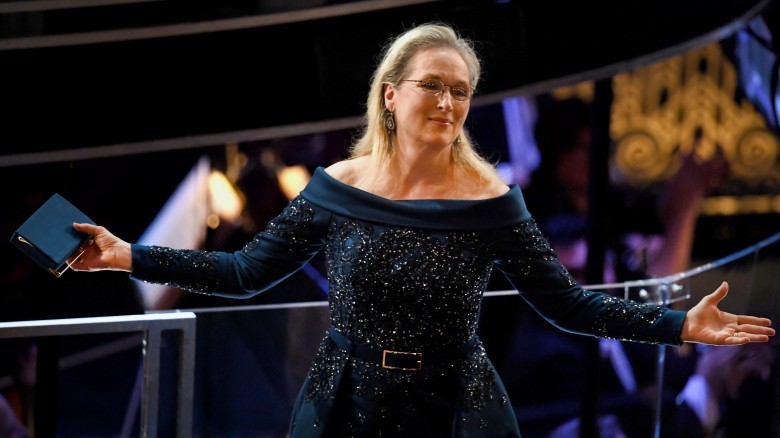 Getty Images
Host Jimmy Kimmel called out Meryl Streep, who's had a heck of an awards season, between feuds with Donald Trump, who infamously called her "overrated," and Chanel designer Karl Lagerfeld, who said she was cheap.
"We're also here to honor the actors who seem great, but actually really aren't. And of all the 'great actors' here in Hollywood, one in particular has stood the test of time for her many uninspiring and overrated performances," Kimmel said. "From her mediocre early work in the Deer Hunter and Out Of Africa to her underwhelming performances in Kramer vs. Kramer and Sophie's Choice, Meryl Streep has phoned it in from more than 50 film over the course of her lackluster career. This is Meryl's 20th Oscar nomination. The highly-overrated Meryl Streep, everyone," he continued, adding, "Nice dress tonight. Is that an Ivanka?" The crowd went wild and gave the most-nominated actress in history a standing ovation.
Auli'i Cravalho's unflappable professionalism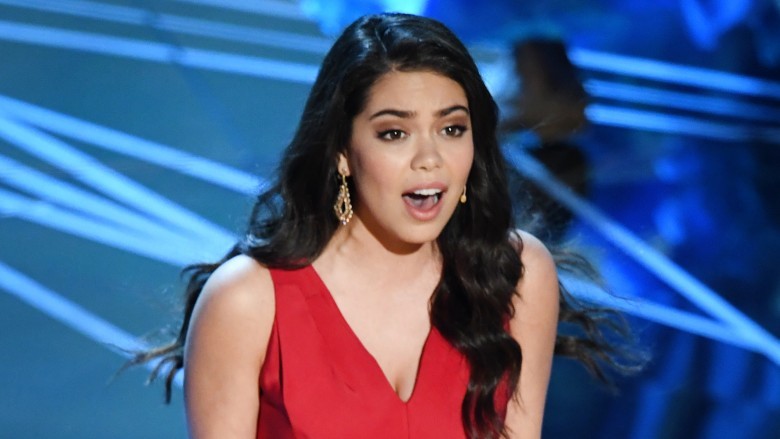 Getty Images
Moana (2016) star Auli'i Cravalho was performing "How Far I'll Go" with Lin-Manuel Miranda and a troupe of dancers. One of those dancers accidentally bopped the young starlet in the head with a flag...and Cravalho didn't even flinch.
Viola Davis makes history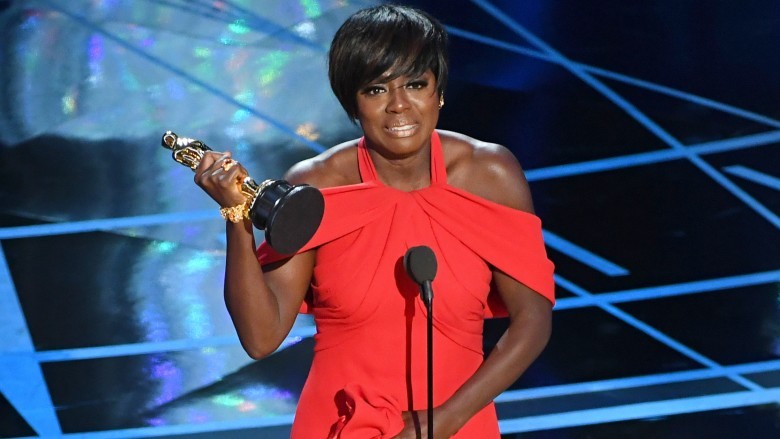 Getty Images
Viola Davis won the much-deserved Best Supporting Actress trophy for Fences (2016) and made history in the process: she became one of only seven African-American women to take home Oscar gold and became the only African-American star to win an Oscar, an Emmy, and a Tony.
In her acceptance speech, Davis choked back tears as she thanked her family and said, "You know there's one place where all the people with the greatest potential are gathered, and that's the graveyard. People ask me all the time—What kind of stories do you want to tell? And I say, exhume those bodies. Exhume those stories...I became an artist and thank God I did because we are the only profession that celebrates what it means to live a life."
Asghar Farhadi makes a statement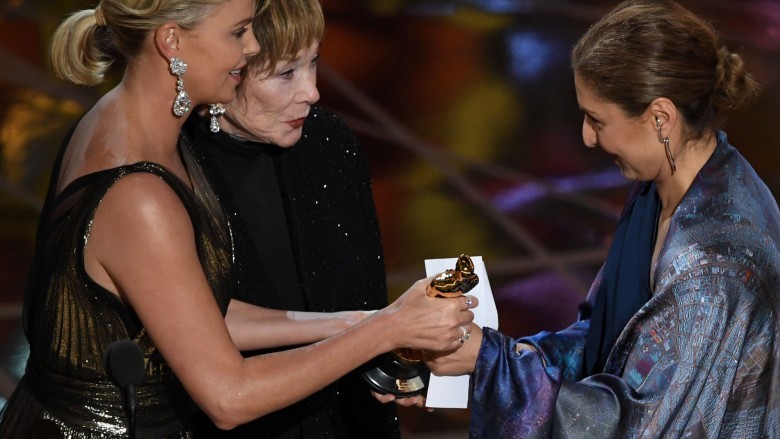 Getty Images
Iranian director Asghar Farhadi won the Oscar for Best Foreign Language Film for The Salesman (2016). He didn't attend the ceremony, but had engineer Anousheh Ansari accept his trophy and read a prepared statement onstage.
"I'm sorry I'm not with you tonight. My absence is out of respect for the people of my country and those of other six nations whom have been disrespected by the inhumane law that bans entry of immigrants to the U.S.," Ansari read. "Dividing the world into the 'us' and 'our enemies' categories creates fear. A deceitful justification for aggression and war. These wars prevent democracy and human rights in countries which have themselves been victims of aggression. Filmmakers can turn their cameras to capture shared human qualities and break stereotypes of various nationalities and religions. They create empathy between us and others. An empathy which we need today more than ever."
The candy parachutes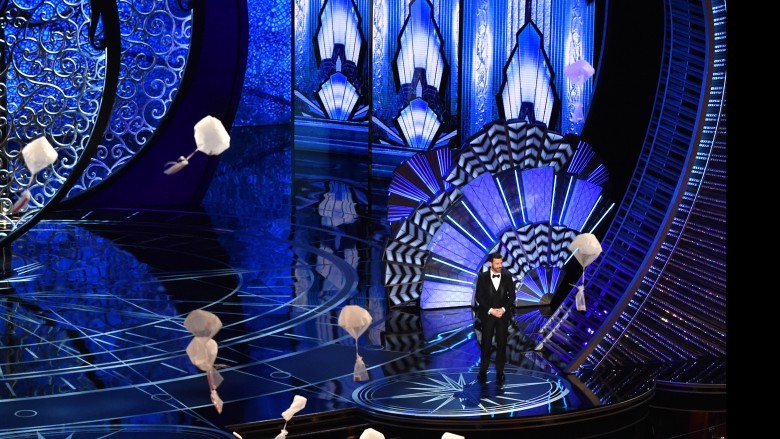 Getty Images
Jimmy Kimmel made the celebration of movies feel like a movie night when he launched parachutes full of candy into the crowd. "How are you guys holding up? Are you hungry?" he asked the crowd. He added, "This is a show about the movies and you really can't have movies without candy. It's un-American really. Close your eyes and wish very hard." At that moment, bags of Red Vines and Junior Mints floated down in parachutes. "Don't hurt each other," he warned. "Take it and enjoy." He later did the same with cookies and donuts.