What Does Jennifer Aniston Refer To Brad Pitt As?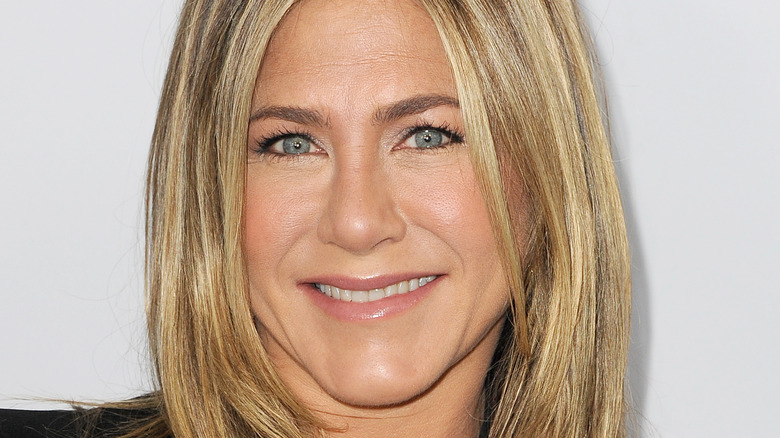 Shutterstock
Brad Pitt caused a media firestorm when his supposed affair with Angelina Jolie was pinged as the main reason behind his divorce from "Friends" superstar and America's sweetheart Jennifer Aniston in 2005. In January 2006, Jolie announced she was pregnant with Pitt's child, confirming their relationship, as ABC News reported at the time. And just like that, Brangelina was born. Since then, the public became obsessed with how Aniston handled the situation and the status of her relationship with Pitt following the much-publicized ordeal.
While both have always been discreet about their divorce and subsequent relationship, Aniston and Pitt were said to have a bitter relationship for years afterward. In a 2009 interview with W magazine, Pitt denied that was the case, contending he and his ex-wife were on good terms. "We still check in with each other. She was a big part of my life, and me hers. I don't see how there cannot be [that]. That's life, man. That's life," Pitt said.
When Pitt and Jolie separated in 2016, the public was quick to wish for Pitt and Aniston to reunite. In fact, every time Pitt and Aniston attended the same event, the public seemed to collectively hyperventilate from excitement, as evidenced by the time they hugged at the 2020 SAG Awards. But the two never got back together. So what's the status of their relationship? In a 2021 interview, Aniston addressed just that. Keep scrolling to learn what she refers to Pitt as.
Jennifer Aniston says she and Pitt are 'buddies'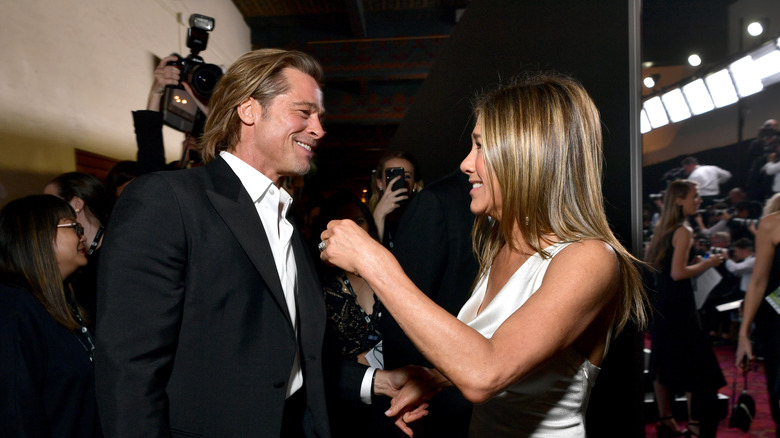 Emma Mcintyre/Getty Images
In a June 2021 conversation with Howard Stern, Jennifer Aniston said she regards Brad Pitt as a friend, as People reported. "Brad and I are buddies, we're friends," she said. Aniston was discussing their mutual participation in the "Fast Times at Ridgemont High" live reading in September 2020, clarifying that the experience was "absolutely fun." Addressing the fact that they played love interests during the reading of the 1982 film, Aniston contended that "there's no oddness at all, except for everyone that probably watched it and was wanting there to be, or assumed there to be," Aniston told Stern. 
"We had fun, and it was for a great cause," Aniston concluded, as the event had been put together by Sean Penn's non-profit organization, CORE. At the time, Dane Cook, who hosted the event, said there was "no drama," according to a separate People report. "They both locked in. What you saw was absolutely what we had hoped, which was just nice engagement between two massive, incredibly talented people," Cook said.
In 2019, Pitt and Aniston showed there was no bad blood between them when he attended her 50th birthday bash, as E! News noted at the time. His appearance sent the internet and the media ablaze because it marked the first time they were seen together since their very public split, E! pointed out.