Who Is John McAfee's Wife, Janice Dyson?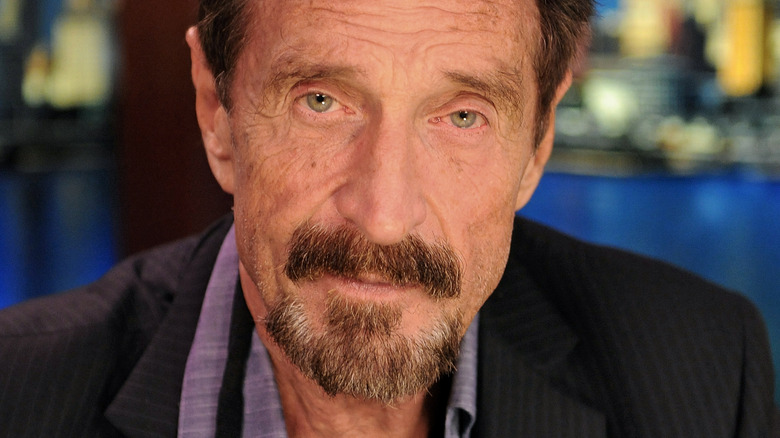 Bloomberg/Getty Images
John McAfee, who was found dead on June 23, 2021, was known for being a game-changer in the business and technology worlds. After learning to develop computer software that combats viruses, McAfee went on to found McAfee Associates in 1987. Developing such antivirus software that would build the blueprint for other types of similar software was both good and bad for the tech entrepreneur. While McAfee's innovation added millions of dollars to his bank account, especially after he sold his stake of McAfee Associates, per The New York Times, he also became "the most popular hacking target," he wrote in the Mensa Bulletin (via the International Business Times).
Outside of his pioneering role in the technology space, McAfee has become known for his bizarre lifestyle that's even gotten him into trouble with international authorities. After selling his company in the mid-1990s, McAfee used his new downtime to become a yogi and fly airplanes, according to Countere. However, he also evaded taxes, according to the U.S. Department of Justice.
But who is McAfee's wife, Janice Dyson? Keep reading to find out.
Janice Dyson was involved in a plan to have John McAfee kidnapped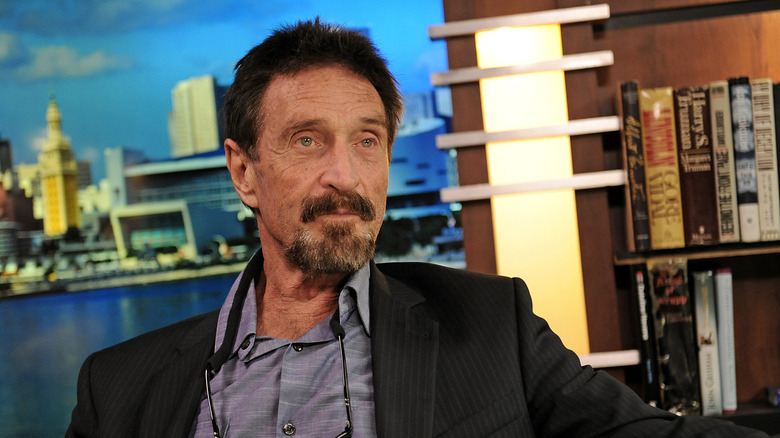 Bloomberg/Getty Images
Technology entrepreneur and business pioneer John McAfee died in June, but he will be remembered for his contributions to the technology space, especially with antivirus and encryption software. Outside of his work life, McAfee had an interesting relationship with his wife, Janice Dyson. McAfee reportedly met Dyson when he was fleeing Belize in 2012. She was a sex worker in South Beach, Fla., where the two then spent a night together, according to Newsweek. The pair began a relationship and eventually married in 2013, but the marital bliss didn't last long.
It turns out that Dyson was colluding with her former associate, Delmariea Kamani Crutchfield, aka "Suave," to rob and possibly kidnap McAfee. They had even gone so far as to set up a plan at McAfee's Lexington, Ky. home. Even though she was helping Crutchfield, Dyson claimed that she was trying to give McAfee hints to protect him. "Even though I was cooperating, I was still trying to suggest to him, without telling him, to be careful," she told Newsweek. "[But] I would get in the way. A lot of the attempts that happened in our home, I hindered those from happening, blocked them from happening, because I'm in the house too." In the end, McAfee's paranoia and ample security protected him. 
McAfee and Dyson stayed married until the time of his death, with Janice sharing a Father's Day message for him on Twitter just days before he died.