How Much Is Judi Dench Worth?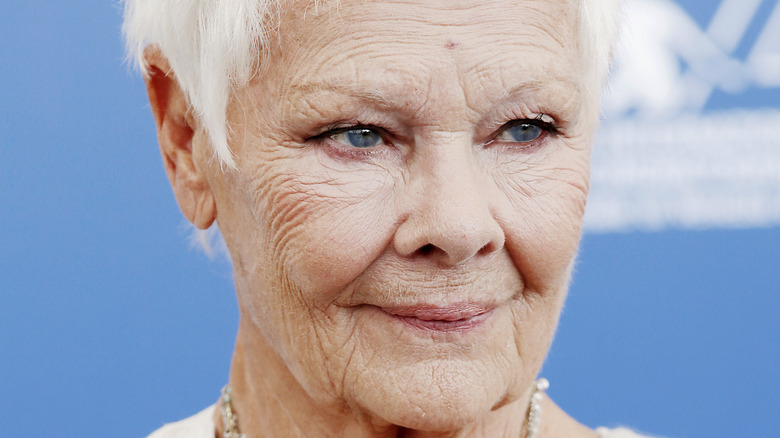 Shutterstock
Judi Dench may have starred in one of the most notoriously bad films of the past few years, "Cats," but she shouldn't be catty about her net worth. The legendary British actor has been credited on IMDb for more than 120 screen productions, and she's a seven-time Oscar-nominee and a distinguished theater performer. And at 86, Dench shows no signs of slowing down. She recently told The Mirror she would consider a return to the stage or another film role ... so long as she's "not some old woman in a home somewhere."
Dench caught the acting bug early due to her family's involvement in her local theater. Her father was a doctor for the York theater and her mother was a wardrobe mistress (per The Sun). This meant actors often stayed at their house while in town, according to Celebrity Net Worth. A captivated Dench went on to study at the Central School of Speech and Drama, based at the Royal Albert Hall in London. She eventually made her professional debut in 1957 with the prominent Old Vic company at the Royal Court Theater in Liverpool, where she played Ophelia in "Hamlet."
From those humble roots, her love for Shakespeare continued throughout her now seven-decade career. She not only performed in several of his plays, but was also cast as Queen Elizabeth I in the seven-time Oscar-winning film, "Shakespeare in Love," where she won Best Supporting Actress. While the film was a huge critical and financial success, it isn't the most financially lucrative project she's been part of.
Judi Dench starred in the highest-grossing film of all time in the U.K.
When it comes to stage and screen roles, Judi Dench told The Mirror that she says "yes to everything, including 'Cats.'" The carefree actor has starred in a slew of big-budget films, including "The Best Exotic Marigold Hotel" and "Pride & Prejudice," and those on a smaller scale like "Notes on a Scandal." However, most things she touches turn to gold with the psychological-thriller, "Notes of a Scandal," out-earning its budget by several million, per Celebrity Net Worth. But Dench's most successful film happens to be one where she doesn't play the title character. 
Dench made her foray in the iconic "James Bond" series in 1995, playing the character of "M," the head of the Secret Intelligence Service. She was not only the first woman cast in the role, but the only cast member to continue from Pierce Brosnan's Bond stint to Daniel Craig's. Dench has now starred in six Bond films, all of which have received enormous commercial success. None more popular than 2012's "Skyfall," which earned more than $304 million at the box office, per Forbes. The film became the U.K.'s highest-grossing film of all time and saw Dench receive rave reviews.
As a versatile actor with a long-running career, Celebrity Net Worth estimates Dench to be worth $45 million, and with the latest Bond film "No Time to Die" slated for release in October, we're sure her earnings will skyrocket. But in any event, let's remember Dench is also a dame, something you can't put a price tag on at all.