The Real Reason Carrie Fisher Didn't Like Her Iconic 'Star Wars' Hairstyle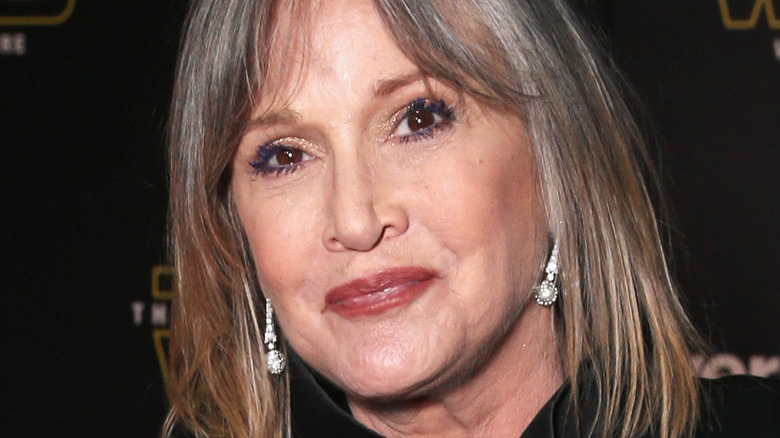 Todd Williamson/Getty Images
At just 19 years old, Carrie Fisher went from being a Hollywood scion to a Hollywood icon when she debuted on the big screen as Princess Leia Organa in "Star Wars." The daughter of Hollywood superstars Eddie Fisher and Debbie Reynolds, Fisher came into her own in the sci-fi space opera beloved by fans all over. 
And it went without saying that her tragic, sudden death on Dec. 27, 2016, at 60 shook fans to their core. But before she became yet another example of a childhood hero who died too soon, Princess Leia became both a feminist icon and a teenage fantasy. One of the most iconic things about Princess Leia was, perhaps, her hair — long and curled into two cinnamon bun-style twists, each at the side of her head. 
But what did Carrie Fisher really think about this iconic hairstyle? Read on to find out more details about this beloved "Star Wars" actor.
Carrie Fisher had mixed feelings about the "Leia Buns"
At a 2015 "Star Wars" celebration, the once-and-forever Leia — aka Carrie Fisher — told fans they shouldn't expect the iconic buns to make a return appearance in future "Star Wars" films. "[It's] tired now—so no, you're not going to have futuristic buns [for future episodes]," she said at the time, according to Digital Spy.
Fisher's opinion isn't too surprising when you consider her early feelings about those buns. "It took them two hours to do that hairstyle," the actor vented to Allure. "I'd come in at 5 in the morning, before anyone.... Later on, I did 'Saturday Night Live'.... They clunked a hairpiece on, and it looked exactly the same." She also quipped, "I weighed about 105 pounds at the time.... But I carried about 50 of those pounds in my face. So you know what a good idea would be...? Give me a hairstyle that further widens my already wide face."
Later, though, she seemed to joke about the hairstyle's impact on pop culture and said she wouldn't be averse to wearing a more updated version of her iconic "Leia buns" in future "Star Wars" installments. "I've been begging them to do the gray buns. Granny Leia—cleaning up around the house, baking cookies in the shape of robots. Good ol' Granny Leia.... Who wouldn't want that?" she said. Sadly, we'll never know how "Good ol' Granny Leia" would look.