Who Was Ryan Gosling's Date To The Oscars?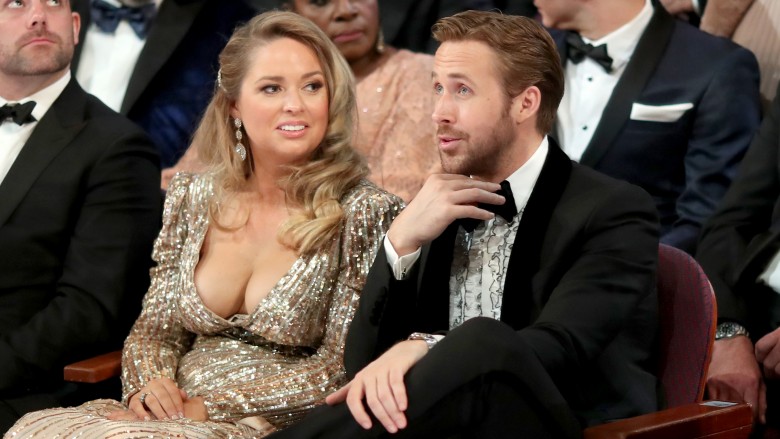 Getty Images
As always, Ryan Gosling turned heads at the 2017 Oscars on Feb. 26—but this time the reason involved a mystery blonde.
While many fans hoped to catch a rare glimpse of Gosling on the red carpet alongside his longtime love, Eva Mendes, alas the mother of his two daughters was nowhere in sight. Instead, the La La Land actor worked the room with a beautiful mystery woman, who donned a glimmering gold gown with an eye-catching plunging neckline.
Who was she? Meet Mandi Gosling, Ryan's older sister. The best actor in a leading role nominee wasn't the only A-lister to bring a family member as their plus one for the night. Dev Patel and Lin-Manuel Miranda's proud mothers sat by their sides, and
Jeremy Renner's date
at the star-studded event was his 3-year-old daughter Ava Berlin.
While Renner's now in the running for dad of the year, Ryan's likely to win brother of the year. Mandi, who did not walk the red carpet, was spotted mingling with fellow nominees during the show and busting out a dance move during Justin Timberlake's "Can't Stop the Feeling" opening number. According to Glamour, she was also by her brother's side at the 2006 Gotham Awards and again in 2008 at the Screen Actors Guild Awards.
Unfortunately, having his sister's support didn't bring Ryan luck as he lost best actor to Casey Affleck for his role in Manchester by the Sea. In total, La La Land was nominated for 14 Academy Awards— tying with 1997's Titanic and 1950's All About Eve for the most nominations received by a film. The flick
walked home with six wins
, including best actress for Emma Stone, making it only the 11th movie to ever do so.