Psaki Has Something To Say About Gwen Berry's Flag Snub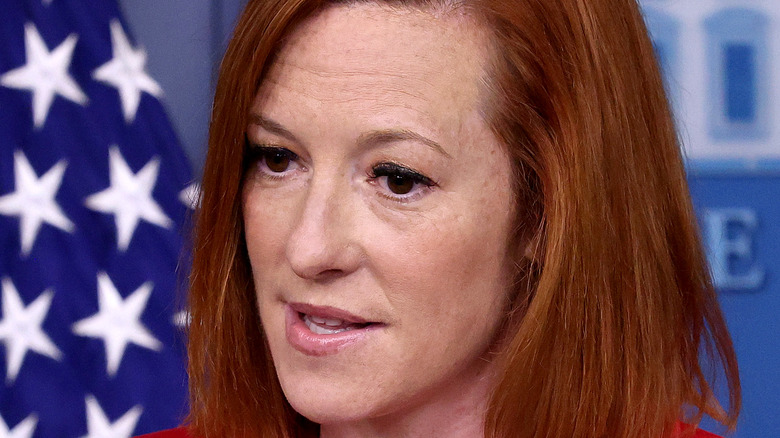 Win Mcnamee/Getty Images
If you spend any time on the internet at all, you've probably seen the photo of Olympic hammer thrower Gwen Berry turning away from the American flag during the national anthem. Considering former President Donald Trump's reaction to Colin Kaepernick taking a knee during the anthem before NFL football games to protest police brutality and support Black Lives Matter, we have a pretty good idea of how that administration would have reacted to Berry's protest. We also know that President Joe Biden's administration is a bit different.
The anthem played after Berry won bronze at the U.S. Olympic Track & Field Team Trials. While on the podium, Berry turned away from the flag and covered her head with a t-shirt reading "Activist Athlete." When asked about the protest, Berry said, "I don't really want to talk about the anthem because that's not important. The anthem doesn't speak for me. It never has," according to the New York Post. "My purpose and my mission is bigger than sports. I'm here to represent those ... who died due to systemic racism. That's the important part. That's why I'm going. That's why I'm here today."
So what did White House Press Secretary Jen Psaki have to say in response? Scroll on to find out. 
Jen Psaki said Biden supports peaceful protest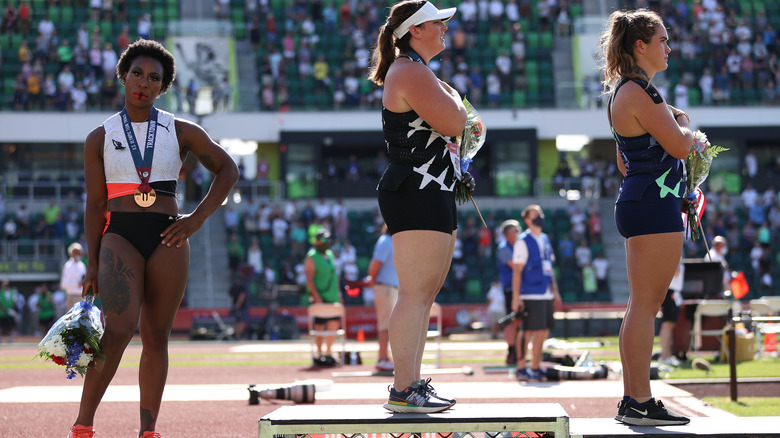 Patrick Smith/Getty Images
While Gwen Berry's act of protest sparked quite a bit of backlash among those who viewed the move as "unpatriotic," Press Secretary Jen Psaki defended the athlete, who will be competing in the Tokyo Olympic Games, in a press briefing.
When asked by Peter Doocy of Fox News whether President Biden thinks this is "appropriate behavior for someone who hopes to represent Team USA," Psaki was ready with a response. "I haven't spoken to the president specifically about this, but I know he's incredibly proud to be an American and has great respect for the anthem and all that it represents, especially for our men and women serving in uniform all around the world," the press secretary told reporters. 
Having established that President Joe Biden does, in fact, like America, Psaki continued, "He would also say, of course, that part of that pride in our country means recognizing there are moments where we are — as a country, haven't lived up to our highest ideals. And it means respecting the rights of people granted to them in the Constitution to peacefully protest." That sounds pretty patriotic to us.